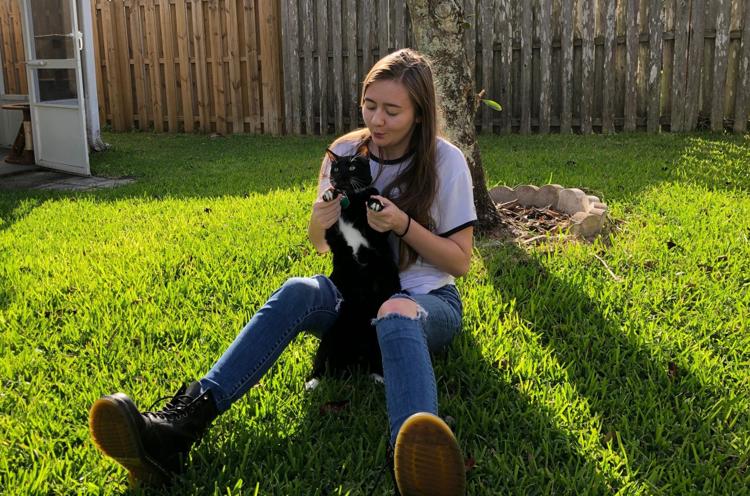 Emotional support animals registered for students living on-campus have increased by 65% since 2018, according to UCF Housing and Residence Life.
Associate Director of Housing and Residence Life Meredith Varner said in an email that during the spring 2018 semester there were 32 registered emotional support animals on campus, and in the spring 2019 semester that number rose to 40.
There are now 53 students on campus with approved emotional support animals as of this semester, Varner said.
Emotional support animals "help individuals with emotional disabilities such as anxiety or depression by providing comfort and support," according to the U.S. Service Animals website. They can be any type of animal and they don't have to be specially trained.
Students with emotional support animals are not permitted to bring their animals in university buildings aside from the university housing, and only once approved, according to UCF's Service and Emotional Support Animals Policy.
"If a housing resident has the need for an emotional support animal, it's extremely important that they reach out to us as early as possible to start the procedure and ensure that we can consider their request in a timely and equitable fashion," Varner said.
Emotional support animals have been gaining popularity over recent years. The National Service Animal Registry reported an increase of over 197,000 emotional support animals registered in the U.S. between 2011 and now. 
Students have to register their emotional support animal with on-campus housing to be able to keep them on campus. Emotional support animals are protected through the Fair Housing Act and, unlike service dogs, are not permitted in areas such as restaurants and classrooms.
"We require documentation from a licensed healthcare provider answering several questions to verify that the student does have a disability and defining how the animal mitigates the symptoms of the disability," Varner said.
Alongside the growing number of on-campus emotional support animals, mental health-related appointments at UCF Counseling and Psychological Services have risen. There was a 4.3% increase in visits to CAPS for counseling services, according to their 2017-2018 annual report. 
Senior game design major Ashley Winstead said she has an emotional support animal to help ease anxiety and depression. Before Winstead got her emotional support cat, Finnley, she drove over two hours every weekend to see her parents because she felt alone at UCF.
"I went home, I didn't talk to anyone, I didn't want to socialize," she said.
Winstead said that in order to register her cat to live with her at the Neptune community, she had to provide housing officials with a doctor's note. She said she also had to get permission from her roommates to allow a cat into their shared space.
"My resident assistant was super cool with it," Winstead said. "They never really asked about it."
After getting Finnley, Winstead had a realization of what she'd signed herself up for: a living breathing animal that she needed to take care of.
The responsibilities that come with having an emotional support animal are both good and bad, she said. While she now has to worry about changing his litter box and water bowl, she said she has also found a sense of purpose in raising Finnley.
In moments of suicidal thoughts, Winstead said she reminded herself that she had a responsibility to her cat. That helped her stay strong, she said.
As the emotional support animal trend grows, Winstead said she wants to make clear that students who are struggling mentally know what they are signing up for.
"That animal also needs you," Winstead said. "There are times where I'd want to spend the night at my boyfriend's house but I don't because my cat will cry in the middle of the night from separation anxiety. I'm his [emotional support animal]."