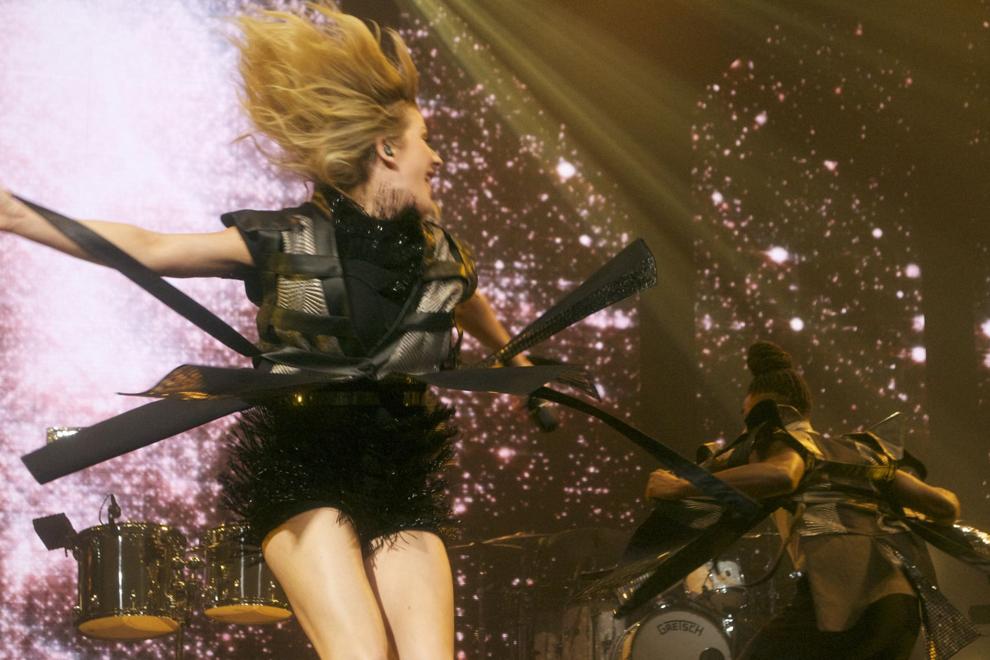 From opener to encore, English pop singer Ellie Goulding had the crowd dancing to her repertoire during the Orlando stop of the Delirium World Tour June 4 at the CFE Arena.
The once internet-backed folktronica crooner has transformed into a Top 40 juggernaut within the past couple of years. Appearing on the top ten of the UK charts eight times, the ubiquity of Goulding's catalogue has solidified her as a modern hit maker.
"We're friends and I'm not taking my husband to see this, and she's not taking her boyfriend," said concertgoer Carol Secretan before the show started. "Just a girls' night out."
An opening DJ was found just in time for the performance, after other acts ran into scheduling complications with concurrent music festivals. "It allows people to come in on time," said CFE Arena Marketing Manager Peyton Jeter.
Goulding greeted the crowd with "Aftertaste," and its surprisingly optimistic melody for a song about a one-night stand.
The ambiance in the arena felt calm and unruffled. The audience was a healthy mix of young girls with their parents, teenagers on a night out, and moms who listen to Goulding's songs on the radio. Goulding bust a few moves, but was mostly content letting her four male dancers interpret her songs around her.
Changing into a demure white gown, she performed an acoustic version of "Lights" – her highest-charting song in the United States. Before taking to the mic, she shared her preference for playing this song in America because it isn't that well known in her home country. "It's kind of a big song," she added cheekily.
Radio-friendly EDM tracks like "I Need Your Love," "Burn" and "On My Mind" drew the most cheers and recognition from the crowd.
The mandatory encore came in the form of Fifty Shades of Grey lead single "Love Me Like You Do."
The night was characterized by spotlights, smoke machines and video bumpers of Goulding flipping her blonde hair.
When the crowd finally let out, the conversations quickly shifted from excited screams to "I think the car's over there!"
Story originally published on June 5, 2016.