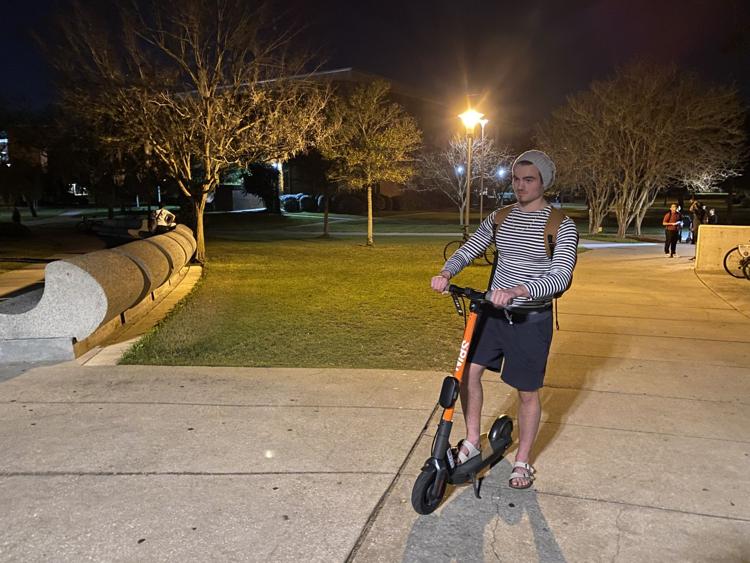 A new mode of transportation zoomed onto UCF's main campus this week.
Spin, a subsidiary of the Ford Motor Company, began renting 300 electric scooters, or e-scooters, on Monday to help students get around campus.
Students have been trying out the scooters in droves, zipping around solo or in packs.
Wednesday evening, a line of six riders rounded the corner on the sidewalk around the Visual Arts Building. A couple of them took the corner too wide and nearly collided with a pedestrian. They giggled and said "sorry" as they regained speed to catch up with their friends.
Some students, like sophomore business major Phillip Sapp, said the e-scooters are a solution for quickly getting from class to class or going to work out without having to drive.
"They're an easy way to get to the gym with all the traffic around campus, especially with the parking shortage issue," Sapp said.
While the scooters have addressed some transportation issues, they have raised a few new ones. The scooters operate on a battery that has to be charged once depleted. If a scooter's charge falls below 40 percent (or two bars), a student can't unlock it, a Spin representative said.
Across campus, there are 12 charging stations, called Spin Hubs. However, scooters aren't always returned to a Hub. On Wednesday, an NSM Today reporter used the Spin mobile app to scan five nearby scooters and all five had low batteries.
Biomedical sciences major Hailey Smith, 18, encountered the same issue this week.
"If I want to get [a scooter], and there's one sitting there, it's usually dead," Smith said. "People don't charge them, so they just leave them when they're done."
Still, many students said the scooters are a welcome change from the previous Lime bike system. Since the scooters are operated electronically, they can be shut off remotely.
They are only accessible from 5 a.m. to 11 p.m. to discourage impaired use, UCF said in a statement.
"With the Lime Bikes, people would get drunk and go on them late at night, and they'd end up everywhere," Sapp said. "I don't think that's going to happen with these."
The scooters only operate on campus, but cannot go through some buildings. A geo-fence ensures the scooters will automatically shut off if they are taken off campus grounds, similar to a locking wheel on a shopping cart.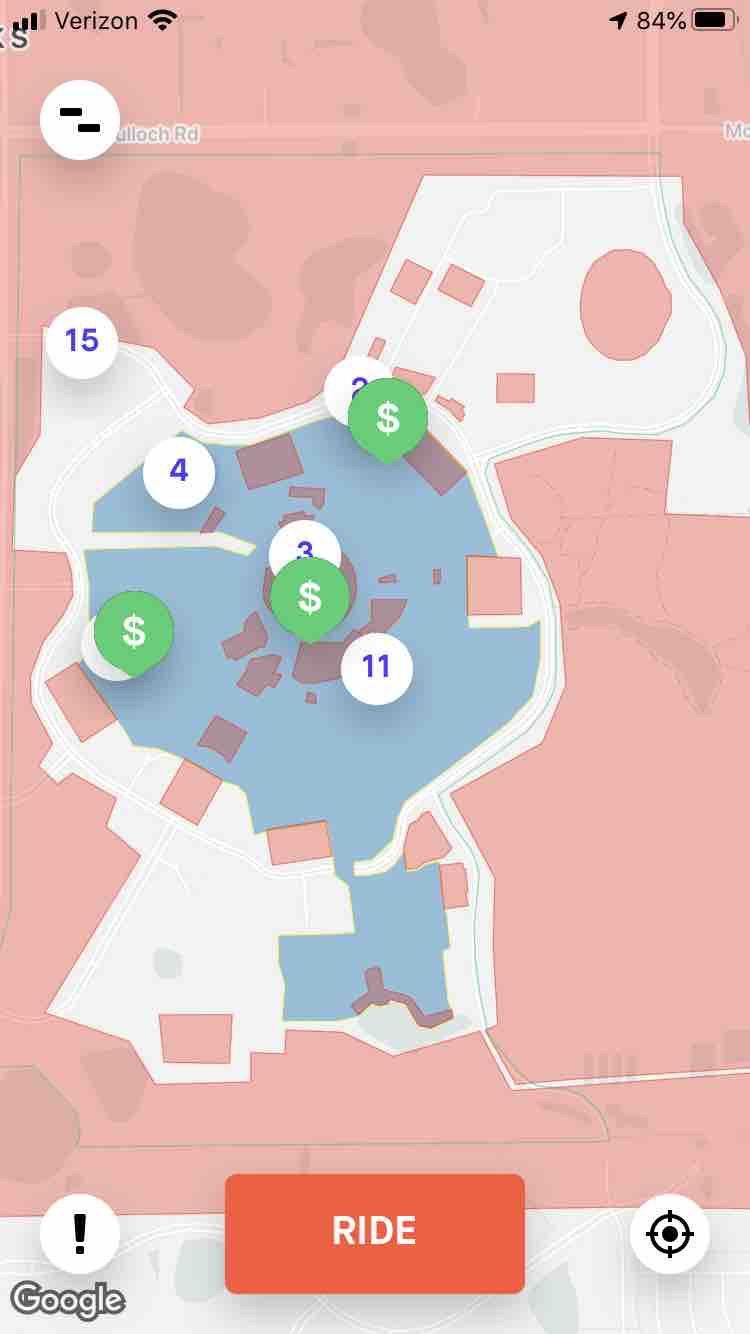 Nursing major Megan Dingman, 18, hopes the geo-fence can expand to include nearby off-campus housing, such as Northview and Knights Circle.
"If it goes to the outside apartments on Alafaya, it would be good because a lot of people live there," Dingman said.
Some students took advantage of the scooters' 12 mph maximum speed to go on joyrides with friends in non-pedestrian areas.
"It's fun watching everybody zoom in groups," 19-year-old mathematics major Teresia Buissereth said.
However, that fun has a price tag. Using the Spin mobile app, students must first pay $1 to unlock the scooter, then it is 15 cents per minute, a fact freshman nursing major Nick Williams found out the hard way.
"My friend wanted to check them out," Williams said. "[But then] you forget. Forty minutes go by and you're out six bucks."
Critics cite safety concerns, including inexperienced riders sharing sidewalks with pedestrians. A safeguard in place regulates the scooters' speed depending on how pedestrian-heavy the area of campus is.
Clinical psychology major Berlanda Joachim, 20, says the speed caps are unnecessary.
"Speed shouldn't be regulated," Joachim said. "Everyone should be responsible for his actions."
Others, like health sciences major Antonia Garcia, 19, suggested an alternative to regulating speeds.
"I would love if there was a way to have a lane for electric scooters, kind of like a bike lane," Garcia said.
UCF Police Officer Tyrone Jackson is worried about students misusing the scooters and getting hurt.
"I think that it is dangerous for other cars. These students will be in accidents and probably run over some people," Jackson said.
Some students have already reconciled the fact that accidents involving the scooters will occur, as with any vehicle.
"It's like driving — you can get into an accident anytime," sophomore forensic science major Jade Nolden said. "As a pedestrian, you just try to look out for them."
Despite only being on campus for less than a week, e-scooters have turned into a phenomenon. Time will tell what capacity they'll hold in life on campus, but one thing is certain.
"It's inevitable that they will be found in weird places," psychology major Elizabeth Rios, 20, said.
Kelly Gilmore, Christiana Ricci, Daniela Vivas Labrador, Kristi Sultan, Madison Adams, Taylor Anderson, Sofia Julien, Catherine Voodre, Skyler Shepard, Abigail Carroll, Emily Hernandez, Peyton Boudreaux, and Florangel Rodriguez contributed to this report.