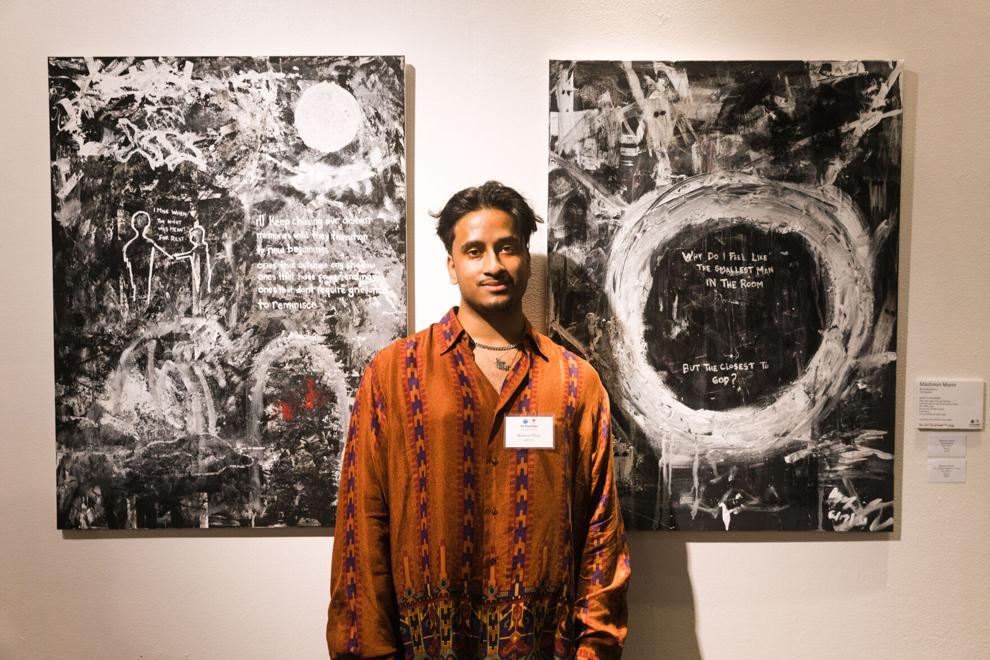 Growing up in a household of Bangladeshi immigrants, senior integrated business major Mashnun Munir said he had no idea of all the culture, tradition and hard work his family instilled in him.
The realization came flushing through when his father left home and Munir had to step up and fill his place. It was then that the 23-year-old noticed how hard his parents had to work once they immigrated. 
"Things happened in my life and it ended up with my dad separating from us a few years ago," he said. "With that happening, I just had to take the driver's seat. And I was just hit in the face with a lot of realizations and things that were always inside of me, but I was not able to get out."
Munir's dad had a master's degree in English that didn't transfer over to the U.S. He had also lost his last name in the immigration process, Munir said, forcing him to use a different one when working as a taxi driver to make ends meet. 
It was art what Munir said would later become his way to articulate the overwhelming feelings of gratitude and respect he had for his family. He said he translates all the culture, traditions, rituals and love that he experienced growing up onto his canvas. His paintings were displayed for the first time on Thursday at the 13th-annual Eclectic Knights art exhibit at the Orlando Museum of Art, hosted by the College of Arts and Humanities. 
"(My) paintings are a culmination of deep-rooted feelings that have been passed down from generation to generation," Munir said. "These phrases and paintings, they're not mine. They're something that have been passed down and are coming out in the form that is me." 
Munir's work was featured among many other students, faculty and artists with UCF ties, including Neida Mora-Maus, UCF alumna and CAH facilities utilization manager.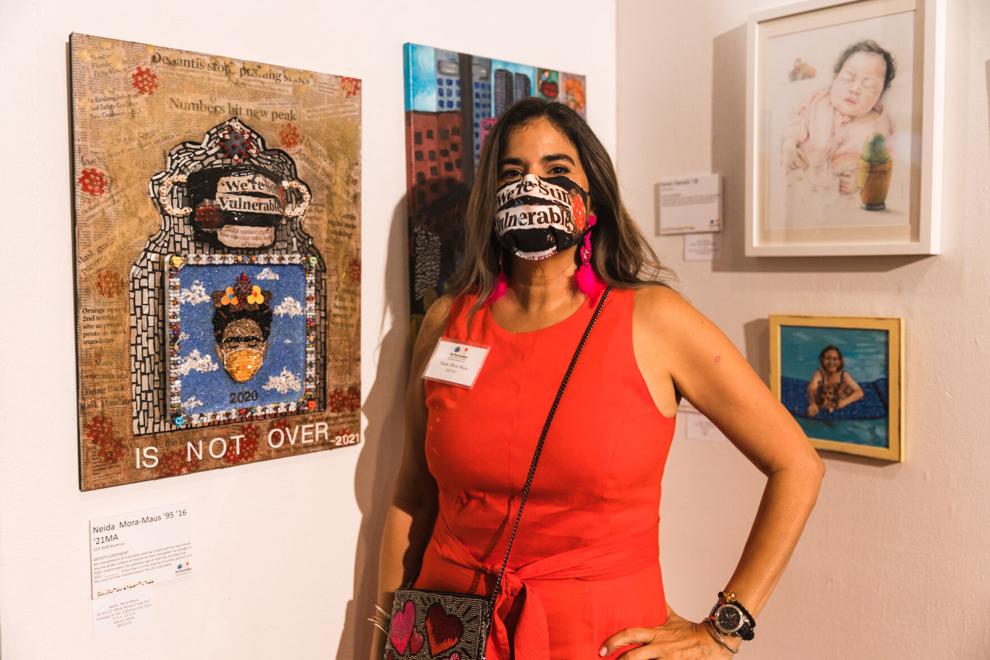 The art history post-grad said she felt compelled to create something in the midst of the pandemic, something that reflected the suffering of the time but also instilled hope in others. Mora-Maus instantly found inspiration in someone she finds pivotal and significant in times of havoc: Frida Kahlo, a Mexican artist known for her colorful self-portraits. 
"She is my go-to in the sense of resilience," Mora-Maus said. "By using her image, it is a universal symbol of hope."
Mora-Maus said she looked to Kahlo as someone who has endured so much and yet overcame it all. She said she hopes the same can be said for society in navigating the coronavirus pandemic. 
Through using pandemic-related materials, such as newspaper articles and the first mask she ever wore, Mora-Maus was able to create a piece she felt embodied the struggle and magnitude of the pandemic over the last year-and-a-half. She even priced her art at $625,375 — the same number of American lives lost to the pandemic at the time. Prior to the event, Mora-Maus was constantly updating the selling price of her piece to reflect the U.S. death toll, and every time, it would get thousands of dollars more expensive.
"People have a tendency to look at the opposite of what they are going through, so it is okay to go to the things that are aesthetically pleasing and have a different meaning," Mora-Maus said. "My piece is for people to not be numb at this (situation)." 
Many of the pieces at the Eclectic Knights exhibit also had background stories that discuss struggle, such as sculptures created by junior art major Meghan Harris. Harris sculpted two pieces: a pair of hands and a heart. Both pieces were cracked, symbolizing scars that a person can have from being too selfless and not receiving anything in return.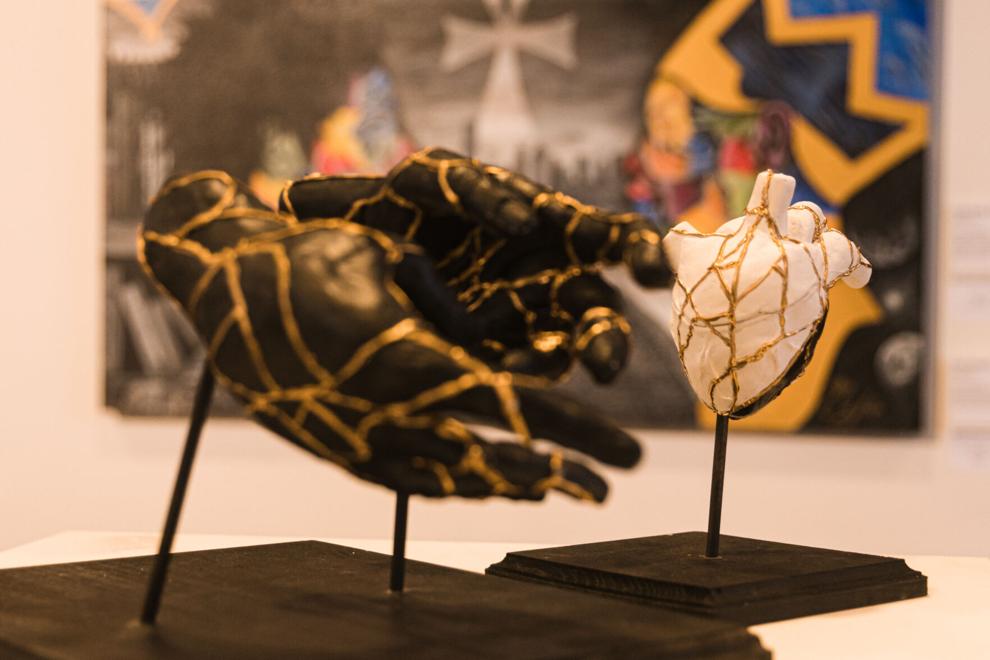 "I was very much used to, as a kid, helping friends and acquaintances get through their problems and offering pieces of my own heart, which is why there (are) some black shards in the sculpture," Harris said. "Giving so much to others and not getting it back, you're just losing more of yourself." 
Harris said she grew up being told to "love thy neighbor" and that she would receive kindness in return. However, Harris said, that was not always the case for her. 
"I was very much used to just being pushed aside when I was younger because of my looks and my social awkwardness," Harris said. "But the thing that people always valued the most was my art, the things that I created, which is what I use with my hands." 
Harris said she titled her sculptures, "Her Scarred Hands to Heal You With," because she wants people to feel something and learn from her art, even though she believes people may consider her hands as "ugly" or "unwanted." 
While every artist at the event had a story to tell, some of them, like Munir, had a story to which he needed to pay special attention. With his realization of how important his upbringing was, he said he hopes those who view his work can find something inside themselves that was always there. 
"Art is subjective," Munir said. "I can get so much out of my paintings, but if it makes you look at your parents a little bit different or your life a little bit different, or makes you realize something that has been locked within, I guess that's all I want."