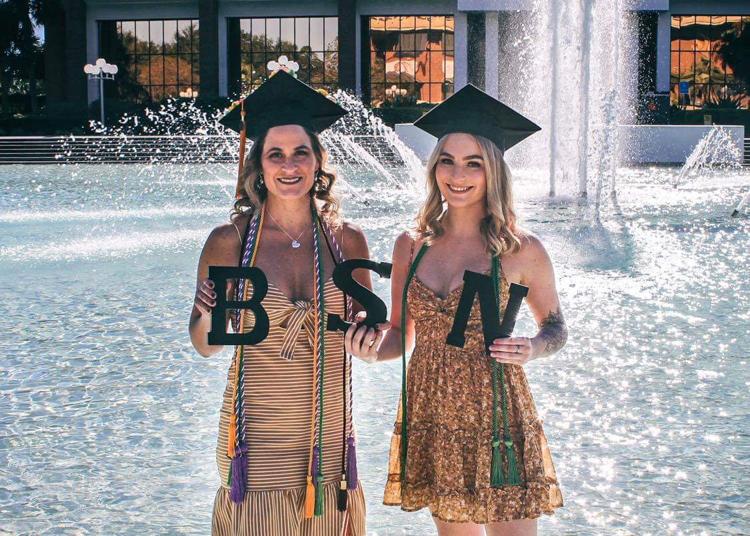 When nursing major Kaitlyn Argyriou began her college journey, she never imagined her mother would be beside her as a student.
Both Kaitlyn Argyriou and her mother, Dawn Argyriou, graduated this year with a Bachelor of Science in nursing from UCF. Kaitlyn Argyriou was two semesters ahead of her mother, but that did not stop Dawn Argyriou from working tirelessly to achieve a lifetime goal that had been put on pause as life took its course.
"It was a long time coming," Dawn Argyriou said. "Her going for her bachelors and not just going for her associates was the push I needed."
Dawn Argyriou received her associate degree over 13 years ago and has been a pediatric nurse in both the emergency room and the ICU at Jupiter Medical Center and Lawnwood Regional Medical Center.
She said being on the frontlines of the pandemic while also pursuing her bachelor's degree was very difficult.
"It has been challenging trying to balance going home and doing schoolwork after a really stressful day," Dawn Argyriou said. "But once I start something, I have to finish it."
Her husband Dimitrios Argyriou said when he found out his wife was going back to school, he was ready for the stress rollercoaster. That changed quickly, and he said it became exciting to witness her going back to school with their daughter. 
"As a husband and father, it's a sense of accomplishment to see them blossom," he said. "I couldn't be more proud."
Kaitlyn Argyriou said her mom would look to her for guidance some times.
"It was kinda cool having my mom ask about projects," she said. "I would pull up projects and give her advice."
As one chapter closes, another one opens for the duo. Kaitlyn Argyriou said she plans on gaining more real-world experience before she pursues her master's degree. On the other hand, Dawn Argyriou is going full throttle and returning to school in January to obtain her master's degree in nursing.
Marjorie Conner, a nursing major and close friend of Kaitlyn Argyriou, said it was amazing to see her grow and see everything she and her mom accomplished.
"They're both incredible and amazing women and I am so proud of them," Conner said. "Not many people get to go through that experience with their mom, so it was good they had each other."