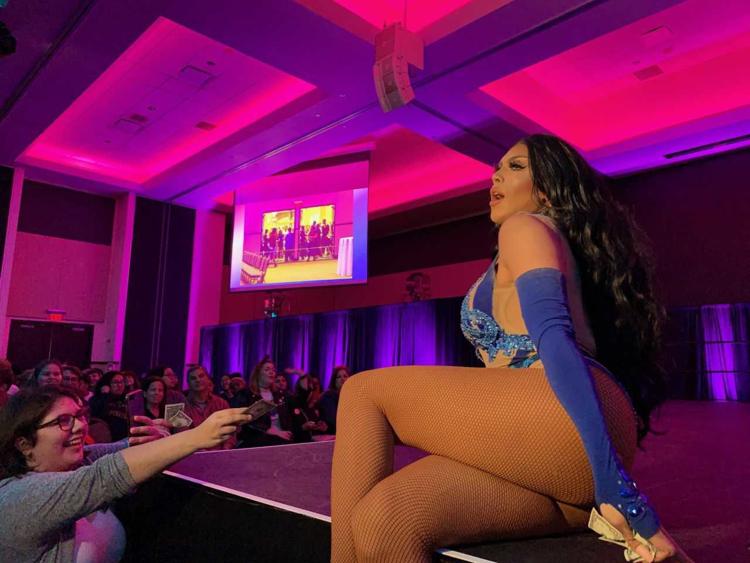 Local drag queens came together to strut their stuff and raise money for Orlando's Zebra Coalition in the Pegasus Ballroom of the Student Union on Tuesday night during the event "Drag Divas with Shea Couleé."
The Zebra Coalition is a network of organizations that are dedicated to providing various resources and services to homeless LGBTQ youth from the ages of 13-24, according to the organization's website.
The annual event, presented by UCF's LGBTQ+ Services, occurs every March, which is Women's History Month. This year's event was hosted by local drag queen Mr Ms Adrien and featured special guest Shea Couleé, known from season nine of "RuPaul's Drag Race." 
Not only did Couleé and the other queens perform onstage, but former UCF student Mr Ms Adrien also hosted discussion panels with them throughout the show. Together, they answered audience questions about the art form and how they express their femininity and other aspects of their identities.
"Women have definitely had to fight throughout history to be taken seriously as independent thinkers and as individuals, and drag queens have also had to put up that same fight to be taken seriously as artists and not viewed as clowns or as a cheap punchline," said Venus Envy, Orlando's premier female-female impersonator and performer at the event.
Drag queen Cara Cavalli said that the definition of drag can be different for everybody.
"I would say my definition of drag is any sort of expression that you're putting out into the world that may or may not be an extension of who you are, it might be a completely different person than who you are," Cavalli said.  "For me, I was like, 'If I was a girl, who would I want to be?' And so I started dressing like this, and Cara was born."
Mr Ms Adrien said that it is important to know where drag comes from and to recognize that transgender queens created this art form. 
"We wouldn't be doing it if they didn't do it," Adrien said. "When they did drag, it wasn't ... to get attention on social media or to be performing in a club. They did it for social activism. They were the superheroes of our community when we didn't have rights."
Angela Yen, a member of the Lavender Council that advises LGBTQ+ Services on campus, said the Drag Divas event raised over $700 for the Zebra Coalition.