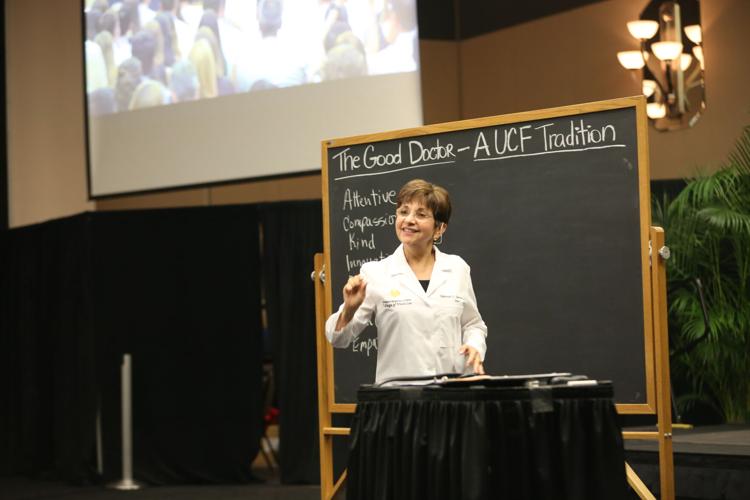 In 2006, as UCF was opening up the College of Medicine, Dr. Deborah German was selected as the first and to this day, the only Dean of the school. 
"She really is unflappable when it comes to external pressures that have faced the medical school from day one," said Dr. Jane Gibson, chair of the Department of Clinical Sciences.
As the top doctor at UCF, German is at the forefront of the university's battle against coronavirus. To combat the pandemic, she said she sends emails with tips on how to stay healthy, including the importance of getting the flu shot now more than ever.
She has also written about the importance of COVID-19 survivors donating their blood. After COVID-19 survivors recover, the plasma of their blood contains antibodies to the disease. Those antibodies can be used to strengthen a critically ill person's immune system and lower the risk of death.
"The FDA has approved convalescent plasma — the process of transfusing a recovered person's plasma into a person critically ill with the coronavirus — as an experimental treatment," German said in an article posted on UCF's website.
Dr. German's strong belief in science is at the center of her leadership through the pandemic. She compares the fight against COVID-19 to holding a pen in your hand and letting it drop.
"As much as we may want to believe the pen will float or go up, not down, science shows us what will happen — the pen drops because of gravity," German said. "Science shows us how viruses spread, infect, how they attack the body; so we must respect the science and act accordingly."
Part of being a leader during these challenging times is accepting how quickly things can change and revisiting your decisions, German said.
"You can decide to have more people return to campus, and then have an unexpected surge in the virus, that is a fact of leadership," German said. "You have to make the best decisions with the best information you have at the time, and if things change, you have to re-examine and perhaps make new decisions."
In a pandemic filled with uncertainty, German said things could change rather quickly.
"You have to listen to the criticism you receive — that's all part of leadership — and use that feedback to do better in the future," she said.
When she is not working at UCF, German is what she calls "an Italian mom."
"I love to cook, so I prepare a big family meal on Sundays for all of us," she said. "With COVID, we all wear masks and social distance, and I prepare an individual plate of food for everyone."
When Gibson received the Executive Leadership in Academic Medicine fellowship, German was her mentor.
"She really just represents UCF extraordinarily well in a community and a state that is very competitive for funding and recognition regarding the training of medical students and residents," Gibson said.
Around her is a group of outstanding clinical and scientific leaders, German said.
Many of those leaders around her share the same ideals, such as the importance of population health. That would include Dr. Eric Schrimshaw, Chair of the Department of Population Health Sciences.
German is one of the primary reasons why he chose to move to UCF and join the College of Medicine, Schrimshaw said. 
"Her philosophy is more heads are better than one," Schrimshaw said. "So, if we can put our respective disciplines, experiences together and discuss as a leadership group, then we come up with better solutions."
German's unselfish way of thinking is uncommon, Schrimshaw said.
"It is not how the vast majority of medical schools work, or even universities work," he said. "That is very much her style."
Despite being confident in herself, German deflects the praise and instead attributes it to those around her.
"She's grateful, she always says 'thank you,' not a lot of leaders do that," Gibson said. "She's always looking out for her faculty and the people that work for her, to give them opportunities to grow professionally."
It is that exact style of leadership that has not gone unnoticed by her colleagues.
"She represents the university, she represents the profession of medicine extremely well," Gibson said. "I think she really has been a role model for all of us."