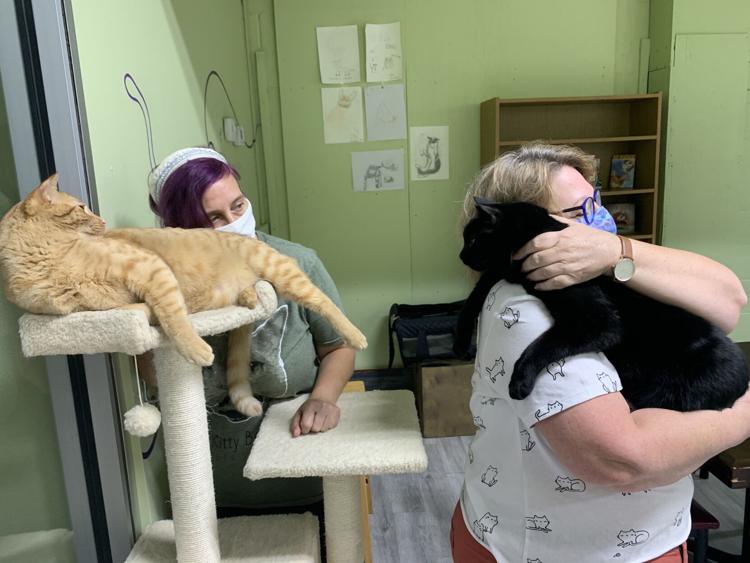 Orlando's first and only cat adoption café "The Kitty Beautiful" celebrated its first-year anniversary on Nov. 1.
Located in downtown Orlando, guests are free to come in for coffee, teas and pastries, but for an additional cost, guests can enjoy their refreshments in the cat room where they can play and hang around with adoptable cats.
"With everything going on in the world right now, playing with animals, especially cats, is probably the most relaxing thing that you can be doing," David Strauss, the café owner, said.
Strauss and his wife, Heather Strauss, said they have always been cat lovers. When it came to their business, Strauss said it was really their daughter who gave them the idea of opening a cat café. 
"It was about five years ago when my daughter saw an article about cat cafes that were in Japan," Strauss said. "It took a number of years to get everything together, but now we are here."
After years of designing the layout of the coffee shop and deciding how they wanted to incorporate cats into the business, the Strauss family said they agreed to have a separate cat room.
"When we first opened we would have fifteen people back in our cat room, and then even more waiting in our cafe just to see the cats," Strauss said.
While playing with the cats in the cat room, guests will be able to hear about each cat's background and how they ended up at the café.
Jac LeDoux has been a volunteer at The Kitty Beautiful ever since its original opening date back in 2019. She said that there is no greater place to be. 
"One of my greatest memories while volunteering was when one of our black cats named Lemonade just absolutely hated everybody, we had to put up do not pet signs," LeDoux said. 
LeDoux said that Lemonade and another cat did not get along, which made Lemonade hostile around workers and guests. When the other cat found its home, Lemonade began rolling on the floor, asking for belly rubs and attention. 
After quickly becoming a more welcoming cat, Lemonade was adopted within the next 24 hours.
"To see the change was absolutely amazing, seeing a cat come out of their shell is most rewarding," LeDoux said.
Although "The Kitty Beautiful" had a strong opening back in 2019, Strauss said that the coronavirus pandemic has taken a slight hit on the cat adoptions.
"There can be a weekend where we will have a few adoptions, and then there can be three weeks where we see no adoptions," Strauss said. "Unfortunately, there really hasn't been a particular rhythm to it." 
The Kitty Beautiful partnered with C.A.T.S-C.A.N., a foster-based cats rescue in Oviedo. Whenever the rescue center is close to hitting capacity, they will send cats over to The Kitty Beautiful in hopes that a guest there would take interest in any of the cats they have available. 
Holly Galluppo is a UCF student who works with a Central Florida cat foster-based rescue service called United Paws rescue. Galluppo said she and her team help rehabilitate cats medically and behaviorally until they are ready to find forever homes.  
"I started just volunteering and fostering, but now I have moved up in the ranks," Galluppo, a senior biology major said. "I have taken advantage of promoting the cats on social media which helps us get our older cats adopted."
Galluppo said the ongoing pandemic was beneficial to her rescue at first because many people came to her shelter looking for a furry companion to spend quarantine with. Now, she said her adoptions have gone down significantly.
"At the beginning of the pandemic everyone thought it was just fun to foster a cat for a month, but that didn't last long," Galluppo said. "Interest in cats has gone down to nothing and it's really bad."
Even though Galluppo spends most of her time searching around all of Central Florida to help stray and feral cats, she said that UCF is a hotspot for lonely cats wandering the streets. She said that illegal pet ownership in on-campus housing is a major contributor to stray cats that are on campus.
"UCF is kind of a dumping ground for a lot of students who get a pet illegally and then are found out by their apartment complex," Galluppo said. "I have found far too many cats on campus that have been dumped but luckily I was able to find fosters for all of them."
Galluppo said that the most beneficial thing UCF students can do to help feral and stray cats on campus is to become well known with TNR, Trap-Neuter-Return. TNR is a humane approach to help stop the breeding cycle of cats.
According to a University of Central Florida study, it found that TNR keeps cat colonies healthy year after year. The study showed that the number of cats on campus declined by 66%, with no new kittens being born after the first year of the study.
"One cat can make a thousand babies within years," Galluppo said. "Stopping overpopulation is key, so if UCF students want to go above and beyond to help the cats then I would start with TNR.
Once safely caught, the community of stray or feral cats are neutered and vaccinated by a veterinarian within the TNR team. After all the cats in that specific community area healed, they are returned to their outdoor homes, thus stopping the overpopulation of cats.
Galluppo said she urges students to become familiar with local shelters in the Central Florida area if a situation did ever arise where a cat on campus may be in need.
As for David Strauss and "The Kitty Beautiful," his mission still remains the same, to provide every cat with a full-time home. 
Strauss said, "Of the 72 adoptions we have had so far, every one of them has an amazing story and we want to continue that for as long as we can."