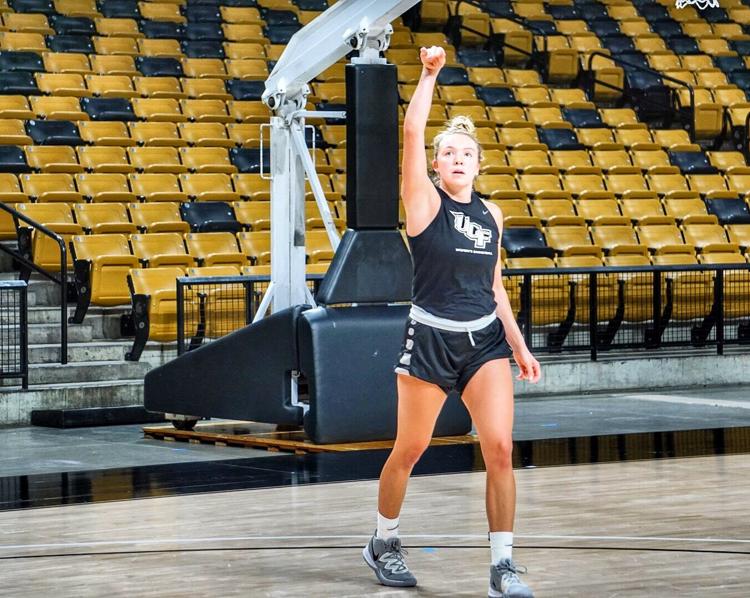 After a NCAA Division I athlete's life changed following a serious injury, she found her passion for mindfulness.
Balancing being an athlete, a college student and running a business, blog, website and YouTube channel has become normal for one UCF student. 
UCF women's basketball player Rebecca Ripley is productive, to say the least. Even with all her responsibilities, Ripley is still another 22-year-old college student who loves to go out and have a good time with her friends.
"When I have the time, I love to hang out with my friends on the weekends and take a break after a crazy, long week," Ripley said. 
Ripley's basketball career saw significant success when she was a top recruit in high school, receiving Gatorade player of the year and ESPN top 100. She then committed to the University of Miami her sophomore year of high school, where her college basketball career was supposed to begin.
The day before her first college basketball game, Ripley suffered a life-changing injury. Ripley went up for a rebound in practice, landed and dislocated and tore her hip.
"It affected me not only physically, but also mentally so much, and it still does to this day," Ripley said.
Ripley fell into a depression after her injury. She didn't have her sports passion accessible, so she searched for something to focus her energy on.
"Becca is a ball of energy, so when she had the injury, she didn't know how to handle herself," said Kaitlyn Petrocelli, Ripley's childhood best friend.
At the time of her injury, Ripley's therapist introduced her to the concept of mindfulness. 
"It's really intriguing to me and has become my second passion besides basketball," Ripley said.
Ripley started out practicing mindfulness and meditation by journaling and doing yoga. Then, she realized practicing mindfulness was something she loved and became certified in mindfulness-based stress reduction.
"Mindfulness is using your mind to focus on the present," she said. "It's really intriguing to me and has become my passion besides basketball."
After beginning her journey with mindfulness, Ripley started her blog, Beccavisions.com, about a year ago. After seeing her friends were intrigued by mindfulness practices, Ripley started a blog where she could share and teach her passion to an audience.
"I know a lot of people spend money on things like this, but I wanted something everybody could be able to have access to for free," Ripley said. 
Ripley felt she was putting a lot of time and effort into other things and people during her off-basketball season instead of focusing on herself. This lead her to start her own business.
"I was here on a scholarship playing basketball, and I was an honors student and everything, but I wanted something that I could do for myself," she said.
Ripley's business is based on her passion for mindfulness and mediation. Her first products were candles. Candles have always been something she can come home to, light and instantly feel relaxed and calm.
"Even when I'm with my therapist, now on Zoom, I have like three candles set up around the computer during my therapy session to help me feel more at peace," Ripley said.
Ripley began her candle making journey by simply looking up a video on YouTube on how to make a candle, ordering wax off Amazon, then purchasing "cute," and "aesthetic" jars to put them in. 
Some of the other products she sells on her website are incense, essential oil soaps, abalone shells and sage. She is also currently working on adding journals and planners to her product list. 
"Journaling is something that has helped me over the years, so I want to see if I can make my own journal that puts everything together from ones I did and didn't like and make it into my own," she said.
Ripley runs her entire business out of her dorm room on campus. She makes the candles, packs her orders out of her small living space — but she makes it work.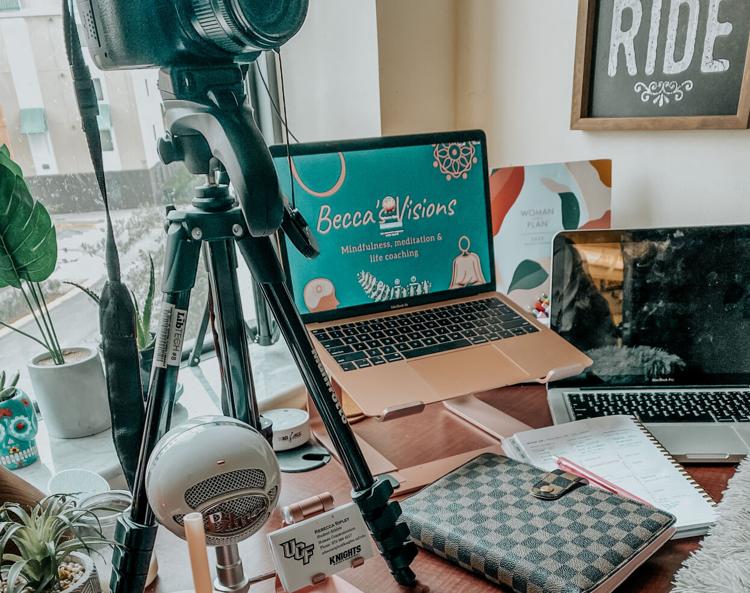 "Since starting her business, Becca has become so driven, she knows her worth, and she won't settle for anything less," said Abby Streeter, Ripley's old teammate and childhood best friend.
Ripley continues to work hard on her business and basketball and doesn't plan to stop anytime soon. She likes to take her days day by day, live in the moment and not dwell on the past.
"You can't control the past, and you can't control the future," she said. "The only thing you can really control is the present."