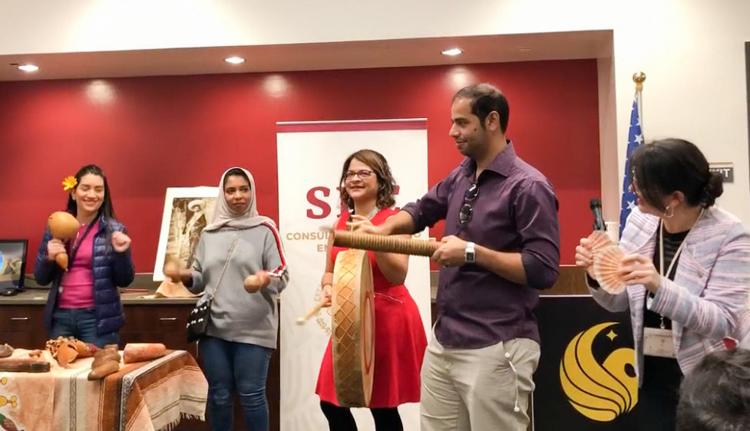 Students danced to the beat of salsa music outside the UCF Global building on Nov. 20 as they welcomed the 20th annual International Education Week, held from Nov. 18-22. 
International Education Week is an annual event hosted by UCF Global where the cultures of different countries are showcased through music, food and history. Countries including Puerto Rico, Japan and Mexico were represented this year, among others. 
Students were able to try a variety of foods from sweet plantains to rice puddings and enjoy musical entertainment with a Japanese shakuhachi performance. International Education Week also hosted several educational and informational events, like a Russian discussion panel and a discussion about Venezuela's current political climate. 
The week is a joint initiative of the U.S. Department of State and the U.S. Department of Education that celebrates the benefits of international education and exchange across campuses worldwide. 
Marie Royce, assistant secretary for the Bureau of Education and Cultural Affairs for the Department of State, said this week not only impacts college campuses but impacts the diverse communities across the country. 
"This week is an opportunity to celebrate the benefits of international education and exchanges worldwide," Royce said. 
According to UCF Global, its mission is to transform lives by providing access to high impact international experiences across the UCF and global community with a commitment to excellence in partnership, innovation, and services.
Students were able to visit different events around campus such as Taste the World at Memory Mall and Festival of Colors in the Student Union. Many students took the opportunity to interact with other students from different countries and create a cultural melting pot on the UCF campus. 
Javier Cintron, senior anthropology major, said attending the Celebrate Puerto Rico event opened his eyes to more than he knew about his Puerto Rican heritage. 
"I never really knew about the history of Puerto Rico but I am so glad I came to this and that I was able to learn more about where I come from," Cintron said. 
Many workshops and showcases were also held throughout the week to focus on specific topics such as intercultural competence. One UCF Russian class had a Skype conference call with a class in Novocherkassk, Russia, connecting the classrooms together. Events like these help UCF unite students together no matter their background. 
Another event students attended was the Festival of Colors. Carolhane Perjuste, sophomore nursing major, said attending events like these help UCF become a more diverse university. 
"I think it's beneficial, at least to me it is, because then I'll get to try different foods from different cultures and learn about different cultures and events," Perjuste said. "This is going to help people be more diverse when it comes to different information."
Between UCF Global, the Rosen campus, and many registered student organizations, UCF was able to host a total of 30 events that brought students, faculty and the Orlando community together. International Education Week is not only held at UCF, but at different institutions across the nation and around the world.
According to its website, UCF Global hopes to collaborate with more students, faculty and departments for the future and will continue to create a global environment on campus for domestic students and students from abroad.