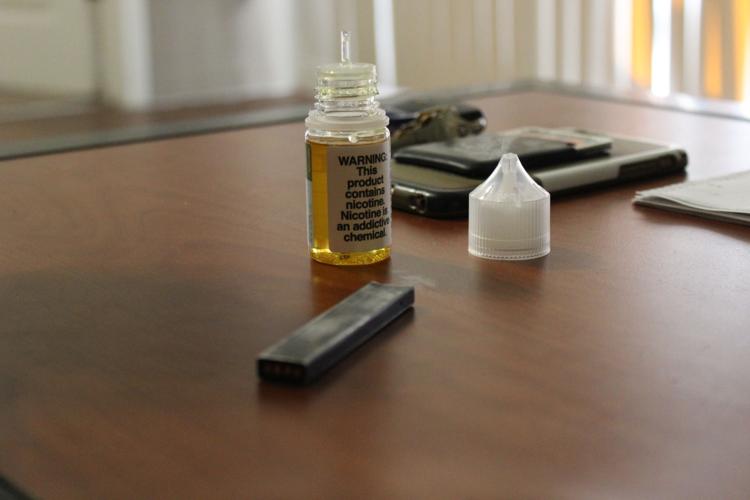 Smoke filtered through the air like visible breath on a cold night at Knight's Pub across from UCF.
While this popular hangout spot for college students has its own smoking section on the outside deck, inside, the smoke comes from electronic cigarettes that serve as an alternative to traditional tobacco cigarettes. 
Thomas Messer, junior economics major, said he started smoking e-cigarettes socially as a sophomore in January 2018 and frequently smokes when going out to bars like Knight's Pub.
"The culture is conducive of [smoking e-cigarettes] now ... people don't want to do things that aren't cool in college," Messer said. "That's why you never see people walking across campus smoking cigarettes."
According to a 2017 study done by the University of Louisville School of Medicine, 30% of college students have tried e-cigarettes. At UCF's current enrollment of 68,558 students, this would mean approximately 21,000 students have smoked an e-cigarette at some point.
While e-cigarettes have less harmful toxins than cigarettes, they still contain nicotine, heavy metals like lead and tin and a chemical linked to lung disease called diacetyl, which is used for flavoring, according to the Centers for Disease Control and Prevention.
Messer uses an e-cigarette called the JUUL, which comes in a stick form resembling a USB drive, according to the CDC. JUULs have a rechargeable battery and a pod to refill the liquid needed to smoke. 
Since first starting in 2018, Messer now smokes every day. The only times he isn't using his JUUL is when he's in class, working out or sleeping, he said. 
Messer said he is very consistent with his nicotine intake and, even though his friends introduced him to JUUL, Messer said he believes his family history may contribute to his smoking.
"Both my mother and father ... smoke cigarettes," Messer said. "My father still does and my mom quit after smoking 16 or 17 years. I mean, I don't know what kind of impact that has on me, but I would assume a significant amount."
Similar to the JUUL are vapes, which are a bigger than a JUUL and produce more smoke.
Miranda Corbin, a 2018 UCF graduate who got a degree in sports and exercise science, said she prefers the vape over the JUUL and has been using it for a year.
"It has very little nicotine, so it's not addictive at all," Miranda Corbin said. "I pretty much do it for the flavor, basically."
JUUL pods contain either 3% or 5% nicotine, according to their website. Each pod is equivalent to 200 puffs of a cigarette. A vape is also considered an e-cigarette. It is bigger then the JUUL but is used for the same purpose, according to the CDC. They also found that even though some e-cigarettes are marketed as having no nicotine, traces of it had been found.  
Miranda Corbin said she started vaping after watching her roommate do it during college, and now she does it daily.
"I don't hit it often, but it's at least once a day," Miranda Corbin said. 
Lucie Frier, freshman health sciences major, said the JUUL is her preferred choice of e-cigarette for social settings. She said she refills the juice for her JUUL about once a month, and it gives her something to do if she's bored when she goes out.
"I honestly [use the JUUL] for the social aspect of it, which is a little bad, but honestly it's fine," Frier said. "People are addicted to it, and I'm not. I could easily throw it away."
Organizations like Tobacco Free Florida strive to educate others that fact that smoking of any form is bad. They educate on the dangers of tobacco and install programs related to tobacco use reduction and prevention, according to their website.
Since the organization's start in 2006, there has been a 71% decrease in smoking among youths as of 2016, according to Tobacco Free Florida.
Laura Corbin, the Tobacco Free Florida bureau chief, has been working in tobacco cessation for 20 years and said not much is known yet about the long-term effects of e-cigarette smoking.
"Electronic cigarettes or vapor is not harmless water vapor as many youths unfortunately mistakenly believe," Laura Corbin said. 
She said the aerosols that are in vapes and e-cigarettes contain heavy metals, nicotine and chemicals that can cause lung cancer. 
Tobacco Free Florida is launching a campaign during Tobacco Free Florida week, April 22-28, specifically geared toward vaping in youths because the federal government has declared e-cigarette use and vaping in younger people an epidemic, according to a press release.
"Youths are particularly sensitive to the chemical dependency of nicotine more than adults because their brain is still developing," Laura Corbin said. "We know that nicotine exposure harms the developing brain, affecting the parts of the brain that control attention, learning, mood and impulse."
Messer, who's planning on going to medical school after completing his bachelor's degree, said while he knows he uses his JUUL frequently, his use is more prominent when he's studying or going out to bars. He said he has not yet felt the effects of his daily nicotine intake.
"I do see myself quitting one day," Messer said. "[But] I don't have much initiative to stop now."