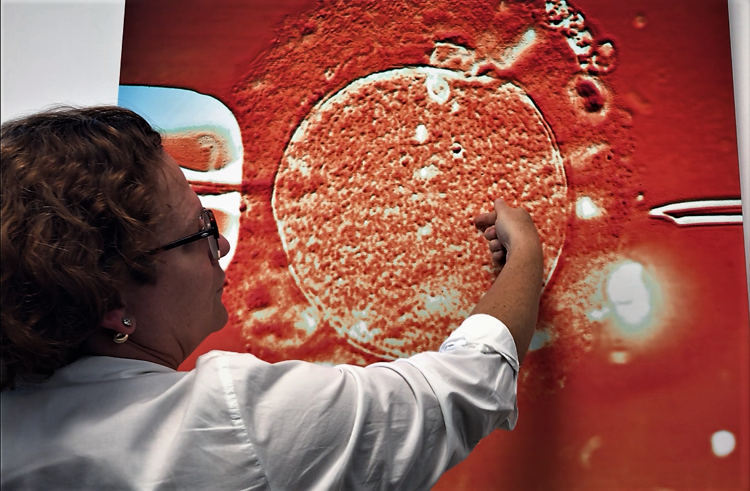 Local to UCF, , became the first free-standing and fully independent egg bank in the U.S. when it opened its new Orlando headquarters in 2015.
With the increase in demand for Cryos' high-quality donor eggs over the last three years, the company is now seeking more college-aged women to help LGBTQ couples and women struggling with fertility issues, said Betsy Herp, Cryos' director of marketing and client services.
"[Donating eggs] might sound scary to some girls," said Shelley Osking, Cryos egg donor coordinator and nurse supervisor. "It's a big decision, it really is. But at the same time it's an amazing thing because egg donation enables a woman to have a child who otherwise would not be able to have one."
Both Osking and the marketing team are actively recruiting young women from UCF and other nearby colleges by posting brochures around campus and sponsoring campus events.
The Orlando facility has acquired 128 egg donors and successfully completed almost 250 egg retrieval procedures over the past three years, Osking said, while 90% of Cryos egg donors are young women who are currently in college or have a college degree.
Herp said she believes it's important for young women to understand that the eggs being donated are the ones that would normally be discarded each month during a woman's menstrual cycle. 
"You're not losing anything, and we're not taking away your ability to get pregnant later," Herp said.
Egg donors can receive compensation of up to $5,500 as a non-anonymous donor, or $5,000 as an anonymous donor for each surgical extraction, according to Cryos' advertising brochures posted around UCF's campus.
Despite the financial compensation, Osking said she hopes the young women who walk into Cryos' office become donors for an opportunity to help others and not just for the money.
Cryos has high standards for women qualified to donate. Osking said thousands apply, but only 3% pass the thorough screening process.
All candidates must provide their family medical history and test for infectious and genetic diseases that could ultimately lead to a sick baby. Because eligible egg donors are not easy to find, many are willing to go through the process multiple times, Osking said. 
Cryos lists its basic requirements for egg donor candidates:
18 to 30 years old and has both ovaries
Body Mass Index between 19% and 27%
Regular monthly menstrual cycles
Doesn't use implanted or injected birth control, but willing to take oral birth control
Physically and mentally healthy
Dependable, mature and able to attend many frequent appointments
College-educated, seeking a degree or certificate beyond high school or in a long-term successful career. 
Although a potential candidate may meet the basic requirements, there are high-risk factors that can disqualify donors. These risk factors include having multiple sex partners within the last six months, having sex with a man who has had sex with another man, intravenous drug use and mental diseases. 
Donors are taught how to self-administer daily hormonal injections to stimulate their ovaries, and during the surgical extraction process, the mature egg follicles are sucked out and frozen with liquid nitrogen, Osking said.
"The worst pain some of our girls get is similar to really bad menstrual cramps, but they are all able to walk out of our office and show up to school or work the next day with no issues," Osking said.
Cryos attributed its success to its "in-house" egg extraction process, according to a press release from the company. Because Cryos doesn't outsource to third party companies like other egg banks, it is able to complete the full in vitro fertilization process at the Orlando facility.
In vitro fertilization, or IVF, is a form of assisted reproductive technology where eggs are extracted and sperm is retrieved, then both are manually combined in a laboratory dish, according to American Pregnancy Association.  
The high quality of Cryos' frozen, matured eggs has ensured that 74% of patients have achieved the highest reported clinical pregnancy rate, meaning a heartbeat becomes detectable from the womb, according to the press release.
Most other facilities have a clinical pregnancy rate that is 10%-20% lower than Cryos', according to the press release. Herp said the rates at other facilities are much lower because they have more lenient standards for donors and the maturity of their eggs.
"Infertility is pretty devastating and can be an emotional roller coaster," Osking said. "It's truly rewarding knowing you took part in making someone else's dream come true. Our girls are proud to be egg donors."