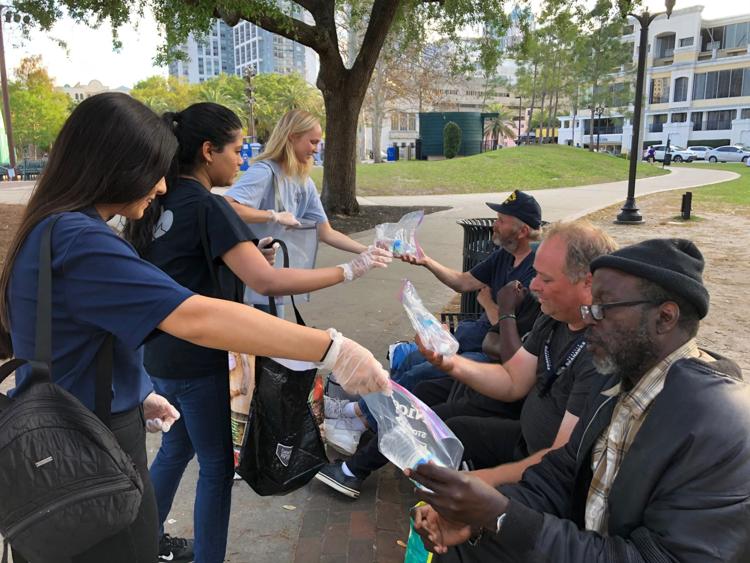 The homeless community is typically a forgotten demographic.
However, in the wake of the COVID-19 outbreak, organizers in Orlando have put their heads together to bring relief to the local homeless community.
As homeless individuals frequently gather in groups and are exposed to nature's elements without anywhere to self-quarantine, they are at a greater risk of coronavirus transmission than the general public, said Leilani Farha, a UN Special Rapporteur on adequate housing, in a press release. 
According to the Department of Housing and Urban Development, the United States has a homeless population of 568,000 and over 20,000 Floridians are homeless. In an effort to curb transmission among homeless communities in Orlando, UCF students are doing their part.
UCF's chapter of the homeless advocacy organization Hearts for the Homeless International gave out soap bars and water bottles to the homeless in downtown Orlando and Lake Eola on Sunday.
Hearts for the Homeless UCF Chapter President Ranya Awad said the lack of medical attention or access to antibacterial products in the homeless community is something that could not be ignored.
"We just walked all around downtown handing out packages to anyone who needed it," Awad said. "Most homeless people don't have access to hand sanitizer or soap so they were super thankful." 
Awad, whose organization frequently does blood pressure screenings for the homeless, said she helped hand out 50 packages of soap and water bottles.
Assistance for the homeless in Orlando doesn't stop there. 
According to an article from Second Harvest Food Bank of Orlando, the organization partnered with Walt Disney World to distribute excess food inventory to individuals in crisis after all Orlando Disney theme parks officially closed on Monday due to COVID-19 concerns. 
With local homeless shelters and community meal programs in need of groceries and supplies, Second Harvest reported that they received enough food items from Disney to provide 18,085 meals to those in need. 
Director of External Affairs at Walt Disney World Resort Tajiana Ancora-Brown said she recognizes the community work Second Harvest provides for those in dire situations. With a hefty job description, she said she has led Disney through crisis and emergency management and places importance on community outreach in Orlando.
"Second Harvest Food Bank is known for their vital work addressing critical food needs in Central Florida, and we know the important role we play in helping to bring meaningful solutions to our community in times of great need," Ancora-Brown said in a press release.
As the coronavirus continues to spread throughout the United States, and cases of those infected in Florida has now reached over 500 individuals, the homeless community grows increasingly more vulnerable.
"What's crazy is that lots of homeless people didn't know about the coronavirus because they're often forgotten about," Awad said. "They're a super vulnerable community that people need to look after."