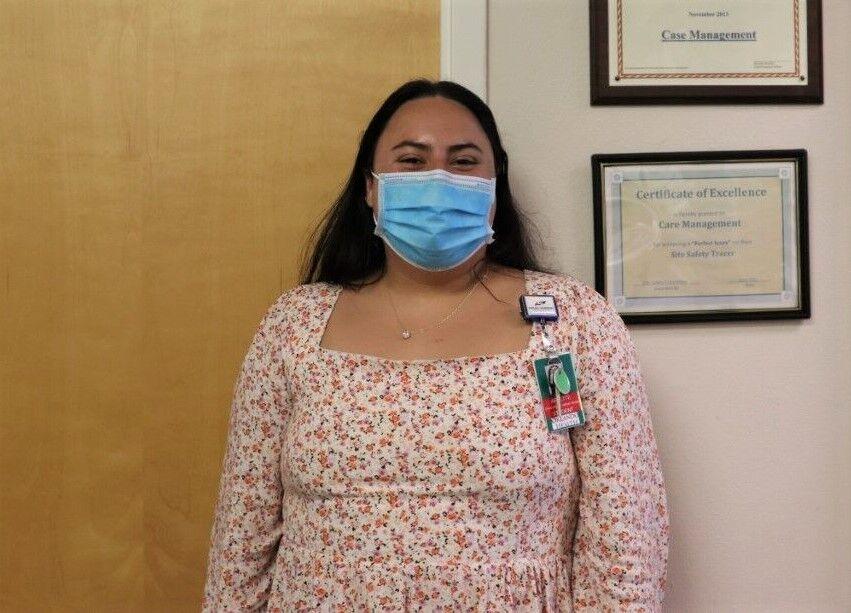 Graduate student Arlette De La Rosa wants to highlight prejudices against her homeless patients as an intern at Orlando Health.
The social work major said those who suffer from substance abuse and homelessness tend to come back, and it's her job to ensure as few readmissions as she can.
"I had a young patient have a panic attack right in front of me; she was about to be evicted," De La Rosa said. "I'm a sympathetic crier; I started to tear up. That moment was really hard and intense."
De La Rosa said she intervened in the crisis by calling a nurse and retrieving the patient's medication, and despite it being emotionally overwhelming, she said she had to go to the next room and do her next assessment with a smile.
"I went to the window by the door, I looked down and said, 'You got this. Just get through it. You got this,'" De La Rosa said.
De La Rosa said trauma-informed care is important and that there should be more of it in health care. She said being homeless is a trauma, and if health care workers are not informed on that trauma, they are going to re-traumatize patients. 
Upon receiving a $10,000 fellowship, De La Rosa said she chose to research the barriers homeless youth face in trying to access health care services, exploring what attitudes homeless youth exhibit when approaching health care and what they experience in the process. De La Rosa said she found the stigma of homelessness was causing these youth to get inconsistent care, from not being followed up with by medical staff to spending more time in the waiting room.
"That makes someone who's homeless nervous," De La Rosa said. "They might feel like they're in trouble or that nobody wants to take care of them, so they leave the waiting room. And they never get help, which causes issues for them later on."
The COVID-19 pandemic directly impacted housing stability and homelessness. According to the United States Interagency Council on Homelessness, the number of people experiencing homelessness in Florida drops each year, but the state still had the third largest homeless population nationally in 2020. As of January 2020, Florida reported 27,487 people experiencing homelessness on any given day and a total of 91,068 homeless students, the council reported.
"With the pandemic, depression and anxiety have been through the roof," said Gissel Garcia, a social work major interning at Orlando Health — Health Central Hospital. "Social isolation can be hard on anyone mental health-wise, but especially those already suffering from mental illness."
Garcia said companies and facilities are backed up, preventing patients from seeing a therapist for the first time, which illustrates how much the pandemic has affected society and the need for more social workers. De La Rosa said practitioners are at fault for not providing resources to patients. She said holding hospitals accountable by telling them to train their workers more efficiently in mental health can go a long way.
"With health care workers, we all go through some type of training or class where we learn about these things," De La Rosa said. "But one class is not enough — we need more."
Rebecca Luders, interim manager at Orlando Health — Health Central Hospital, said the hospital's emergency department "does a good job" of being sensitive to the potential mental health needs of patients, enabling staff to pick up on signs of patients who may be struggling.
"They'll automatically consult our department, that way we get to follow up and have a one-on-one with the family," Luders said.
For the most part, it's a successful process, De La Rosa said. The hospital's social work team refers the patients to agencies, providing patients with transportation and ensuring they are able to enroll with a room and case manager at any given location.
When discharging patients, De La Rosa said her responsibilities usually include asking about a patient's demographic characteristics and making sure they have a primary care provider, screening those without medical insurance for Medicaid or Medicare. Additionally, De La Rosa said doctors, nurses and social workers meet every morning to discuss each patient's needs. If patients have any social or medical needs, De La Rosa said, that is the moment to talk about it.
"They (patients) have that notion of mental health because we're constantly there to remind them of it," De La Rosa said.
For Garcia, she said it can be a letdown when she reaches a dead end of resources for patients, such as when patients are uninsured or undocumented. Garcia said it is disappointing having nowhere to refer patients to for assistance.
"Giving up is not an option though, as when you do find the resource, it is truly the most rewarding feeling," Garcia said. "There is no greater feeling than turning an impossible situation to a possibility."