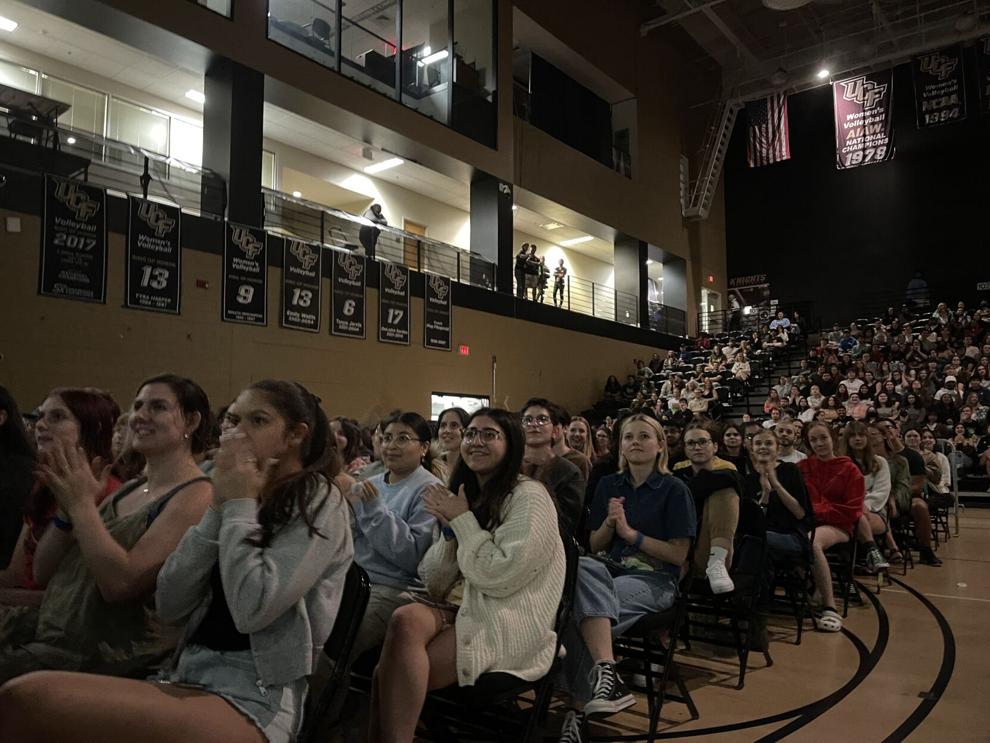 Bursts of laughter and applause by students filled The Venue throughout Noel Miller's set at UCFest Comedy Knight on Wednesday.
Students started queuing in line for the sold-out show five hours before its start time to ensure close floor seats. Daniel Davalos, sophomore biomedical science major, said he arrived at 2:42 p.m. to receive a wristband passed out by security to gain clearance for floor seats.
By the time doors opened at 7 p.m., the line of attendees that started at the entrance of The Venue had wrapped around Garage F. The entire floor seating was filled willed with patrons anticipating Miller's appearance. 
Miller, a stand-up comedian, created his YouTube channel in 2015, where he now has over two million subscribers. According to Miller's Ticketmaster profile, he is a force to be reckoned with in the comedy world due to his biting one-liners and topical social commentary.
The Campus Activities Board hosted the event as part of the organization's annual UCFest. A strict no photography or video policy was in place, as security and CAB personnel walked through the aisles throughout the show to enforce it. CAB declined to comment on the event due to contract restrictions.
"Everything was on point," Daniel Davalos, sophomore biomedical science major, said. "He was really funny, very likable. Everybody was pretty much engaged. I didn't feel bored, not once during the whole hour."
Once Miller walked on stage, the crowd erupted in applause and cheers. When the audience quieted down, Miller started his set joking about college students' declining attention spans. He said after every joke, he envisions the crowd would do a quick laugh and then think "next" while impatiently waiting for him to say the next joke. 
The joke soon became a running gag throughout the performance as audience members started shouting "next" after Miller's punchlines.
Miller also localized his jokes by speaking on UCF's rivalry with the University of South Florida. He sarcastically called the audience "so creative" for the upside-down bulls hand sign that students use to show their dislike for USF students.
In the middle of the set, Noel thanked the crowd for being a good audience. He said that he's been touring for two years and thinks Comedy Knight will be his last college show.
Miller's set included a discussion of heavier topics, one being his abusive family dynamic. He made jokes about his parents treating him like an adult when he was 11 years old because his voice had deepened to sound like a 30-year-old man.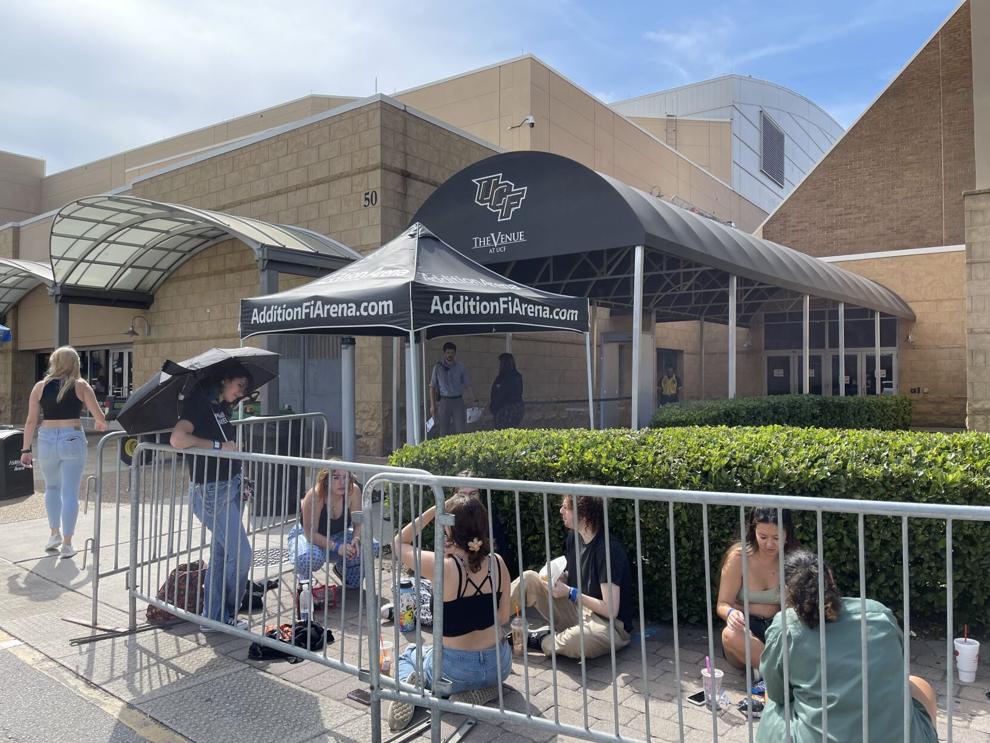 He then ventured to other topics such as 9/11, abortion and the assassination of John F. Kennedy. 
"I didn't think it was like overly offensive," Carter Vale, senior creative writing major, said. "There was a lot more like pedophilia than I was expecting, but it was still a good set. I didn't come away from it going like, 'oh my god, I have to cancel this dude. I can't believe I came to this place.'"
Vale said he went to the show not knowing what he was getting into and did not know of Miller until his friend Nina Alpert, junior nursing major, invited him to attend the show with her.
Like Vale, Davalos said he was not a fan of Miller before the show started. However, he said he was aware that Miller would speak on controversial topics.
"I feel like that's just comedy in general," Davalos said. "I see why people will get offended, but obviously as a professional comedian, I feel like he would know boundaries and where not to go and what not to say."
Freshman film major Gabby Murison, who is a fan of Miller, said she thinks he walked the line well between the offensive nature of his jokes while still being respectful. Lucas Pereyra, freshman digital media major, agreed with Murison and said Miller never used his offensive jokes as a crutch.
"I think when you're walking into a comedy show, you have to know, like, he's being a comedian. He's not like trying to spit his political opinions at you," Pereya said.
Pereya said he had seen Miller's set before when the comedian performed at The Plaza Live. He said he praises Miller for his inclusion of crowd interactions, noting that the banter between the Comedy Knight audience made the set funnier.
Pereya said he recalls an audience member holding up a sign that read "Do you have a hot cousin or dad?" to which Miller read out loud and made a joke about it, referencing a previous punchline he told.
Jennifer Sanchez, freshman biomedical sciences major, said the event allows students to destress, which is especially important now since finals week is approaching. She said this year's UCFest special guests made the event more fun because they are "more of our generation."
Kelsey Reeder, junior health science major, said she agrees with Sanchez and that CAB should host events for non-traditional students.
"I think it definitely is for more of our generation. But I know there's an older population on campus too, but I don't know if they would have time to come so they probably should give more for them," Reeder said.
Arielle Peralte, sophomore general psychology major, said this was her first time attending a UCFest event, and as a fan that grew up watching Miller on YouTube, she knew she had to utilize the free opportunity to see him in person.
"Some are hits, some are miss. A lot of them are miss," Peralte said about UCFest events. "This is the first event I've actually made it out to. Last year, I feel like the lineup for UCFest were not even that good."
Valentina Traverso, sophomore clinical psychology major, said she feels the comedian that headlined last year's Homecoming Comedy Knight, Marlon Wayans, didn't connect with the crowd. She said that Miller was a good pick because he knows his audience.
Murison said while she is happy with CAB's choice of Miller, she wished the organization implemented a poll for the student body to choose a guest.
"It's a lot of the same things: a comedian, musician and movies. It's the same three every semester," Murison said and suggested a magician or hypnotist. "I need to see somebody disappear."
However, Murison said Miller and comedians from past events are strikingly different from each other. She said that it's a good reflection of the student body's varied types of humor.
"I think it just brings everybody together to, like, promote school spirit, and I think it's pretty awesome," Davalos said about UCFest. "It's kind of nice to brag to your friends like, 'my school had all these cool people come and we don't pay anything.'"