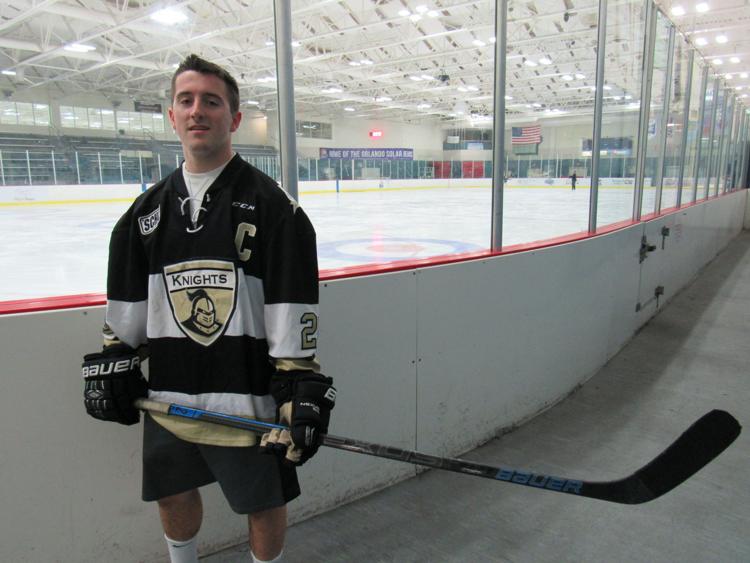 Particles of ice shot up from under the razor-sharp blades of UCF hockey player Andrew "Drew" Schneider's skates as he flew toward the goal at the end of the rink against Oakland University. 
Schneider said he remembers catching his breath while looking up at the clock to see 0.7 seconds remaining in the 2018 game against Oakland in Rochester, Michigan. The UCF Ice Hockey team later came back to score 30 seconds into overtime, winning against the Oakland Golden Grizzlies after losing to the same team the year before.
Schneider, senior finance major and co-captain of the team, described it as one of his most exciting moments in hockey.
"Nothing compares to the feeling of the ice beneath your feet," Schneider said.
Schneider, 23, said hockey runs in his family's blood. His uncle, William Conrad "Buzz" Schneider, won a gold medal with the U.S. Olympic Hockey Team at the 1980 Winter Olympics in Lake Placid, New York, earning him a spot in the U.S. Hockey Hall of Fame. His father, Steve Schneider, was captain of the Notre Dame Fighting Irish men's ice hockey team and played in the National Hockey League from 1975-1979.
Growing up in Great Falls, Virginia, Schneider said he and his fraternal twin brother, Ian, started skating when they were 5 years old. The two brothers grew up playing lacrosse in the spring and competitive skiing in the summer to stay in shape, while their travel hockey team took them all over the country and to Canada.
Schneider played NCAA Division II hockey for Miami University in Oxford, Ohio, before moving to Miami, Florida, to take a gap year. He then transferred to UCF in 2017 to finish his finance degree, where he said he stumbled upon the university's hockey team.
"I was focused on my finance degree, but hockey was always in the back of my mind," Schneider said.
Schneider said Sean Weaver, the previous UCF hockey coach who retired in 2018 after 19 years, took him under his wing.
Schneider started out as a center for the team in his first year due to his higher-level playing experience in Ohio. This year, Schneider said he moved to left wing position and was nominated as captain in addition to taking over the role of treasurer for the team.
Brandon Blaszczyk, UCF's co-captain and senior finance major, said he met Schneider in 2017 and described him as "outgoing, energetic and a great friend and teammate."
Blaszczyk said he couldn't imagine being a co-captain with anyone else.
"Kid is one of a kind," Blaszczyk said. "He could have a conversation with a wall."
Schneider said one of the biggest struggles he and the team have faced was finding a new coach over summer 2018.
Mike Kroll, the team's current coach, said that coaching college hockey has been a great experience — especially with athletes, like Schneider, who wear the UCF uniform with pride.
"Schneider is a pleasure to have on the team," Kroll said. "He leads by example, is proactive in his duties and is extremely loyal to his team and the hockey program."
Schneider said practice and game schedules for the team are expensive and difficult.
The team practices and plays home games at the RDV Sportsplex Athletic Club in Maitland, Florida, which is located about 30 minutes away from UCF's main campus.
The team's games are also late at night, usually from 10 p.m. to 12:30 a.m., which makes it difficult for fans to attend, Schneider said. He said he wishes the venue was located closer to campus so fans could see what hockey and the team are really about.
"The hockey team is a ton of brothers that have such an immense love for the sport and the school that they play for, and I wish more students could see that," Schneider said.
Schneider said one of his greatest struggles is knowing that after he graduates this year, he will not be playing in the same competitive environment. Instead, he plans to play for a Beer League, a recreational league for adults to play sports and drink beer, after leaving UCF.
"I'll be playing Beer League for the rest of my life, which I don't have any issue with, it's just a lot to digest mentally," Schneider said. 
After graduation, Schneider said he hopes to work as a field financial analyst for PepsiCo Inc. and join a Beer League with old hockey teammates at the RDV, maintaining his love for the sport.
"Hockey has shaped me into the person that I am today," Schneider said. "I cannot imagine where my life would be without it."