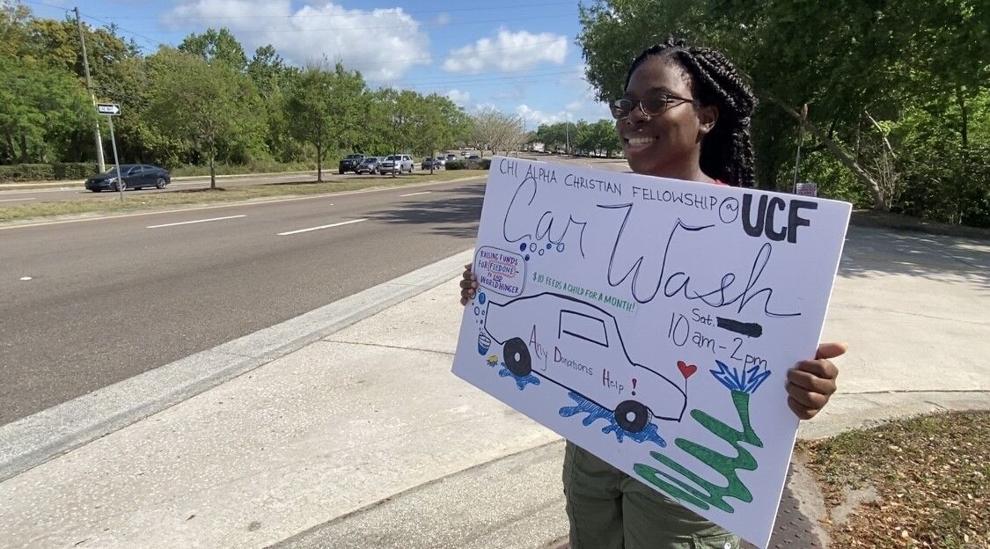 As cars pulled in from off the street, Chi Alpha's first volunteer would immediately grab a soggy sponge and start scrubbing the car while a second person followed with the hose, one after another beneath the scorching sun.
On Saturday morning, UCF's Chi Alpha fellowship held a fundraiser for FeedONE — an organization that helps children in need. The group set up outside the 7-Eleven on Red Bug Lake Road as they washed cars for donations.
According to the Chi Alpha official website, Chi Alpha is a national organization focused on creating ministries on campuses all over the world. The website also said the organization aims to equip students "through spirit-filled communities of prayer, worship, fellowship, discipleship and mission to transform the university, the marketplace and the world."
Josue Morales, junior political science major and president of Chi Alpha, said it is easy to be in a crowd of 70,000 students and not find a community. Through Chi Alpha, he said he aims to create a community for students at UCF as well as empower people to serve.
"One of the things that we believe that Jesus did was that he served people by being first," Morales said. "So, one of the things that we're doing first is we're asking people to help us solve the hunger crisis."
Morales said this mission is not exclusive to Chi Alpha but rather open to anyone. He said he believes most college students are at a point in their lives where they have the most free time. Because of this, he said he urges students to take advantage of some of that freedom and use the available time to serve.
Morales said Chi Alpha has a close partnership with FeedONE. FeedONE has an initiative called "Children's Feedings," where they bring nutritious meals to children in need all over the world, according to FeedONE's official website.
Morales said when he first started fundraising for FeedONE three years ago, the organization only served 15 countries, but by the next year, it was up to 26. FeedONE's website said they currently have 33 countries with feeding programs.
"It's (the) people that are willing to donate and give who are expanding that," Morales said. 
Yoldine Louis, elementary education 2019 alumna and Chi Alpha staff member, said she first joined Chi Alpha in search of a Christian community to be a part of, and she loved the strong and true relationships she built. She said she wanted to come back and help be a part of creating that same community. 
When Louis heard about FeedONE, she said she felt connected right away. She said one of FeedONE's first initiatives was to help provide meals to children in Haiti, where she was born. Louis said that if her parents hadn't brought her to the United States, she would've been one of the children the organization is providing for.
"It's good to know that other Haitian kids in Haiti right now are getting meals and supplies that they need and educational opportunities through FeedONE," Louis said. "I have a big direct connection with FeedONE in that way."
Morales said for every $10, FeedONE can feed a child for an entire month. At the end of the car wash, Lynch said Chi Alpha was able to raise a total of $511.33 for FeedONE, which is enough to feed over 50 children in need. 
"For that one meal that you miss, you could be covering someone else's 39 other meals of the entire week or month," Morales said. "I'm proud we get to do that."
Isabella Lynch, senior film major and vice president of Chi Alpha, said she emphasizes how a small donation greatly impacts another person. She said FeedONE is passionate about sharing the love of Jesus while taking care of children's basic needs.
"It's not a huge amount, it's a fast-food meal out or something, but you're making a huge difference in the life of a child," Lynch said.