Under flashing blue lights, the audience and stage went silent before the speakers began thumping Friday night.
Tall high heels click-clacked through a crowd of students to the stride of ballroom performer Yummy Prodigy, who introduced the Multicultural Student Center's last event for LGBT History month: "Amateur Vogue Night." 
Prodigy, host of the competition, introduced the background and history of ballroom culture, as well as its celebration of queer voices. He said regardless of an interest to perform, voguing is for all. 
"There's a category for everyone," Prodigy said.
"Amateur Vogue Night" was held at the Student Union's Cape Florida Ballroom. Sophomore social work major Mariette Tomlinson said that, as one of the event coordinators, the night meant a lot to her. 
"I really wanted to uplift BIPOC (voices) this month and what better way to do it than to display the local ballroom scene," Tomlinson said. 
Vogue is a dance inspired by the poses of fashion magazine models, typically improvised, according to History; in the '70s, queer BIPOC — Black, Indigenous, People of Color — "developed a thriving subculture in house balls, where they could express themselves freely," which later evolved into competitions with various categories.
For graduate student Stephanie Barra, she said she came to the event to not only learn more about the history of vogueing and its importance to the queer community, but to have fun watching ballroom professionals in their element.
"I just want to see people vogue the house down; really show their charisma, uniqueness, nerve and talent, you know?" Barra said.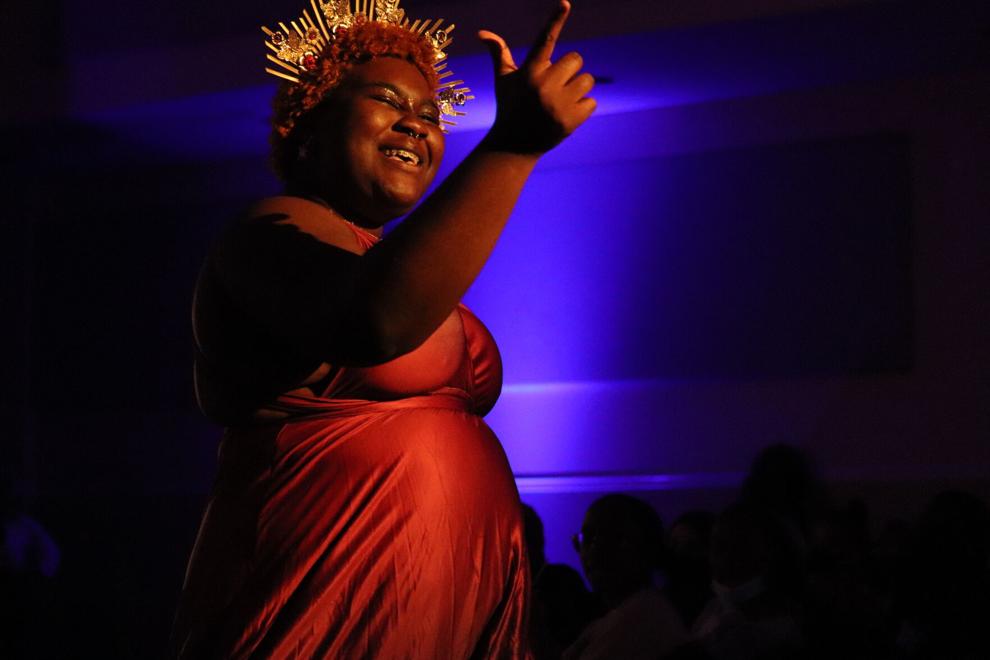 In addition to performing at the event, members from the Florida chapters of the House of West and House of Ninja gave their input on the development of the ballroom scene in recent years.
A vogue competition is called a ball. At a Ball, the houses function like sports teams. Tabu Ninja, mother of the House of Ninja, said she's competed across the country and loves her craft. 
"Before, (the vogueing scene) wasn't as well-connected, and now it's all over the world," Ninja said.
Representing House of West, Shatonya "Tonya" West said she was a ballroom commentator for the Florida chapter. In vogueing, a commentator is one of various categories individuals can compete in, among others such as lip-synching, bizarre, femme queen, butch queen, face and female figure. 
West said the community was so much more than just a family — it was a "safe space." She said giving maximum effort while performing is also important.
"That's what makes you legend: making moments on the stage," West said. 
English major Siara Tirado came in first place for her vogueing performance at the event, in which she lip-synced.
Tirado said performing showed her the importance of being herself.  
"Before this, I was just a bystander," Tirado said. "I finally got to feel the energy firsthand." 
Before the glamorous night was over, both West and Ninja sat down to tell an eager audience about the basics of ballroom terminology, such as the five elements of vogueing to be judged on: spins and dips, catwalk, hands, duckwalk and floor performance.
West also clarified that "death drops," as popularized by American drag queen RuPaul Charles on her show "RuPaul's Drag Race," are actually called "dips."
When it came to the reality of the scene, Ninja said even though the venues they've performed in are physically hot, she wouldn't trade it for the world. 
"As hot as it can be, it's only 'cause of the energy and passion," Ninja said. 
The search for local ballroom competitions to watch can be an elusive one, Ninja said, but the scene is becoming more lively in Florida. 
The Breakdown is a monthly ballroom performance series in Central Florida. Its next event will be held at the LGBTQ nightclub Southern Nights Tampa Nov. 20.