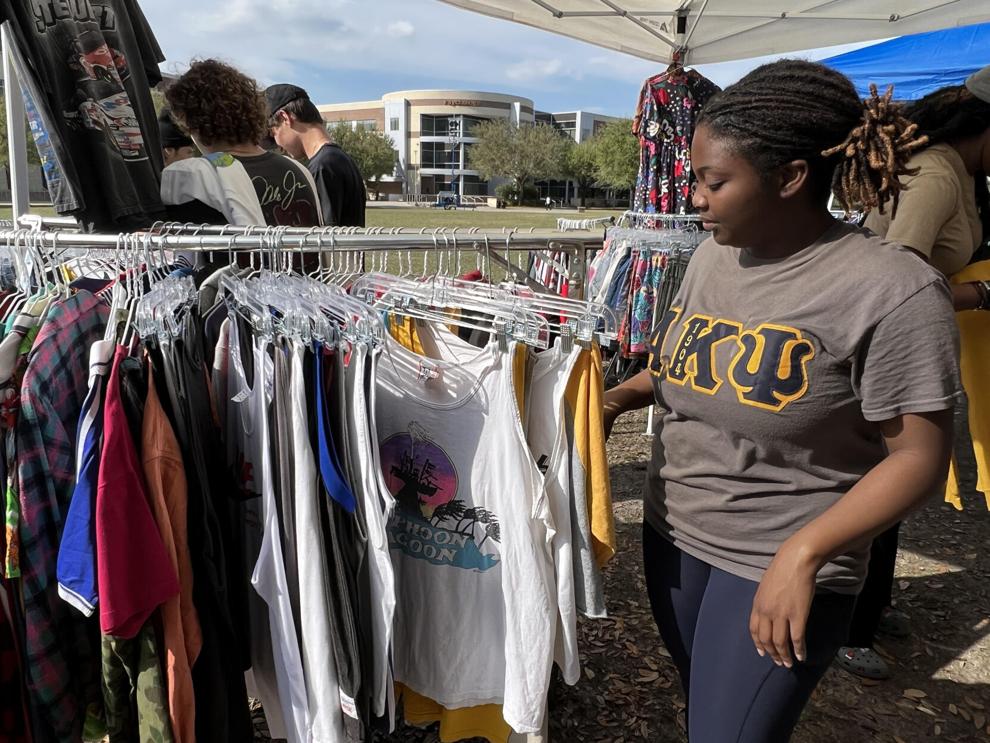 Celebrating Black excellence was the goal of UCF's Nu Chi chapter of the Alpha Kappa Psi Fraternity on Saturday.
The fraternity came together for their Melanin Market at Memory Mall for a day of shopping, music and performances in the name of empowering the Black community. Katianna Vilson, the fraternity's events co-chair, said the organization wanted to find a special way to commemorate Black History Month. 
This was the first time the fraternity had held this event, and Vilson said after weeks of brainstorming, "Melanin Market" was the only title that made sense.
"We thought what better way than to highlight a couple Black-owned businesses that we have locally," Vilson said.
Among the organizations and businesses at Memory Mall were UCF's Big Sister Little Sister Mentoring Program, the John T. Washington Honor Society, Taxes by Katrice Business Solutions and La Baniels Vintage shop. 
Vilson said getting the event together was a difficult experience.
"(There were) a lot of hoops that we had to go through that we didn't know that we had to go through. For instance, outside vendors aren't really allowed on Memory Mall unless you go through business services," Vilson said.  
Vilson said the Student Union event coordinators initially denied the event; however, the fraternity fought back and contacted business services instead. Vilson said that it took the fraternity longer than a month to get business services to approve their vendors and the event.  
Despite the difficulty, Ashia Grant, the fraternity's events co-chair, said she was proud of how the event turned out.
"I know there's a lot going on because it's Saturday, but I appreciate the fact that people are still making the time to come out and enjoy it," Grant said. 
Dominic Griffin, owner of La Baniels Vintage, said he was approached by the fraternity about coming to the event due to his presence on campus.
"They saw our set up during Market Wednesdays, and they loved how it looked, so they decided to invite us out today," Griffin said. 
Griffin said one enjoyable aspect of the event was being around people that looked like him and that being at the event was rewarding and a great business opportunity.
"I enjoy people supporting small businesses. And, I think that's what keeps a community growing, is by supporting small businesses," Griffin said. "When I see people supporting me, it makes me feel great, and I'm able to take whatever money I make from here and go support other small businesses that are out there as well."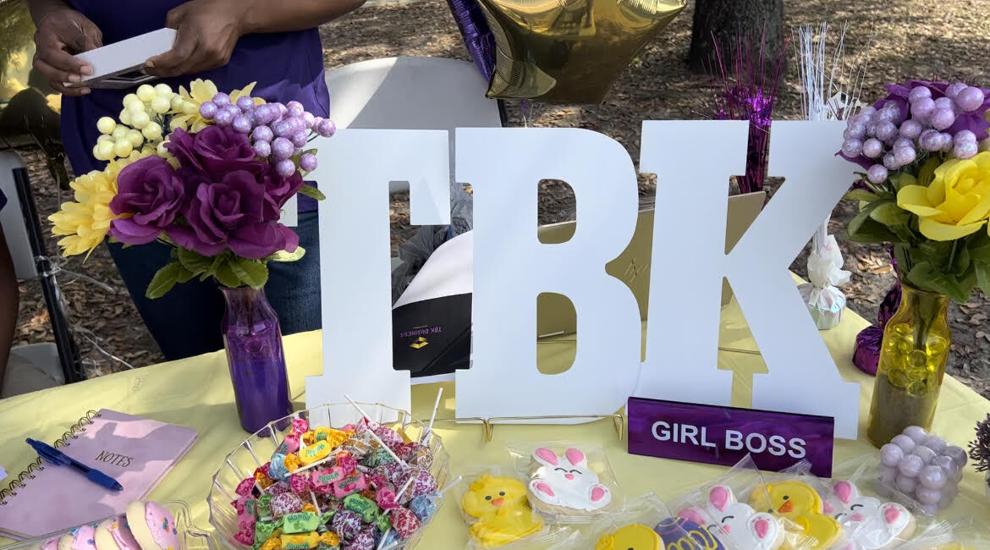 Katrice Pendergraph, CEO of Taxes by Katrice Business Solutions, said being a UCF alumna drew her to the event. After seeing a Facebook post with the flyer, Pendergraph said she was compelled to come out and support.
"I'm an alumni from UCF. I graduated in 2007, so any opportunity to support my campus I try to participate in," Pendergraph said. 
UCF's Hazard Step Team was also in attendance, performing a step routine during the event. Hazard Step Team president Ashanti Hawes said stepping derived from Africa and was brought to the U.S. through historically Black colleges and universities' fraternities and sororities. Shawes said the group was at the event to further shine a light on this background.
"Hazard Step Team is out here today to support AKPSI's event and give a bit of insight on melanin itself and Black history," said Ashanti Hawes. 
In addition to support and participation from small businesses and organizations on campus, Vilson said after some networking, the fraternity was able to gain a sponsorship from Go See the City. Go See the City, founded by Aneshai Smith, is a local business that aims to end food waste in the area.
Vilson said that Smith partners up with local restaurants and offers her app subscribers free or reduced-cost meals. 
Vilson said this sponsorship would help carry over benefits to attendees of the event. The Nu Chi chapter of Alpha Kappa Psi has a scholarship opportunity for all student-led organizations who attended the event. Vilson said the scholarship was created for this event specifically back in 
Vilson said the scholarship requires downloading the Go See the City app and putting in the invite code provided to each organization. She said the organization with the most sign-ups will then get a $500 scholarship, and the contest runs until March 31st.
Alpha Kappa Psi showcased Black heritage and camaraderie on campus, from the performances to the Black-owned businesses and student-led organizations. Pendergraph said this notion brought on some positive emotions.
"It is so inspirational. It warms my heart just to see us networking together, supporting one another, and it just means a lot," Pendergraph said.