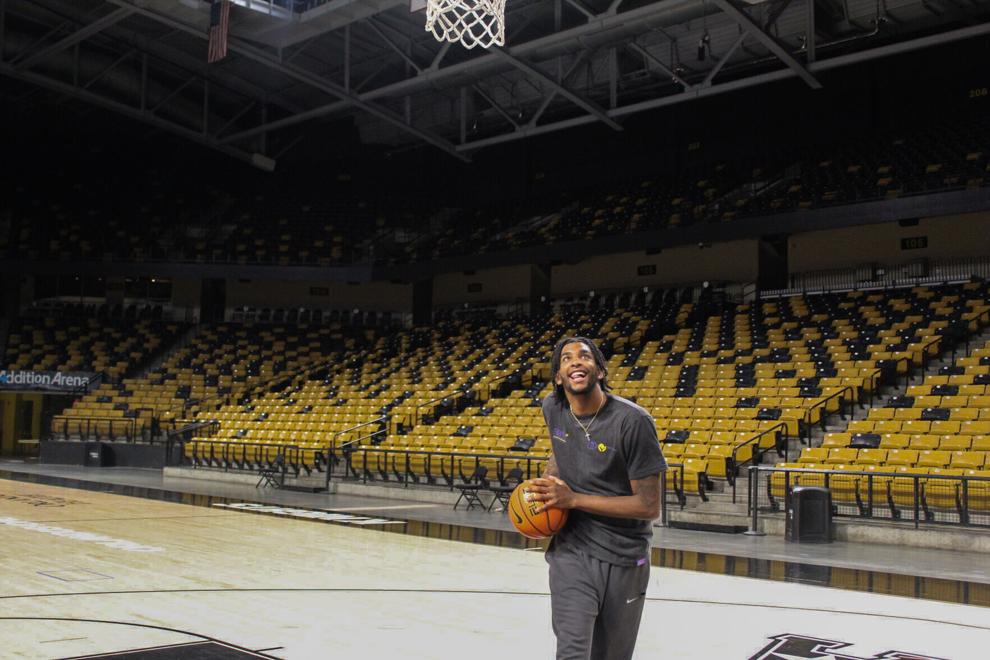 On and off the court, UCF's Isaiah Adams said he strives to win — whether it is during basketball season or to procure the best future for his family after a lifetime of hardships. 
Adams' success as a freshman, including three American Athletic Conference Freshman of the Week awards, has allowed him to help lead the Knights, where he is No. 9 in the league. He was even able to enter his name in the NBA draft during the offseason. New opportunities continue to surface for Adams, such as the new NCAA name, image and likeness policy, which allows college athletes to monetize their success like professionals do.
But Adams' drive has its own story. 
"People think I'm Hollywood, and I'm not like that at all," Adams said. "People don't know my past and how I like to be someone who can just brighten someone's day."    
A Virginia native, Adams said his family lived in North Carolina before settling down in Jacksonville, Florida, where he attended elementary school. Around that time, he, his mom and his two siblings were homeless for several weeks, he said. 
"My dad left the picture a long time ago," Adams said. "I forgot how old I was, but it was when I was still in Virginia. I believe he's in Alaska, but we'll text here and now." 
After overcoming that period of uncertainty in his life, Adams said he made it his goal to do whatever he could to step in and help his mom. So far, he said, he helps her every day through his scholarship, without which they would not be able to afford UCF at all. 
Elijah Adams, Adam's younger brother, said Adams has been the foundation that has kept his family from falling apart, supporting his siblings emotionally and even financially as much as possible.
"He supports me with everything I do ... To this day, he still is there for us and wants the best," Elijah said. 
Adams began reaping the benefits of his own work as well after the NCAA policy went into effect, giving him a chance to expand his name to a larger audience and receive money or gifts from partnerships. He is currently partnered with The GLD Shop, Yoke Gaming and Cernucci. 
The GLD Shop and Cernucci are jewelry companies that supply Adams with products to include in his social media posts. Yoke Gaming gives others the opportunity to play video games with Adams. He has also attempted partnerships with Zaxby's, Ethika and PSD, Palm Springs Design.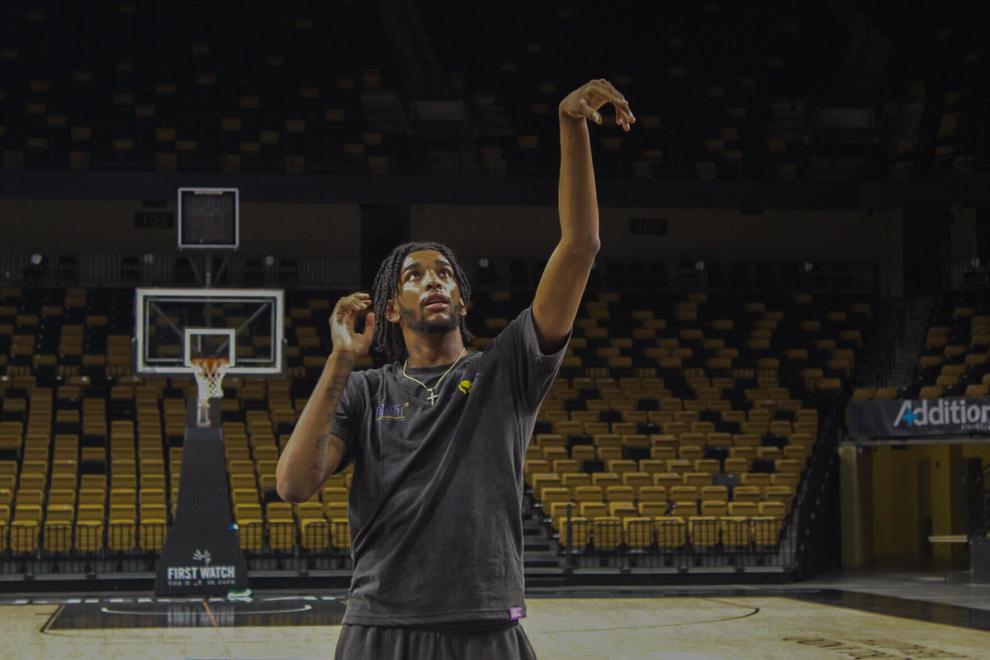 Adams said these opportunities have given him multiple connections. He said he plans to hire an agent in the future and partner with "a little bit of everybody, like restaurants and car dealerships." 
The athlete said basketball has opened doors for him he could not even imagine as a kid. He said soccer was the first sport before moving onto baseball and football. He didn't start playing basketball, he said, until late elementary school, at his mom's suggestion.
"I didn't like it at first, but I ended up falling in love with it," Adams said. 
Adams was known by most as the quiet, tall kid who played basketball, but to family and friends, he was "Beatle." Adams said he was more reserved at that time, and his shyness was something he had to overcome in order to get to where he is today.
"To get at least 10 to 20 words out of me was a lot -- I didn't have anything to say," Adams said. "I just didn't want to talk. And honestly, I don't know how I got that nickname, but it was very embarrassing; now, I'm just 'Zay' or Isaiah."   
This season, Adams said he is looking to improve his shooting percentage significantly. He said he sees himself winning the American Athletic Conference Player of the Year award and looks forward to exploring the NBA draft options again.
While he said he likes his stats from last season, he believes they could have been much better. The player has improved his consistency in shooting and said he hopes to increase his 9.9 point average from last season. Adams said he is aware of his capabilities of becoming a well-rounded athlete and continues to push his limits in the gym in order to see more success.  
"As an athlete, he's definitely gotten stronger and quicker," Elijah said. "I really think he is NBA material and can lead any team he's with." 
On the court, Adams said he is level-headed, a good listener and a competitive team leader who takes on early mornings and late nights, doing everything he can to win.  
"I'm the best competitor; I hate losing," Adams said. "I cannot do it — losing hurts my soul." 
He said he sees himself in Knights Head Coach Johnny Dawkins. Dawkins said they are remarkably similar in competitive spirit and that he sees a drive in Adams that is hard to suppress. 
"When the lights cut on and it's game-time, he's ready to go," Dawkins said. "I love that about him. He's always ready to give his all."   
Throughout high school, Adams said he had a fragile body and was injured every year, but he said these setbacks only made him push harder. 
Setbacks haven't just come from Adams' physical injuries. Last season, Adams suffered from pneumonia and was out almost three weeks, he said. He also hit the "freshman wall" and had to regain his rhythm all over again when he got back. 
The "freshman wall," Dawkins said, is the physical and mental transition period from high school to college sports. Dawkins said during this time, athletes tend to fall off track from their everyday skills and must head back to the basics. He said this process takes time and requires a stronger mentality from student athletes because their bodies are still young and commonly get worn down.
Dawkins said he has been looking into Adams throughout his high school career, as he played in a competitive conference, seeing the ups and downs along the way. He said he continued to pursue Adams even through his injuries, seeing how his persistence and strength allowed him to push through any physical barriers.
Dawkins said he knew Adams had something to bring to the table at UCF.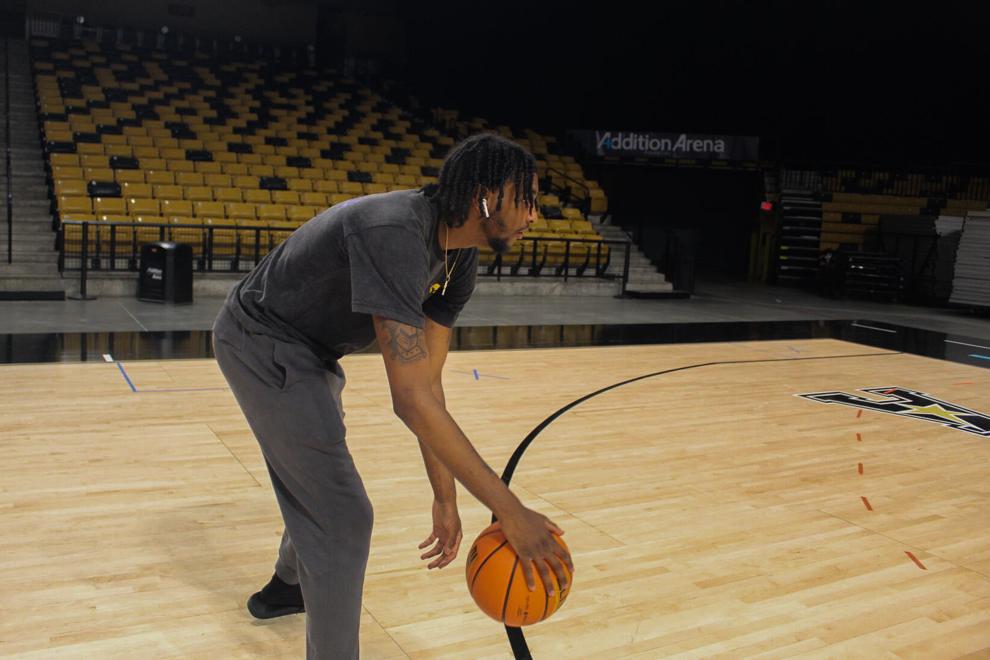 "In a terrific conference, sometimes they get worn down," Dawkins said. "That's pretty common: Fall off the horse, and get back up, and keep riding." 
Adams said he treats his off-court life just as he would his on-court life: He does whatever he can to get to the top and does not want to lose.  
"I would describe Isaiah as a procrastinator, but when it comes down to it, he's capable and will lock down to what he needs to do, no matter if it's school, or basketball, looking (out for) others,"  Elijah said. "He's kind of a brother to everyone, especially his teammates."
Academically, Adams said he finds it important to maintain a GPA above 3.0 and earn his degree, so he's contemplating changing his major. 
Even with mandatory study hall hours and learning assistance, the player said he knows he's not as focused as he should be and needs to find balance, manage his time and operate on the "five fingers."
Adams said the "five fingers" are known as: God, family, academics, athletics and social life. To get in the mindset of being fully immersed in whatever he is doing, he said he listens to rapper Lil Baby. Adams said he wakes up at 8 a.m. every day to head to weights and then has practice for two to three hours.
Afterwards, he heads to the Garvy Nutrition Center; Adams said he knows he could do better with his diet, but he loves chicken Alfredo pasta and PB&Js. Sunday is his designated rest day, which he often spends playing video games, such as "2K" and "Call of Duty." And when he gets a break, he said he loves to sleep. 
Even when he feels knocked down, Adams said his drive to help his family, as well as overcome his fear of becoming homeless again, is what gets him up in the morning. 
"It gives him a certain drive, a certain motivation to overcome," Dawkins said.  
Adams said his positive mentality allows him to laugh off bad situations and keep pushing. He said he refuses to let anything get in the way of him becoming his best self or being there for others.
"That's my biggest fear: being a disappointment and letting people down," Adams said.
Despite his fears, Adams said he remains his goofy self. He also said he remains humble despite his accomplishments and always remembers instead the impact he wants to have with his family, basketball and the fans who support him. 
He said he tries to bring a smile to people and plans to one day help others through philanthropy, like building a homeless shelter, once he makes it in the NBA. 
Dawkins said Adams knows how to adjust and find a way out of trouble, even though Adams said he still sometimes encounters mental barriers.
"He never puts his shoulders down," Dawkins said. "He's hard on himself."   
Of course, not everyone is there to support him, but Florida's former Mr. Basketball said he uses the negativity that comes his way as motivation. Sometimes this negativity comes from himself in the form of self-doubt.
"Sophomore year, I was going to quit because I always got hurt," Adams said. "There's always doubt (of) not being able to make it to the NBA, depending on if something happens to you."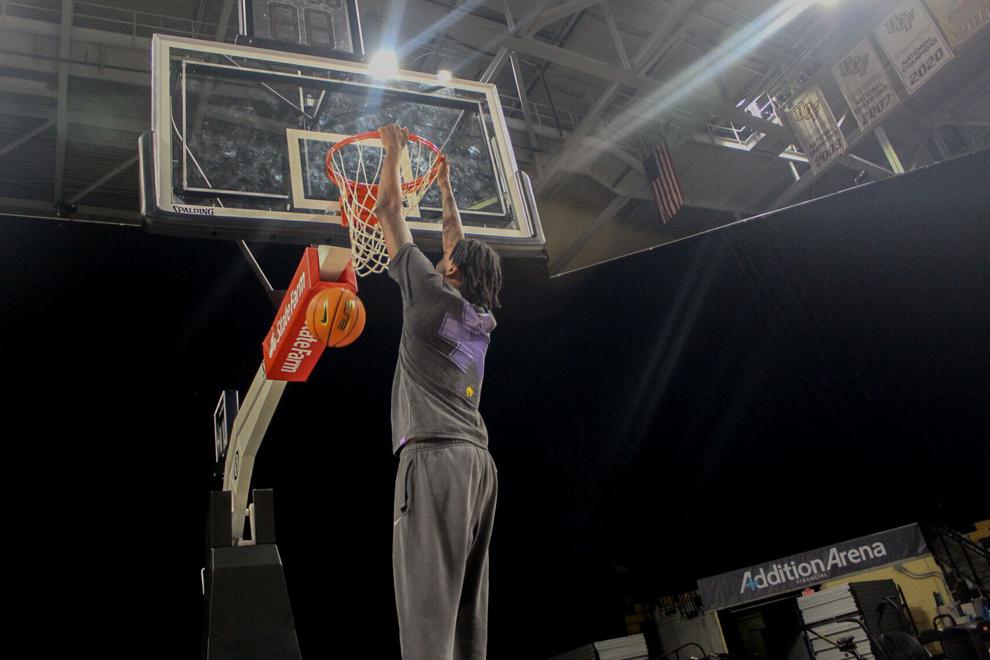 While he feels good about the awards he has received, knowing his arduous work is being recognized, he said he does not allow himself to get too comfortable.
He said he won't stop until he's made it, his dream goal is playing with the Miami Heat, becoming a role model and making sure his family is set. 
"I try and stay humble, and my mother keeps me grounded," Adams said. "I'm not trying to get a big head and too ahead of myself when I know I really haven't done anything until I'm able to retire knowing that my mom, family and I are straight for the rest of our lives."