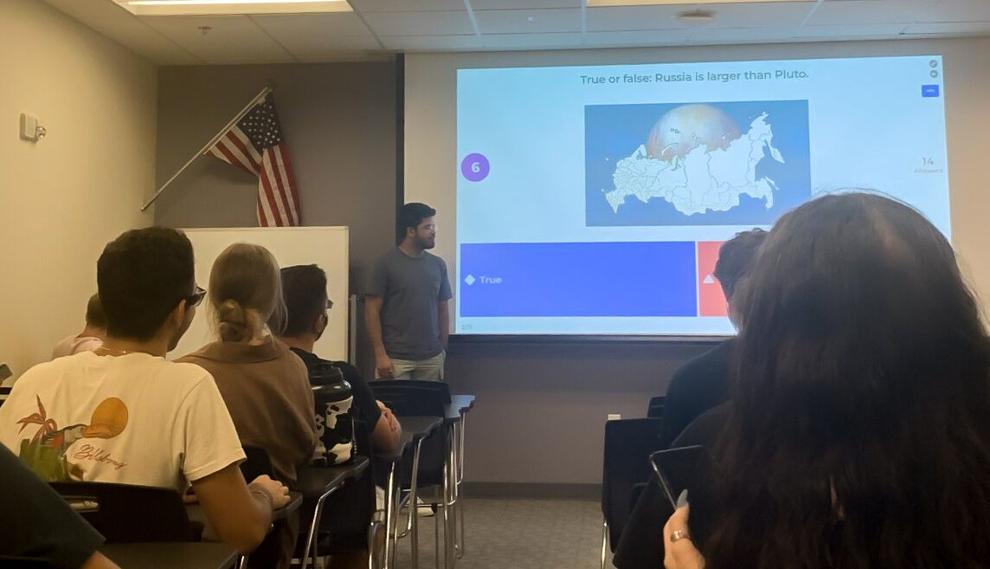 Deborah Horzen hopped on a plane as a college junior to spend a semester abroad in Germany, a country she said she did not know much about. She feared the language barrier would keep it that way. A music major at the time, she had no idea the language she was so unfamiliar with would lead to a career as a German language professor, she said. 
"It was a huge adventure, and it totally changed my life," Horzen said. "I am really interested in how people learn languages because I know what my own experience is, and there are a lot of different ways to reach the same goal."
Now, Horzen has found a career teaching college students a language she had no background in before studying abroad. She is one of many professors in the modern languages and literatures department at UCF who host language groups to help students improve their fluency in languages such as German, Haitian Creole, Japanese, Portuguese and Russian. These groups are mostly free and are available to all students who want to practice conversation in a target language of their choice.
Russian language professor Alla Kourova, a Russian native, said she believes it is important to expose her students to the culture. Kourova said she does this by facilitating annual study abroad programs to Russia and offering monthly "Russian tea hours," where she prepares Russian cuisine and introduces students to recipes, politics and stories of Russia.
Senior health sciences major Victoria Orindas, who is also the vice president of UCF's Russian American Student Association, said she has gotten more familiar with her cultural background through attending club meetings.
Orindas moved to America five years ago after growing up in Moldova, where she said half the country speaks Romanian and the other half speaks Russian. She said that pushed her to learn the language. After joining RASA a year ago, she now serves on the club's executive board and said she has noticed the importance of being open to new cultures.
"Seeing cultural similarities overlap made me get closer to my roots, while also getting to learn other unique facts about Russia," Orindas said. "Knowing about the intricacies of other cultures will not only make (students) well-rounded but will help them become better communicators and leaders."
Haitian Creole professor Nick Myrca Gauthier also brings her upbringing into these language groups. She said she noticed while growing up in Haiti that French was the language taught in most schools, and Creole was a language just spoken at home. Due to that, Gauthier said, there were generations of Haitians who did not know how to read or write in Creole. 
Aside from the lessons she goes over in the classroom, Gauthier facilitates two language groups, Pale Kreyòl and Chante Kreyòl. Pale Kreyòl is solely for conversation practice, while Chante Kreyòl, which translates to "Creole songs" in English, teaches students how to read in the language through singing traditional tunes. 
"You learn to better appreciate and understand a community through lyrics," Gauthier said. "So, I felt that learning how to read lyrics would help them learn how to read without noticing, while having fun, because the Haitian culture is very vibrant. Teaching these lessons helps me feel like I am closer to my culture; I am always eager to share a part of my culture with students."
One of her students, freshman character animation major Henry Severe, said that through attending both the Pale and Chante meetings, he has felt more connected to his family and his culture. Both of his parents speak Creole, but he said he was never able to fully grasp the language.
"I wanted to study Creole at UCF because it is not as accessible to learn as other languages, and I figured if they have a class, I should take that opportunity," Severe said. "It is really great to meet people who are not a part of the culture and want to learn about a culture that is not as represented."
Students like senior experimental animation major Joseph Bucci said he needed to take classes to fulfill his foreign language requirement, and he felt pulled to take Japanese because of his interest in the culture. Bucci said he attended the language groups, one of them being for the Japanese-Language Proficiency Test, to make sure he was retaining as much as he could.
"While attending the classes, I found it difficult at first, but then I learned to love the language even more as my understanding grew," he said. "This is what caused me to want to further my knowledge and become more fluent through the tutoring sessions. Last year, I was not taking any Japanese classes, and I felt my knowledge slipping.
"After I started attending these lessons, I started to regain my understanding and build upon it with new information."
For students like Bucci, who may have seen themselves struggling in their language, Portuguese language professor Evelin Pegoraro, who facilities the Portuguese language group BATE-PAPO, said these meetings are for practice and without any expectation. 
"I really want this conversation hour to be: You're listening, and you're speaking and that's it," Pegoraro said. "It's fun; it's informal. If they make mistakes, who cares?
"And I want them to — I want them to make all of the mistakes."
Some students who attend these groups come with the purpose to dive deeper into a language and culture they may already be familiar with, while others come with pure curiosity. For Horzen, who had no idea what studying in Germany would bring her, immersing herself in German led her to teaching a language she never expected knowing.
"I learned German with total immersion," Horzen said. "(Then), I got off the plane and walked onto a university campus. It never occurred to me that this would happen."