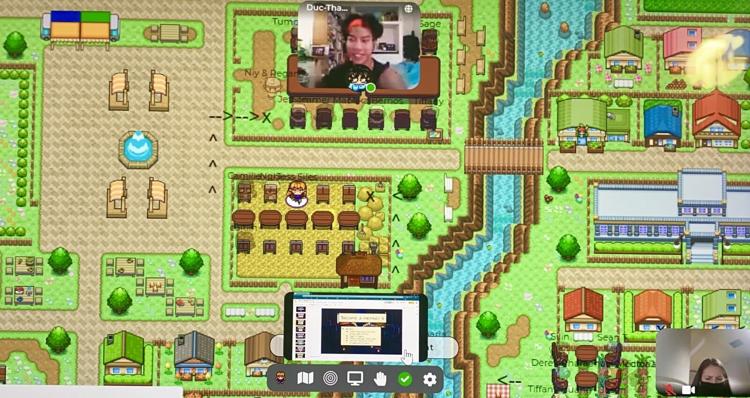 The Asian Student Association had its first general body meeting on Thursday using a new online platform, Gather Town.
According to the Gather Town website, Gather Town is a paid virtual space that combines video calling and a 2D map, allowing the user to walk around while talking to other users through custom, interactive spaces.
ASA president Duc-Thanh Nguyen said ASA created a space through Gather Town where it can socialize, study and hold meetings.
"It has a video game vibe to it, so it's not as formal as Zoom would be," ASA's Decoration Chair Linda Shih said. "Unlike Zoom, we were able to create our own personal space that was unique for ASA."
When first logging into Gather Town, the screen primarily consists of the virtual map in which characters move around using computer arrows. These characters can be customized.
Over 70 students and their corresponding characters could be seen moving around the computer screen at Thursday night's meeting.
There is a toolbar on the screen, where the camera or sound can be turned off along with a display box showing everyone currently on the server. There is also a chat feature.
"Something my officers really liked about Gather Town is, if you ever played Pokémon back in middle school or elementary school, it's just so nostalgic to be part of a trainer town," Nguyen said.
During the meeting, members were first instructed to fill a Google form and then enter another virtual space, which was the main meeting room. Typically, users can only talk to other characters that are within a certain range of them on the map.
However, officers used a "spotlight" feature on Thursday. The spotlight is a designated area on the map enabling the characters in that area to bypass the range requirement, allowing them to be seen and heard by everyone logged in. There, ASA introduced its officers and shared a PowerPoint, as most first general body meetings would.
Nguyen said his motivation for using Gather Town came from "Zoom burnout." He said because students were already using Zoom so much in the classroom, the club wanted to experiment with what it could use for extracurricular activities.
Nguyen said not everyone was immediately on board to switch over. Nguyen said introducing a brand new platform, when Zoom is available, is understandably scary.
However, Nguyen said he ran into some issues when using Zoom as the primary meeting platform. He said he found if there are more than seven people in the room, no one talks because they are all on mute. 
"We took a huge risk on really being the first ones to work on the Gather Town," Nguyen said. 
Nguyen said moving into the semester, ASA realized one of the things it had to do was improve its social media usage by expanding into TikTok. Nguyen said that is where ASA ended up finding Gather Town.
Nguyen said ASA contacted the Gather Town creators and got a very good deal with them, allowing ASA to launch Gather Town.
"When we found Gather Town in TikTok, our initial reaction was to experiment with it in terms of very small meetups," Nguyen said. "This was mainly because the first day I went on to Gather Town to explore it, I realized I spent eight hours trying to make a single room with a chair in it."
Nguyen said he estimates ASA officers went through 64 drafts, taking three days of work just to build half of the rooms. 
"ASA's mission has always been about spreading cultural awareness and building a tight-knit community and so we have been working tirelessly to make these maps where you feel at home," Nguyen said in an ASA video tutorial.
Shih said even with help from others, it took many YouTube videos and trial and error to create rooms. Shih said it took her a week to figure out how to add features to move around the creative map and build ASA's space.
In addition to the time it took, Shih said the only other downside to using Gather Town was that since it is a new program, there wasn't as much room to be creative because some of the customized features ASA thought of were not an option yet.
"There is a big learning curve to personalizing and creating your own space," Shih said. "However, even with Gather Town's small creative abilities, it is still greater than any creative abilities that Zoom can offer."
Nguyen said that this was ASA's first official launch of using Gather Town, but it will not be using it only for its meetings. He said ASA purchased this space for people to socialize and study as well.
Nguyen said in the future, ASA will use Gather Town to host movie socials where it can stream a movie and everyone can watch on the same server.
Nguyen also said ASA created study rooms equipped with a whiteboard application where members can meet in a room and write on a whiteboard to teach and study together, like students would in the Student Union, library or All Knight Study. Last week, Nguyen said he used this feature while helping an officer with a physics problem while doing homework on the server.
"We're making the study group rooms for our members and the socials for people to kind of loosen up and finally have the fun time they would have at UCF," Nguyen said. "It's hopefully very cute in terms of we'll try to decorate the rooms as much as we can to make it feel as if you're not at home."
While Gather Town creates a more interactive and intimate space for ASA members, Nguyen said there are certain in-person interactions he misses.
"I really want to hug my friends," Nguyen said. "Even now I really miss sitting next to them, even if we're not talking just sitting next to them and being there."
Nguyen said what makes online really hard compared to in-person is the amount of support its members give. Nguyen said during a usual ASA meeting, members could be heard energetically yelling and vocalizing support for one another. Nguyen said the energy of ASA members and their support for one another is what attracts members.
"I miss the personal connections we make in person, especially with the newer members and first-years joining us because when I was a first-year at UCF, I went to one of ASA's socials and the officers were all so friendly and they were the ones approaching us," ASA's PR Officer Helen Lian said. "It really felt special compared to being online and having to talk through a screen."