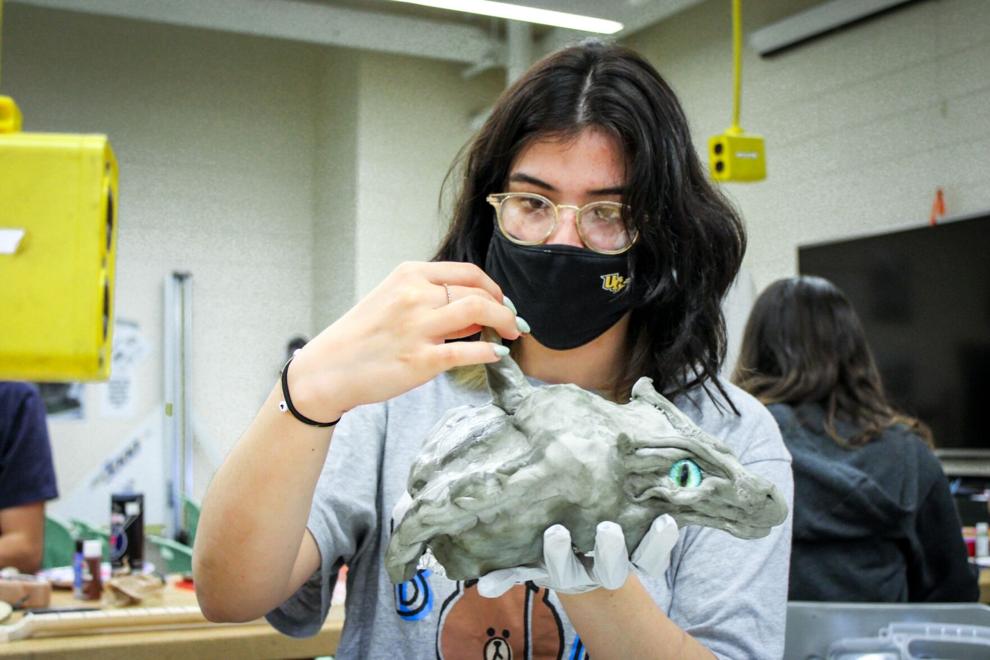 With a final exam unlike others, students from Advanced Design Lab at UCF must put their own spin on guitars, creating custom designs while still making the instrument playable.
El Camino School of Music, Repair and Technology, a music school based in Orlando, has been a longtime friend of ADLAB professor Robert Reedy. The school, which opened in 2019, teaches people a variety of music skills, from learning how to play guitar, to how to build one, according to its official website.
This is why the school helped the ADLAB class assemble the famous Stratocaster body by Fender, also known as the "the quintessential electric guitar," according to the guitar manufacturer.
"Functional doesn't mean that some of these guitars are all going to be played onstage because if they turn one into a dragon, and it's got 10 pounds of dragon head sticking off the side of it, obviously it's not going to be the most functional guitar, but it still will be playable," said John Theisen, founder and president of El Camino. "When we have this exhibit ... (we want to) make sure that the people who are going to be either purchasing these, or doing it via bidding and silent auction ... would get a playable item." 
Emerging media sophomore Lucia Pinerio Sosa was originally going to attach a permanent clay dragon to the Stratocaster body, but a conversation with Reedy took Sosa in a different direction.
Theisen suggested transforming the Stratocaster guitar kit into a half pond with koi fish at the bottom and a detachable dragon sock that wraps around the neck of the guitar.
"I built the armature with wire, put wire inside the sock, and I filled it with Poly-Fil (a material commonly used to stuff dolls)," Sosa said. "For the head, put aluminum foil over that to make a little more volume, and I'm just going over it with epoxy clay. ... (Then,) I am painting it."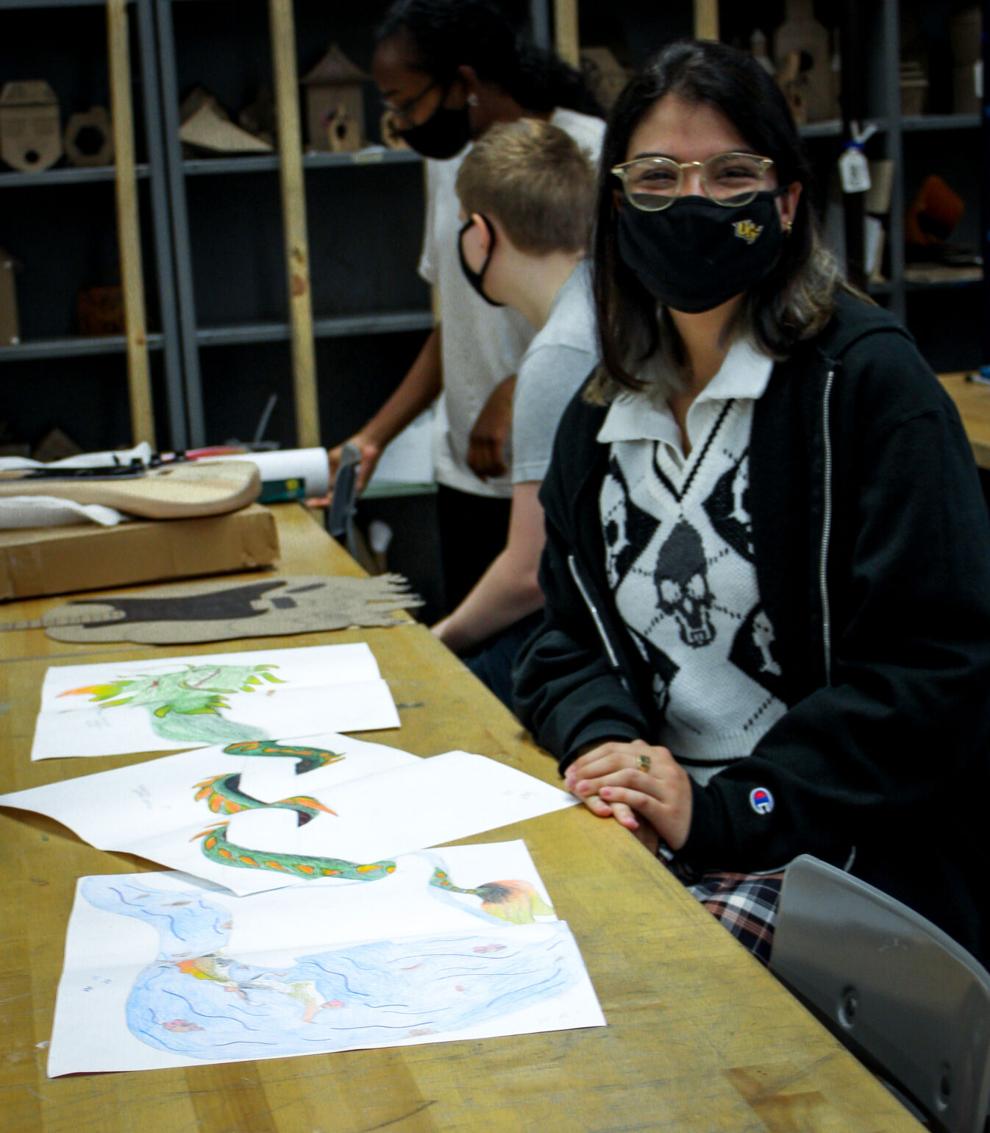 Like Sosa, studio art junior Steven Raya decided to create detachable add-ons for his guitar, but Raya's creative process was also taken to a different place with guidance from El Camino. 
Instructor Ray Krugh came in to assist students, including Raya, in making their designs come to life in a way that doesn't interfere with the playability of the guitars.  
"(He) mentioned perhaps he would like to see a guitar design like something cathedral or gothic, and I'm really into gothic architecture and seeing religious themes played in artwork, a demonic sense," Raya said. "A lot of horror media I like has eyeballs involved, and I wanted to incorporate that." 
Sculpting is Raya's main form of media, but he said he still struggles throughout the process, especially when he made detachable wings for his guitar, which required "tedious" detailing. With aluminum foil underneath, Raya said the wings will be covered with either fabric or papier-mâché to get the coloring effect, which was advised by Reedy.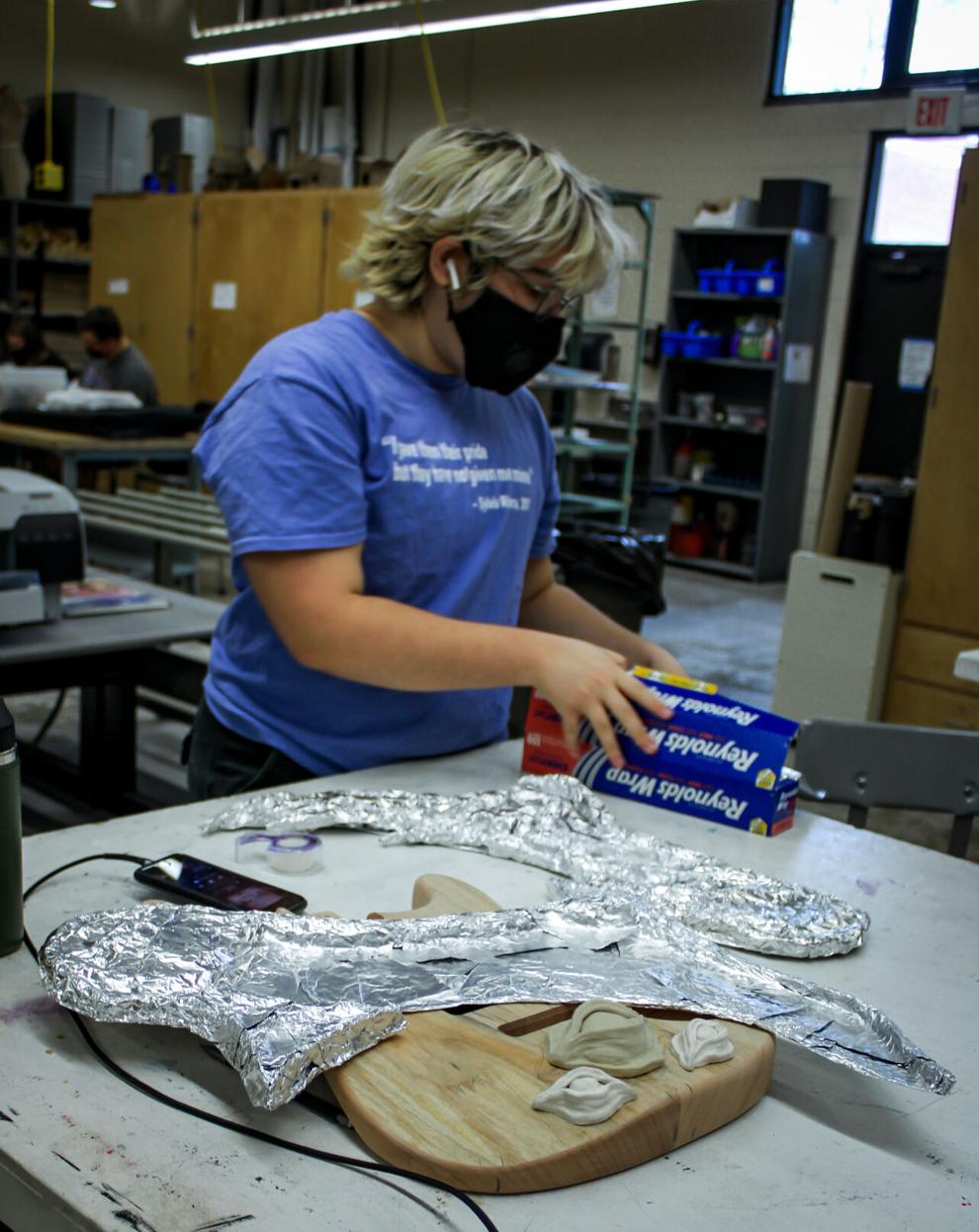 Others went a different route, such as carving into the guitar itself. Emerging media junior Phoenix Smith had the idea to make his guitar reminiscent of "old-time mafia," gluing old car parts to the areas he carved out of the guitar. 
"I have a Thunderbird radio ... a really old speedometer ... and bullet casings," Smith said. "I was going to do all speedometers ... but then I came across the Thunderbird radio when going through a junkyard, ... and that's how the idea came to be." 
Smith said he enlisted the help of Machine Shop Manager Brendan Solinsky for the carving portion of his project. 
"(This project) really teaches you to get out there and actually ask for help, rather than do it yourself, because I definitely don't have the woodcutting skills," Smith said. "Getting out there is a big part of art; you can't realistically do everything." 
Theisen and Reedy said students will have an exhibit to showcase and sell their final projects at the Dr. Phillips Center for the Performing Arts in April, with proceeds from the exhibit going to El Camino School of Music and UCF ADLAB for equipment, internship opportunities and job offers.