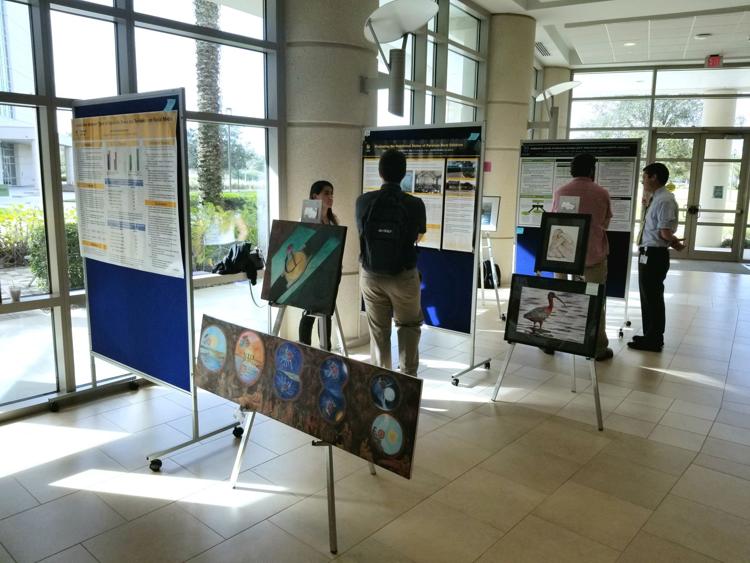 Healthcare leaders across the state of Florida came together to discuss integrating arts into medicine at the ninth annual Global Health Conference on Saturday.
The conference took place at the UCF Lake Nona campus and was hosted by the College of Medicine's global health interest group, UCF MedPACt. 
The day was filled with professional panels, workshops, art exhibits and life-like simulations that incorporated global arts in medicine, such as integration and healing, this year's conference theme.
In one session, attendees were tasked with a murder-mystery scenario where only gibberish could be spoken. The workshop, led by Orlando-based actor Henry Gibson, was meant to show how improvisational theater can improve communication with patients of different backgrounds.
Stephanie Wray, president-elect of the Florida Art Therapy Association, led a session about the impact art therapy has with boosting the mental health of communities affected by natural disasters and mass violence. Guests painted hopeful messages across wooden stars to send to victims of the recent earthquakes in Puerto Rico.
Research supports the idea that arts in medicine is a credible form of therapy, according to the National Endowment for the Arts website. Art therapy can help people to explore their emotions, develop coping skills and improve overall well-being. 
However, merging the two disciplines has been dismissed as a pseudoscience by many developing countries and cultures. Merriam-Webster defines pseudoscience as "practices and beliefs that are inconsistent with the scientific method."
UCF MedPACt conference director Vincent Cendan said the medical program doesn't usually cover holistic approaches, such as body movement therapies, herbal medicine and meditation. 
UCF offers students a course for the arts in medicine as a fourth-year elective, but Cendan said it's so important that it should be fused into regular coursework. 
"AIM, or arts in medicine, should be included in the curriculum," Cendan said. "People think about it as a form of complementary or alternative medicine, but in reality, AIM is integrated medicine."
The Global Health conference was right up first-year accelerated nursing student Brittany Craft's alley. She has an undergraduate degree in visual arts and said she especially liked the hands-on ultrasound simulation where she probed the insides of both healthy and ill patients.
 "I just wanted to step out of the classroom for a little bit and get more of a hands-on experience in things that we don't really train on," Craft said. 
Jill Sonke, director of the Center for Arts in Medicine at the University of Florida, delivered the keynote speech on why medicine needs the arts. She also presented her research from Gambia, Kenya and Rwanda during the 2014 Ebola outbreak.
"These are opportunities for us to pause and to think more deeply about the things that we care about, that don't get a lot of time in our educational systems because we have so much to accomplish," Sonke said about the conference. 
The event was free to students and volunteers, but donations were encouraged. The proceeds went to various service projects, including the Fundación Yantaló Clinic in Peru.
Through support from UCF MedPACt, the clinic can provide basic care to over 10,000 patients a year living in the rural villages of Peru.
Cendan drove home the emotional benefits of integrating art in medicine. He said he's seen art bring hope to people when nothing else can.
"In the end, it's attitudes," Cendan said. "Like, yes, medicine helps, but if someone gives up, their body's gonna give up too."