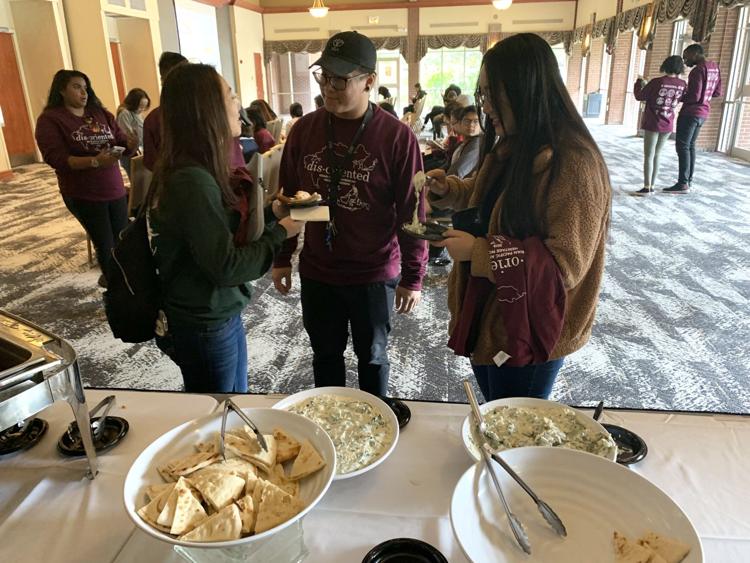 The Multicultural Student Center and UCF's Asian Pacific American Coalition kicked off their second annual Asian Pacific American Heritage Month celebration at UCF on Tuesday with an opening ceremony full of food, giveaways and information regarding upcoming events.
The opening ceremony, held in the Live Oak Room, was the start to a month of events recognizing UCF's diverse Asian culture.
In partnership with MSC, student representatives from the 11 on-campus Asian interest groups, including APAC, put together the events for APAHM.
"We've had Asian American weeks, but we've never had a month until last year," said Phreezy Naufaldy, president of APAC at UCF. "It's very big because it's one of the few times that we truly get to celebrate all of our cultures as a whole. Every Asian culture is very different — not just in flags, but in our languages [and] our food."
Naufaldy, senior interdisciplinary studies major, said the opening ceremony and upcoming events are not only an opportunity for members of the Asian Pacific community to celebrate, but also a great way for them to share their culture with all of UCF.
Some of the events highlighted during the ceremony included the Asian Heritage Street Fair, which will be held on April 10 and will include vendors, games and performances at Lake Claire, as well as Karaoke and Calligraphy on April 15, which will pay homage to the popular Thai form of visual art.
One event that will stake its claim during APAHM is UCF's Holi event, an event that celebrates a holiday observed in Indian culture, on April 14. This celebration of colors is held annually at UCF's Lake Claire Recreation Area in partnership with the Indian Student Association.
Anusha Ketepalle, secretary for ISA at UCF, said that although Holi originated as an Indian holiday, the celebration brings out people of all ethnicities to participate.
"You can think of Holi like a color run," Ketepalle, sophomore industrial engineering major, said. "Everyone gets their own colored powder, and they throw it at each other. It's just fun because by the end of the night, you don't even recognize people because of the color everywhere."
Organizers of APAHM at UCF like Ketepalle said their events are open to all UCF students. Ketepalle said she encourages all people to attend the month's lineup of events.
"There's more to the Asian culture than the stereotypes," Ketepalle said. "Coming to these events and meeting people can really introduce you to what every Asian country has to offer."
Naufaldy said the month-long celebrations will come to a close with the Hidden Lotus Awards on April 17 — an award ceremony that will distinguish and award officers, organizations and events for their work within the Asian Pacific American Coalition.
For more information about UCF's events for Asian Pacific American Heritage Month, click here.