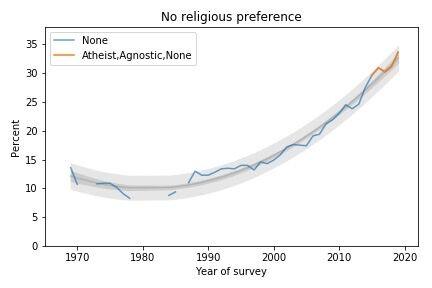 There are increasing numbers of college students straying away from traditional means of organized religion, and several UCF students have adapted alternative belief systems for thinking against the norm. 
Over the past 50 years, the number of non-religious college students has increased five-fold, from 6.6% of students declaring no religious affiliation in 1966 to 33.6% in 2019, according to the Freshman Survey conducted by the Cooperative Institutional Research Program. The CIRP Freshman Survey is the longest-running, largest empirical study of college students in the United States.
"There's been a trend in the United States in general, to where more and more people are becoming non-religious," said Kevin Bolling, executive director of the Secular Student Alliance. 
SSA is a national organization dedicated to atheist, humanist and other non-religious students, with chapters in high schools and universities across the country.
Bolling said that UCF's chapter used to be quite active before the disruption of the pandemic, and he encourages students to take up the mantle to get the university's chapter back up and running again. 
"For non-religious people, organizations like the Secular Student Alliance become a way for you to meet friends, live out your life in that positive way, get involved in community service, get involved in other programs and have great conversations," Bolling said. 
Freshman industrial engineering major Macy Comm said she has never had any desire to join a secular group, such as SSA, but that she has the support of her family when faced with challenges to her identity. 
"Throughout school, people found out that I was not religious, and sometimes, people would come up to me and borderline harass me about it," Comm said. "In moments like that, it was helpful that I could turn to my family because they've experienced similar things."
Comm is an atheist or someone who denies any existence of a god or deity. In 2019, 7.7% of non-religious college students identified as atheists, according to the most recent CIRP Freshman Survey. 
"For me, it's just that we're here for one lifetime and that's it," Comm said. "From my own perspective, my purpose in life is to be here with my family and to go forth and break boundaries and go forward in a career."
Unlike Comm, senior finance major Lauren Guillot said she believes that there may be a higher power, but because she has to definitively know who or what pulls the strings, she puts her trust in the universe.
"The universe to me is basically everything," Guillot said. "It's more of a force and a feeling that grounds you and guides you through your life to an extent."
Guillot said her trust in the universe is based on the energy that she extends and hopes that the same energy will be reciprocated back to her.
"If I'm being a positive person and I'm doing the right thing, it's going to come back and reflect back into my life," Guillot said. 
Guillot's roommate, junior event management major Talya Mamane, said she puts her trust in science and that which she can see and touch, rather than in the universe or any deity. 
"I believe there is something. I don't know what," Mamane said. "I act more in terms of a science belief… I think it just makes me more curious about my surroundings and about nature and about space." 
Mamane said she grew up in a Jewish family and has an interest in exploring that aspect of her identity. But she said that she tends to be more interested in what she has learned in school rather than any religious beliefs her extended family might hold. 
"Technically, my whole family line is Jewish, but I personally just don't have those beliefs," Mamane said. 
She said that she takes inspiration from Guillot, and that it is nice to live with someone who also is not religious. She said that they often have discussions on their thoughts and ideas regarding any possible greater power. 
Regardless of any terms in which students define their secularism, SSA has resources for anyone who wishes to further investigate or participate in their non-faith. 
"Unfortunately, people often and students often think that they're the only student on campus who may believe this way or feel this way," Bolling said. "It's important for them to know that there's a whole community of people out there that has a very similar worldview."