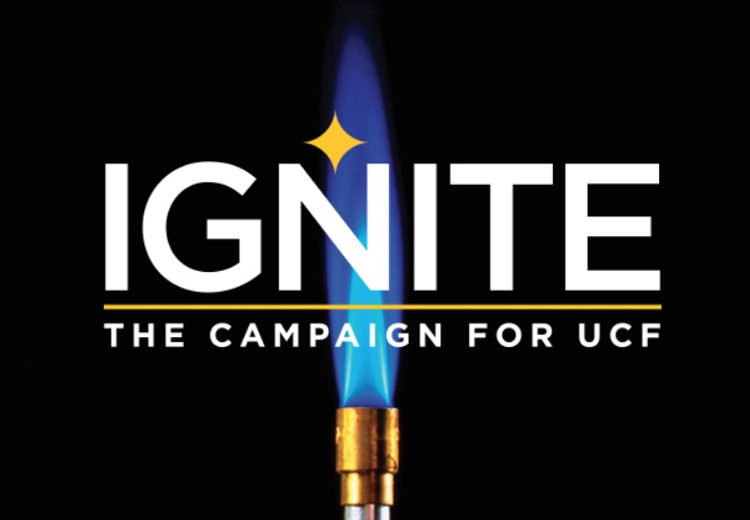 IGNITE: The Campaign for UCF now has less than 100 days left before ending on June 30. As of Dec. 31, 2018, the campaign has raised about $480 million of the $500 million they want to reach.
The campaign, one of the largest fundraising campaigns in UCF history, started eight years ago on July 1, 2011 with the purpose of helping UCF, said Michael Morsberger, chief executive officer of the UCF Foundation.
The UCF Foundation website states the campaign was started to get more philanthropic help during a time of declining state funding for public universities.
"I think the goals that we came up with had less to do with a dollar amount than they did priority projects and things that needed help," Morsberger said.
Morsberger said that $160 million to $170 million was donated to students through financial aid and scholarships such as the Brooke Dawkins Memorial Scholarship for students in need and the Ferrante Family LGBTQ Endowed Scholarship for students who identify as LGBTQ and exhibit academic excellence. In addition, $200 million was raised for faculty and faculty research.
"Knowing that UCF is what impacts all of us here in Central Florida — whether it's the economy, the arts, athletic opportunity [or] just the opportunity it provides for a significant number of young people and not so young people to complete their education — is what motivates our giving," said Phyllis Klock, a campaign donor.
Klock said she is currently in her last term of being on the UCF Foundation's board of directors and is also a member of the Athletic Association board. According to Center for Success of Women Faculty, she received an honorary doctorate from UCF.
According to Morsberger, the donations also went to building new buildings and renovating older ones, like the UCF Downtown project, the new UCF Lake Nona Medical Center and remodeling the UCF Football Recruiting Lounge into the Garvy Center for Student-Athlete Nutrition.
Originally, Morsberger said he wasn't confident when the campaign first started because he thought the goal was too high and there was no way they would be able to reach it.
He said he attributes the success of the campaign to not making it public until they had already raised $200 million to $300 million. Morsberger said campaigns that have come out with high numbers and no money donated have a hard time getting started because people have a hard time believing they'll reach the number.
He said the state was also not giving money to help with UCF downtown initiative unless the school raised $20 million.
"A lot of credit to the team here in advancement, in fundraising, but also the foundation board, the [UCF] Alumni Board [and] the Board of Trustees," Morsberger said. "We have over 100,000 individuals and organizations that have participated in the campaign, so it's pretty remarkable."
Morsberger said the campaign will not release more updates on where the fundraising amount is until they announce the final total during October's Homecoming Week.