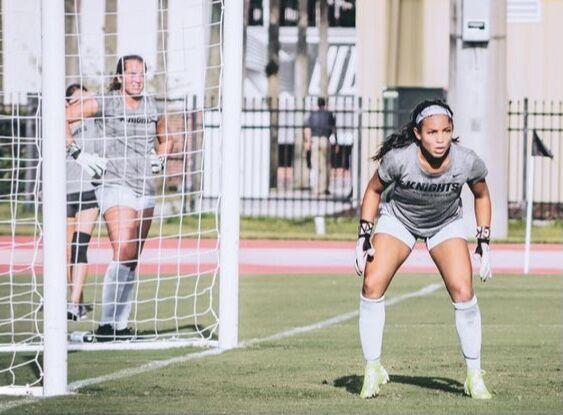 Throughout six months of intense chemotherapy, the only thing on one UCF women's soccer player's mind was getting back on the field.
"The whole time I was thinking about soccer," backup goalkeeper Nahla Simone Turner said. "Honestly, I think that's what got me through chemo and cancer, just because I wanted to get back on the field. I was just so heartbroken that I had to take time off."
Turner was diagnosed with stage four cancer, non-Hodgkin's lymphoma, on Jan. 9, 2020. She spent over six months enduring grueling treatment. Chemo and radiation.
On June 2, 2020, she was declared cancer free.
Turner said she was heavily advised by multiple doctors not to come back to the team. She was told the risk of getting COVID-19 was far too much to consider returning.
"I was severely immuno-compromised," Turner said. "My immune system is so bad that even a common cold could put me in the hospital. That affected me a lot."
Turner would return anyway. However, anxiety would return as well. The team she came back to was far from the same team as when she left.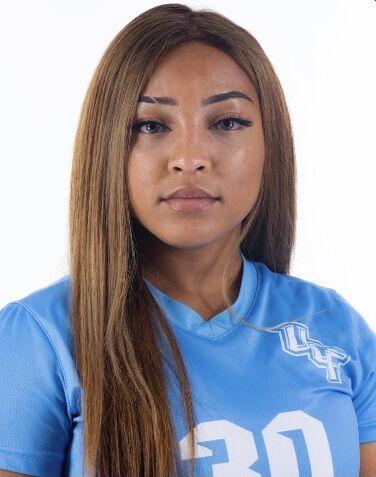 Due to COVID-19, each girl on the team has been isolating from friends and family since stepping onto campus in August. If they wanted to have a season this spring, they went to practice, then went home. Nothing else.
Head Coach Tiffany Sahaydak said this has made camaraderie tough to come by. Even the bonding that normally comes in the locker room before practice had to be stopped. Players drove straight to the field for training and got right back in after it ended.
"Their cars were their locker rooms," Sahaydak said.
Sahaydak said she's incredibly proud of her girls for how far they'd come despite the adverse circumstances, especially after a few girls on the team tested positive for COVID-19 in the fall.
"My heart sunk whenever I heard that," Turner said. "I was just afraid. My anxiety was through the roof and I was worried that I was going to get sick and possibly die."
However, Turner said all the stress has been worth it, just to get back out to the game she loves.
Turner's sacrifice has made her teammates' sacrifice easier, and their motivation greater, to keep her safe and to play again.
"Nahla is fierce, and she's incredible," Sahaydak said. "She's been an inspiration to our team. Talk about players that have had to make sacrifices, she's one that has made the biggest sacrifice, because she's decided that soccer is worth it."