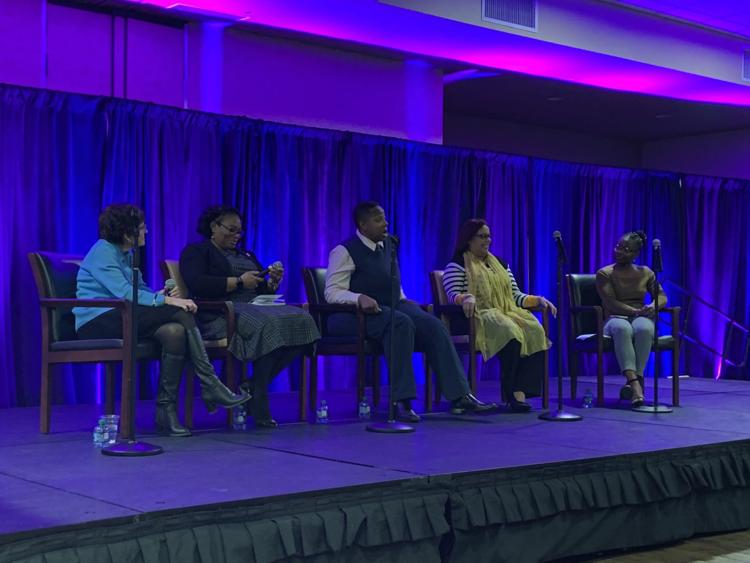 Students and faculty gathered in the Student Union's Key West Ballroom to listen to a surprise panel of women on Wednesday discuss topics that ranged from what it's like to balance a career while being a mom, to working at a job where women are the minority.
The "Women of the World" event was held by the UCF's Multicultural Student Center to discuss female leadership and celebrate International Women's Week.
This is the first time MSC has chosen "Women of the World" as the theme of the month. MSC picks a new theme each International Women's Week. 
The panel included Maribeth Ehasz, vice president of student development and enrollment resources, Tammie Nadeau, assistant director of multicultural academic and support services, Andrea Snead, coordinator for sports clubs and adaptive recreation at UCF, and Josefina Rosario, assistant director of multicultural academic and support services.
Ehasz, who has been at the university since 1994 according to the university's website, discussed what kind of leadership roles women have at UCF.
"I think there is always opportunity to increase the presence of women in leadership roles at UCF, and I hope that students see the impact women can make with our viewpoints," Ehasz said.
Other women on the panel talked about what advice they have for female students at UCF and the next generation of women.
"Be authentic," Snead said. "It's important for me to help young girls realize to take a chance and [not to] be afraid."
Sophia Crawford, a sophomore English major, at the event said she felt the women impacted her view on how she can handle being a woman in the workplace in the future.
"I just think we can do better as a society at gender roles in the work place," Crawford said. "I have experienced that in my job before."
Rosario told the crowd how to overcome the adversity of being a mom and having a successful career.
"It's all about balance, and if you push forward, it won't be a barrier," Rosario said. "You also can't be afraid to fail because you learn something every time you fail."
Blair Gilfillan, junior health sciences major, said she wanted to come to this event because she wanted to hear from women who could inspire her. 
"I took away from [the event the importance of being] authentic and to not be afraid — to be who you are and speak your mind," Gilfillan said.
At the end of the event, the women spoke about who their personal female role models are. 
Nadeau said her role model is her grandmother who was a slave and didn't want that lifestyle for herself and her kids. 
"She left Selma in the middle of the night to move our family to a better life," Nadeau said. "She has inspired me throughout my whole career." 
Stephanie Campbell, the coordinator for MSC, said she hoped the students that attended the event can apply what they heard from the panel in their everyday lives.
"I hope they can use this to navigate their careers as women in the future," Campbell said. 
International Women's Week will conclude Friday with Women's Page History, an event featuring journalism associate professor Kimberly Voss who will discuss the women who contributed to the liberation movement and the journalism community.