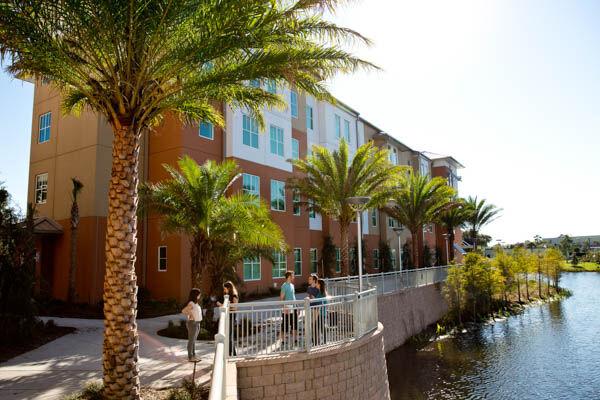 Students living on campus this semester must get tested on their move-in day, but can still move in without the test results, according to UCF's housing portal.
According to UCF Housing, campus move-in is extended for students. UCF Housing said students can apply for a delayed arrival now until Dec. 14. 
Tamara Jones, associate director of Housing and Residence Life, said students are supposed to get their test results in two to four days. 
According to UCF, "After moving in, students should remain in their on-campus residence and begin a relative quarantine, only leaving their rooms for food deliveries or pick-up until they receive their test results."
With delayed arrivals and students allowed to move in before getting results back, students in campus housing said they are concerned with the possibility of having infected people in their building. 
Cameron Marano, freshman criminal justice major, said she experienced first-hand how being told to remain in the rooms does not completely prevent the spreading the virus.
Marano, a Neptune resident, said her friends living on the floor above her all tested positive immediately after moving in.  
"All four of them in the room got it from one kid that had it as he moved in," Marano said. 
Marano said her friends who tested positive are some of the only people she knows on campus and realized she could have easily caught COVID-19 too if she visited them.
"I was literally walking up, and he called me and was like 'Go back to your room, our roommate tested positive,'" Marano said. 
Marano said her friends are quarantining on campus and feeling better. She also said while most of them thought they would experience symptoms like not being able to smell, one friend experienced no symptoms at all.  
"It's just scary because I don't want to just sit inside my dorm room, but I also don't want to come in contact with a bunch of people," Marano said.  
After hearing what happened to her friends, Marano said she is worried UCF is not doing enough to ensure campus students' safety. 
"I feel like you could've gotten the test beforehand or come to Orlando in advance and gotten the test," Marano said. 
UCF Spokesperson Rachel Williams said testing for students moving in on campus was put in place by the university in hopes of slowing down the spread.
"Testing at move-in ensured that anyone who tested positive could observe an isolation period to help curb the spread of the virus," Williams said. 
Sophomore kinesiology major Mark Brueggemann said he feels safe living in his dorm and believes UCF is doing everything it can to keep campus safe. Brueggemann lives at Towers and said he is happy to be back on campus. 
"I like living in my dorm because besides going to in-person classes, I know my roommates are safe and smart when they go out," Brueggemann said.
Brueggemann said he and his three roommates limit their contact with other people and keep their dorm clean by wiping down doorknobs and disinfecting counters.  
When he first moved back into Towers in August, Brueggemann said he followed the university's instructions to stay in his room away from others until getting his results back.  
"I just pretty much like sat in my room until I got the all-clear and then went out and hung out with my roommates in our shared space," Brueggemann said.  
Brueggemann said he has asthma and feels even safer on campus than at home. His parents are essential workers, so he said staying home with his family would put him at higher risk than living at Towers. He also said he is not worried about staying on campus if everyone follows the rules UCF set in place. 
"I would just say if everyone's at least looking out for themself and if they're sick, stay home. As long as you're doing your best to keep yourself safe, I feel like we'll be alright," Brueggemann said.