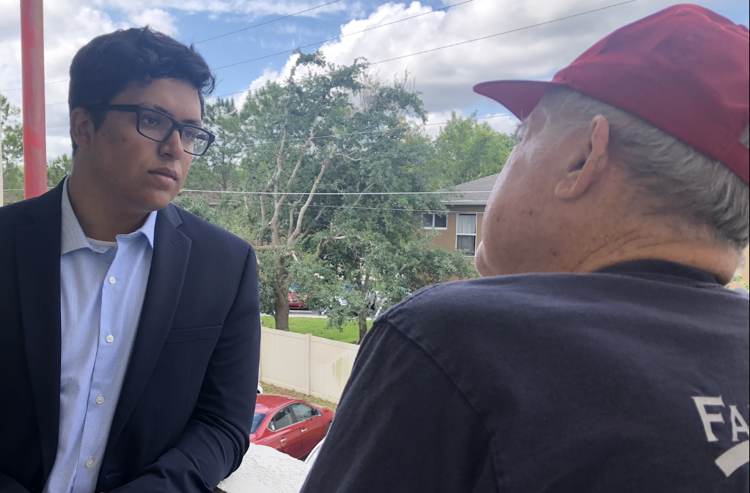 istory major Armani Salado is challenging the status quo.
The UCF student is running for U.S. Congress in Florida's 7th Congressional District. The district includes various cities in the Central Florida area, such as Cassleberry, Oviedo, Sanford, Winter Park and Winter Springs, Florida. The 23-year-old candidate is the youngest in the country. If he were to win, he would be the youngest congressman since 1799. 
Salado will turn 25 in June 2020, making him eligible to become a member of the House of Representatives under Article 1 of the U.S. Constitution. 
The Republican is facing two-term Democratic U.S. Rep. Stephanie Murphy and opened his first campaign office on April 13 in Casselberry, Florida, roughly 20 minutes north of UCF.
Salado said he believes his upbringing makes him a viable candidate against Murphy.
Born in Boston, Salado moved to Winter Springs, Florida when he was 7 years old. He went to high school in Orlando at Winter Springs High School and completed his associate degree at Seminole State College. 
Salado said he decided to run for office after Associate Justice Brett Kavanaugh's Supreme Court hearing, where Christine Blasey Ford and Kavanaugh testified before the Senate Judiciary Committee on Sep. 27, 2018, to address Blasey Ford's sexual assault allegation against the nominee. 
He said he saw it as motivation and felt the need to get involved. 
"I saw his name get drag through the dirty, and you know, I was like 'I need to get involved,'" Salado said.
Salado's campaign staff is all under 25 years old. Most are UCF students and alumni, including senior political science major Victoria Mohebpour, Salado's campaign manager.
Mohebpour said she saw Salado as a part of a "Republican youth wave" that she could get behind.
"He is in this young generation of millennials trying to do something," Mohebpour said.
She said she was introduced to the campaign through a friend before deciding to join the staff. At first, Mohebpour said she was skeptical. She said she soon saw something in Salado.
"I have to get behind this because not only is he making history, but we all who are working for him are as well," Mohebpour said.
However, Ryan Starrs, senior health services administration major, said because Salado has no voting record, unlike Murphy, he believes it will hurt his chances.
"I think he needs to focus more on policy instead of how young he is," Starrs said.
Salado said he wants to help the Hispanic families in his district that are small business owners. He pledged to bring more of an incentive from Washington D.C. to help these communities grow more.
"Florida is a low-tax state and I want to keep it that way," Salado said.
Salado has been garnering much attention since putting his hat in the ring as a candidate. He was featured on Fox and Friends on March 31.
"[Fox] actually contacted us," Salado said. "It was a good opportunity to get my platform out there and let the country and [Orange county] know I'm running for office."
Only time will tell if the UCF student can pull off the unlikely upset.
"I really want to show the country that this generation and this campaign is coming up strong," Salado said. "And we're going to be very effective in the political game."