UCF Student Health Services will run out of their limited supply of the COVID-19 vaccine from Pfizer by Tuesday.
UCF received an initial shipment of 1,000 doses of the Pfizer vaccine on Monday. Heather Smith, UCF's media relations director, said in an email that UCF is administering the vaccine under Florida's Executive Order.
"At this time, those eligible include anyone age 65 and over and healthcare workers," Smith said. "UCF is committed to using all the vaccines provided to us to reach these populations."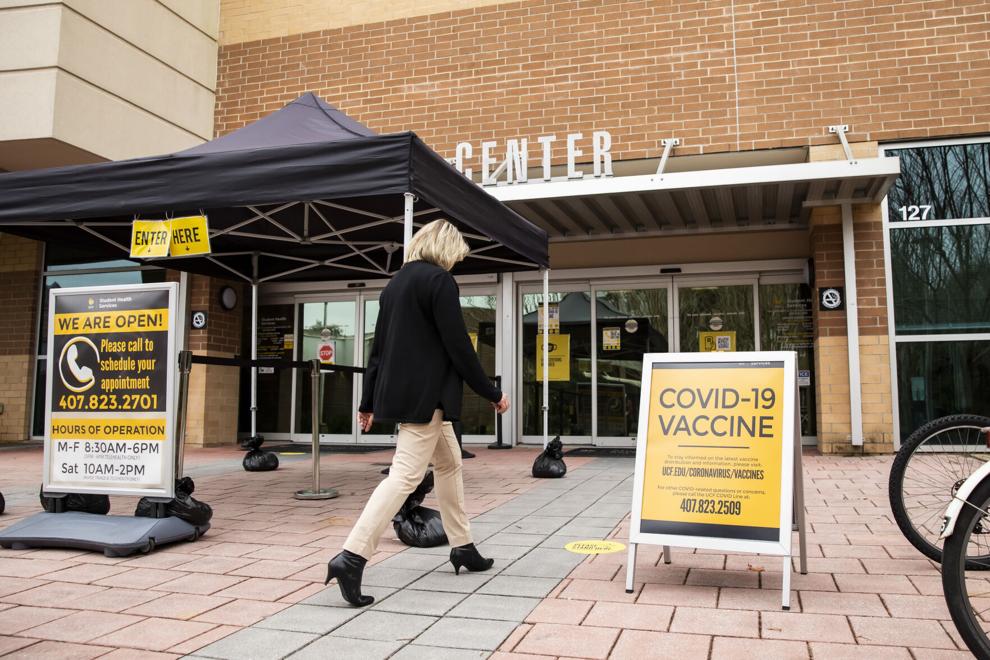 Eligible healthcare workers, faculty, staff, and students received an email containing information on scheduling an appointment to receive the vaccine at Student Health Services.
Smith said the administration of all 1,000 doses would be complete by Tuesday and that the daily average of administered vaccines is 200. 
Smith said UCF currently has about 1,500 healthcare workers and approximately 500 employees and students over 65, meaning not all eligible will be able to receive vaccines from this initial shipment.
UCF's Medical School Dean, Dr. Deborah German, said in a video posted by UCF's College of Medicine Twitter account that people over 65 are receiving the vaccine first because they are most at risk from COVID-19. She added that healthcare workers are also vulnerable because they have direct responsibility for COVID patients' care.
In an email, Smith said that because the Florida Department of Health designated UCF to serve as a vaccine distribution site, there is no vaccine cost. 
Per the Florida Department of Health's standard guidelines, after receiving the first dose of the vaccine, UCF will provide the vaccine recipient with a vaccination card, Smith said.
"The main purpose is for an individual to keep track of which vaccine they received and the dosage," Smith said.
UCF's Student Health Services will email the people who have received the first dose to schedule an appointment to get their second dose.
Sophia Dziegielewski, UCF Associate Director of Research in the College of Health, said her second dose of the vaccine would be administered about three weeks after receiving her first dose. She added that she had no side-effects except for being a little sore in the arm, which she said happens to her after most vaccines.
Dziegielewski said that receiving her vaccine was a super smooth process. After getting vaccinated, Student Health Services required her to wait in a monitored waiting area to ensure that she had no immediate side-effects.
Dr. German received her first dose of the COVID-19 vaccine on Tuesday. She urged others to do the same in the video. 
 "It's very important for us all to get vaccinated. The first is it prevents you from having a severe infection of COVID-19. And also each one of us who gets vaccinated protects everyone else," German said in the video.
Smith said that the first week of vaccine administrations went well. 
"There's been strong interest and participation from the campus community, and we're anticipating administering all of the vaccines within the time frames we've established," Smith said.
Vaccine recipients are encouraged to report any side effects through v-safe, a smartphone-based tool that allows for personalized health check-ins after receiving a COVID-19 vaccination.
Smith said that, for the most part, side effects are minor, for example: a sore arm at the injection site, or a low-grade fever that goes away within a few days.
Smith said that while she is not sure of the time frame, UCF does expect to receive more doses of the vaccine. She also said that UCF expects Florida will expand its eligibility requirement, meaning more people will be eligible. 
"When that time comes, our vaccine distribution process will scale up accordingly so that we are able to provide as many doses as available to all UCF faculty, staff, and students," Smith said.