A thermal infrared camera built by UCF researchers is scheduled to head to the moon in 2022 in collaboration with NASA. 
UCF researchers have been working on the camera for the last two years, and said the camera could capture regions on the moon's surface thus advancing space exploration.
Assistant Professor of physics Kerri Donaldson Hanna is working with University of Colorado Boulder Professor Paul Hayne on NASA's Lunar Compact InfraRed Imaging System. 
L-CIRiS will head to the moon on board Masten's XL-1 lunar lander as part of NASA's Commercial Lunar Payload Services program.
Instruments from other research institutions will join L-CIRiS on the XL-1 lander and are expected to launch to the moon in 2022 as a non-crewed mission ahead of sending astronauts to the moon by 2024.
Hanna said the instrument will scan the landing site and collect thermal images of the moon's surface. The images will then be used to create maps of the moon and give scientists a better understanding of the composition of the moons make up.
Hanna emphasized the importance of the research for the future of long-term space exploration and eventually sending astronauts. 
"That means we would know where to send a rover or an astronaut, to explore and potentially use the water or ice as a resource," Donaldson Hanna said.
Undergraduate student and senior computational physics major Adam Bedel is also working on the research. Bedel is in charge of creating filters for the camera so it can collect the best high-resolution images for mapping the composition of the surface around the landing site.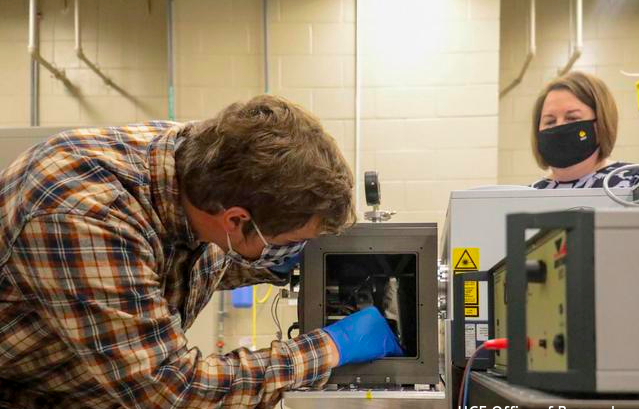 Bedel said the thermal camera is crucial to understanding the formation of the moon and our solar system. 
"By learning how the moon formed, we will be able to create new models for planet formation and better predict the presence of Earth-like exoplanets around distant stars," Bedel said. 
Bedel said the opportunity to work on such advanced research while still in school is something all students need, and the project is helping him achieve one of his childhood dreams. 
"I think it is fundamental for everyone's education and for the future of America," Bedel said. "I've always wanted to work on NASA projects since I was a young boy. That passion has never left me, and I am living that dream today in some way."