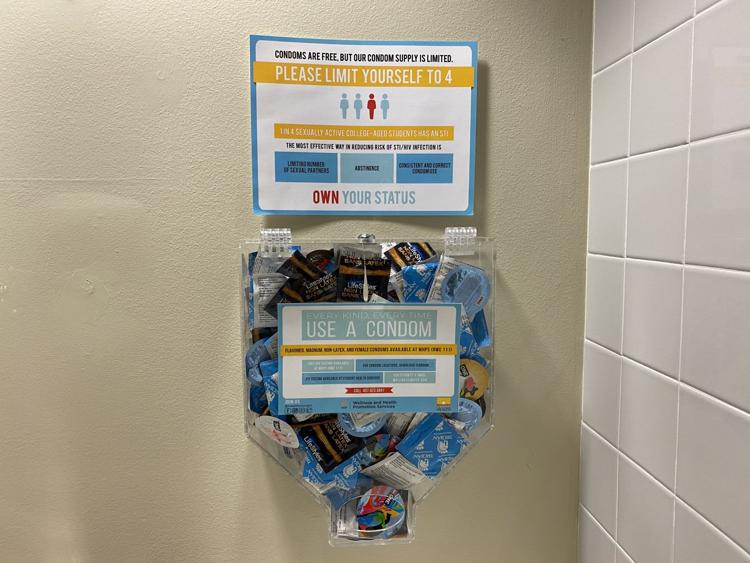 With Valentine's Day having just passed, the National Coalition of STD Directors is embracing the season of love by promoting the use of condoms to live a balanced sexual lifestyle with National Condom Week.
The week of Feb. 14-21 was dedicated to encouraging UCF students — and college students around the country — to better educate themselves on the risks associated with not using a condom during sexual intercourse, including sexually transmitted diseases, infections and the human papillomavirus.
"Unfortunately STD's are a reality, we see plenty of students at the health center who are diagnosed with STD's and its fairly frequent. Amongst the student population potentially five or six percent of sexually active persons may have chlamydia," said Dr. Michael Deichen, associate vice president for Student Health Services at UCF.
Although UCF encouraged students to attend various events which celebrated the season of love, students were reminded to practice safe sexual prevention methods that are always offered on campus.
According to the Centers for Disease Control and Prevention, HPV and herpes are the most common STDs on college campuses, Chlamydia is the most common sexually transmitted infection on college campuses and in people ages 15 to 24. 
According to the CDC, HPV is the most common STD among college students and many doctors urge students to practice sexual prevention methods.
Dr. Michael Deichen, associate vice president for Student Health Services at UCF, said about 90% of women receive the HPV vaccination as a child but don't always receive follow up treatments. Although less common in men, it is recommended that they receive the vaccination and the follow up vaccines. 
Deichen said the HPV vaccine is highly recommended to UCF students, among other free STD testing opportunities offered throughout each semester. 
"College students that aren't vaccinated can acquire HPV," Deichen said. "The vaccine is recommended because it prevents carcinogenic strands which can prevent the risk of cervical cancer." 
HPV can lead to cervical cancer, among other pre-cancerous symptoms. According to the National HPV Vaccination Roundtable, about 50% of teens are fully vaccinated, which prevents harm from HPV cancers. Up to 50% of sexually active college students who haven't received the HPV vaccine are prone to being exposed to the virus, and many times have caught the disease from a carrier.
Students can request rapid HIV testing and counseling from Wellness and Health Promotion Services with an appointment where they can receive results within 15 minutes. Every other month, the university offers students free gonorrhea and chlamydia exams with a valid student ID. Students can also receive free screenings for syphilis and other STIs any time of the year.
To prevent the spread of these infections, the UCF Health Center offers free condoms at various locations on campus including the first floor of the Student Union, Pride Commons, Multicultural Academic and Support Services, Student Health Services and the Recreation and Wellness Center.
Every year, National Condom Week brings awareness to the risks behind failing to use protection and the recommendation of sex educators.  
Junior health sciences major Naomi Richards said she never knew there was an actual week to bring awareness to condoms and sexual prevention. She said as a health sciences major, she wishes more people were aware of the risks that come with not using proper protection.
"I think it's very important that more of my peers know about this week so they can gain more knowledge on STDs and STIs," Richards said. "More people should know how to properly protect themselves beyond just condoms."
Deichen said although there is a long way to go in terms of lowering the rate of sexually transmitted diseases, there has been a noticeable improvement in people getting tested for any diseases and properly treated.   
The next free STD screening will be held on UCF's main campus on April 14 at 10 a.m. in the Health Center.