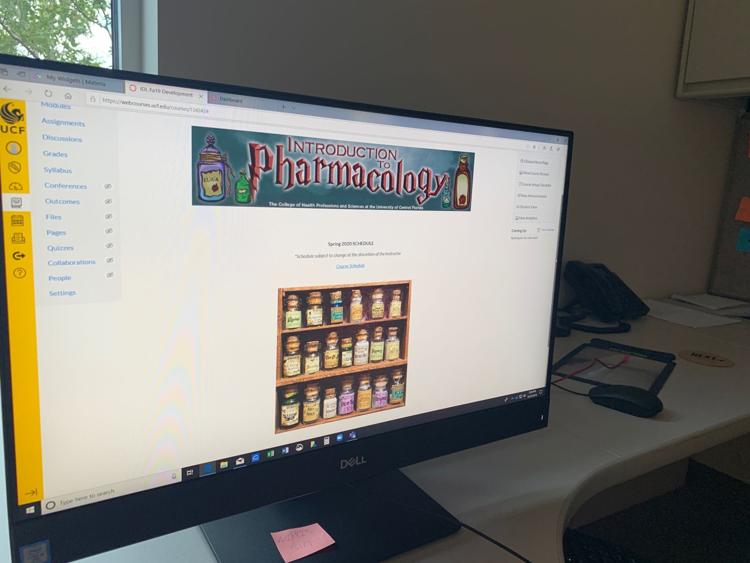 From the type of medicine Harry Potter would need for his cold to the kind of prescription drugs at Hogwarts, a health sciences lecturer is putting a spin on her pharmacology class.
Most students spend time reading textbook pages and memorizing definitions for hours, but lecturer Martha Garcia-Stout wanted to make her class more relatable and fun by making it Harry Potter-themed. 
Throughout the course students learn about different drugs and prescriptions for patients, but these patients are all characters found in J.K. Rowling's Harry Potter novels and movies.
Garcia-Stout mentioned why she wanted to do this with pharmacology.
"Rather than having it be a pharmacology class it would be more like a potions class, making it more interesting," she said. "Because otherwise you get bombarded with chemical names and drug names and they all sound alike and they're all really long. Why not make it a little bit more memorable."
 After being a pharmacist since 1997, Garcia-Stout became an adjunct professor at UCF in 2014. Since then she has moved into being a full time lecturer with this being her first semester.
Garcia-Stout has children of her own, who grew up watching Harry Potter films.
"They grew up with it, so I thought this is kind of that generation that's in college now," Garcia-Stout said. "My son is in college as well that's kind of that age rage that maybe they would find something more relatable."
She didn't want her course to be just another regular course, but for students to enjoy learning. Garcia-Stout even has the students play a "choose your own adventure" game, where students have to pick and choose what the Harry Potter characters need to feel better. Depending on what is chosen, this makes the characters feel worse or relieved.
Health science major Zach Grose is a student in Garcia-Stout's course this semester. He explained how he loves the way she tied this series into pharmacology.
"The way she incorporates it in my opinion is genius and really helps make the material more interesting," he said.
Grose also said that he is a big fan of Harry Potter, so tying the different medicines into characters makes it much easier to remember.
Each character is assigned to a different chapter, for example respiratory drugs are assigned to Hagrid because in the novels he has an allergy to cats.
Garcia-Stout mentioned that coming up with the different cases is her favorite part. Being able to take issues in the movie and relate them to real life scenarios is what she thinks is the most fun.
She went on to reassure that even if you aren't the biggest fan of the films that's okay.
"Even if you weren't familiar with the Harry Potter characters or never saw one of the movies or anything that's not a requirement for doing well in the class," Garcia-Stout said. 
As of right now Garcia-Stout only offers her pharmacology class online, and is excited to continue teaching even if it's not in the wizarding world.