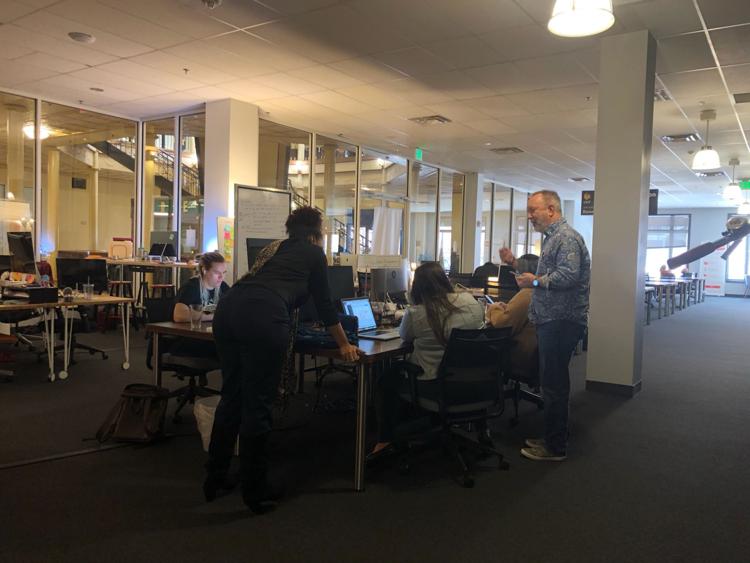 The UCF Downtown Innovation District announced the opening of a new business incubator space in the heart of downtown Orlando on Tuesday.
The new space, located in the Church Street Exchange building, is the eighth incubator in the UCF Business Incubation Program.
Lilian Myers, executive director of the newest addition, StarterStudio, said this expansion grants UCF students resources to start their own companies.
"I think there's nothing more rewarding frankly than to see how multigenerational, multidimensional, completely diverse sets of people come together and find ways to collaborate," Myers said.
This new space offers a wide range of programs for clients to grow their businesses and help the area's growing tech industry. The Innovation District offers benefits such as unique corporate partnerships and innovation labs, according to its website. 
David Moran, co-founder of Omnimodal, a public Transit-First Mobility Solutions app for cities, said that having resources and investors are vital when first starting out to financially support a company. Moran, along with his co-founder Nathan Selikoff, participated in the Seed Fund Accelerator program, a program to help fund startup tech companies, at StarterStudio.
"So I think that's why UCF Incubator, StarterStudio, Rally, Rollins College — college initiatives — are so important because entrepreneurs need all the resources they can get to truly validate their value proposition to get things up and running," Moran said. "But, also to maintain that runway between when you're making no money until you actually are sustaining a net revenue.
Nicole Hall-Elser, marketing manager for StarterStudio, said the company offers programs and resources to the community for curious entrepreneurs. It helps people find their path in efforts to start their own business, working with someone else or receiving all of the soft skills needed to go on and work for a larger company, she said.
"It's really all about the founders and uplifting them and preparing them for a entrepreneurial, hectic life 24/7. We essentially like a support system and a resource hub that makes things available to anyone no matter where they're at," Hall-Elser said.
The Downtown Innovation District focuses on technology companies composed of digital media, a smart city or an urban area incorporating information and communication technologies throughout the city, education, financial or hospitality segments. UCF and the city of Orlando's success led to ongoing growth of the UCF Business Incubator Program, according to its website.
"It's the experience of a lifetime and even if you fail, failure is part of learning. Failure is the thing that teaches us how to succeed," Myers said. "Failure is what gives us resilience and really shows our human potential to collaborate with others."