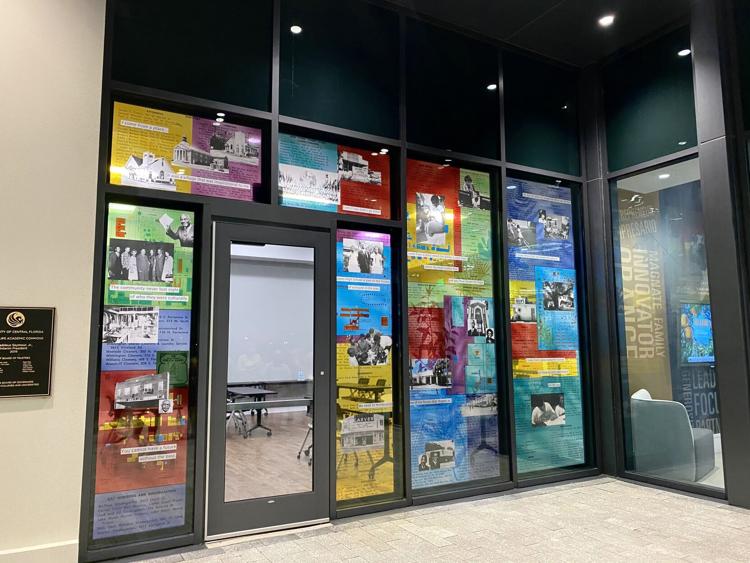 UCF Downtown's latest addition to its campus is a six-panel glass artwork titled "If we can truly remember, they will not forget" that is located in the Florida Blue Parramore Room.
"It's a collage about the vibrant, amazing world that people had created during a difficult time in history, and a self-sufficient community of African Americans thriving until it was destroyed," Artist Nancy Gutkin O'Neil said.
Allie's Cafe, Carver Theatre and Brown's Upholstery were all part of the traditionally Black Parramore neighborhood in the mid-1900s. Although many of these businesses are now gone and the neighborhood looks different, the community was immortalized through documents and publications — some of which are now displayed at UCF. 
O'Neil conducted research and spoke with community members, leaders, historians, as well as faculty members from UCF and Valencia to get an understanding of what Parramore was like back in the 1900s and what it is like now. With this information, she created this piece to show respect to a community that was here long before UCF.
The collage's background, comprised of sketches from Sanborn Fire Insurance Maps, details the buildings that existed and a directory of community businesses by the 1960 Orlando Negro Chamber of Commerce. Outlined by this text are pictures of historical landmarks, such as Jones High School, the local NAACP headquarters and Goff's ice cream shop, which was bombed by the KKK in 1951.
The installation also features prominent community leaders such as Arthur "Pappy" Kennedy; the first African American in Orlando to be elected to office, and Dr. J.B. Callahan; the first African American doctor to practice in Orlando.
O'Neil said with the combination of accomplishments and devastations highlighted by this piece, she expects viewers to experience complex emotions. But overall, she wants the community to feel proud.
"It was a rich and layered life they made, and people need to know about that," O'Neil said.
The project's title comes from Miller Williams' poem "Of History and Hope." O'Neil also included excerpts from "We come from Parramore," a digital movie by Parramore Kidz Zone, a youth development program.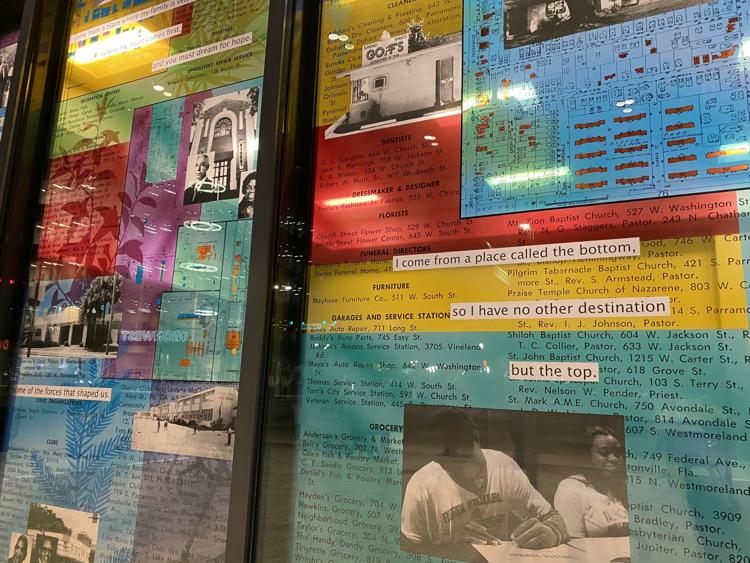 Sasha Mills, human communication major and Parramore community member who also contributed to this piece, sat down with O'Neil to discuss life in Parramore. She said she was proud to see her words being exhibited at the university.
"For UCF not only to be a presence in the community, but also have this artwork displayed for the youth to see, I think that shows appreciation that we see you and we hear you and we want your history to be part of the changes that are happening," Mills said.
Mills said going to UCF didn't seem attainable when growing up, because it was so far away. But when the downtown campus was built around the corner, she said it opened new opportunities.
"To have a college right here in [our] backyard, when you're in front and see it every morning, it makes it more attainable to know you can go to college here in your neighborhood," she said.
When Mills saw the work of art for the first time, she had her best friend Queona Jones with her. Jones said she was so proud to see Mills' words as a part of the artwork.
"That was huge," Jones said. "So it's like she's here even when she's not here physically. I got a piece of my friend here at the school."
Jones and Mills work together at the Parramore Kidz Zone, mentoring and supporting local Black youth. With the organization's model being "from cradle to career," Jones said the new art installation is especially important to the kids.
"It just makes me feel special," Jones said. "It's a sense of belonging for the kids to go to UCF and see they've got a sense of ownership at the college like they're supposed to be here."
Jones said because not many people in Parramore have an extensive educational background, the kids don't have many people in their neighborhood to ask for college advice. She hopes this artwork conveys belongingness and will spark kids' interests to get them thinking about their future in education.
"They're making room for me, they're showcasing my history up on the wall for everybody to see," Jones said. "So clearly they want me to be here, and they want me to make something of myself."