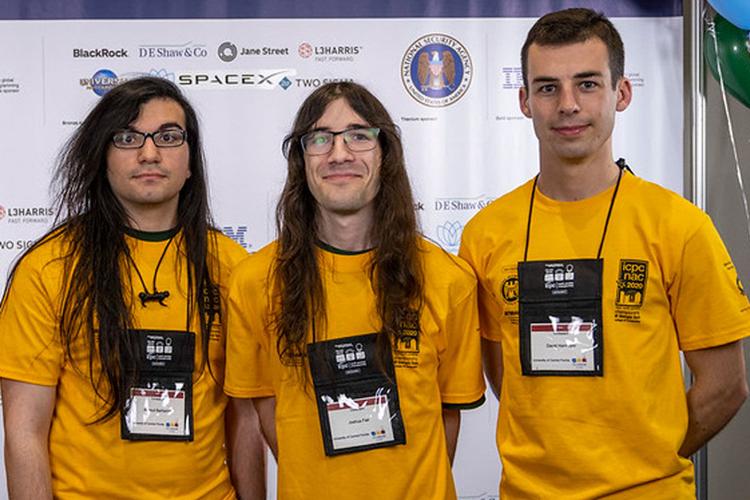 The UCF computer programming team earned a bronze medal at the North America Championship of the International Collegiate Programming Contest that took place from Feb. 19-23.
The team consisted of three UCF computer science majors — juniors Ahmad Barhamje and Joshua Fair, as well as senior David Harmeyer. They finished higher than teams from Princeton, Yale and Cornell.
Fair said the team's main goal was to qualify for the world finals.
"I was mainly trying to go to world finals," Fair said. "At that time, we didn't have a world finals spot locked in."
According to a university press release, the team is consistently ranked and has won the ICPC Southeast USA Regional Intercollegiate Programming Contest for seven straight years.
In 2018, they were ranked No. 1 in North America and No. 10 in the world.
Harmeyer said all the dedication they put into the competition paid off. 
"Well, it was really rewarding to know that all the hard work that we put in was worth it," Harmeyer said. "It's also relieving to know that we are keeping UCF's streak alive about going to world finals." 
This is also the first year a championship-level competition was held to determine which teams would qualify for the world event, the release said.
The competitions, often compared to large-scale athletic events, feature teams who try to solve eight or more complex, real-world problems in a five-hour time limit.
Barhmaje said it took a lot of preparation for this year's contest.
"I think we definitely spend on paper, 20 hours a week," Barhmaje said. "But it's definitely 30 hours or more per week. Just like practicing and learning new techniques…making sure we are fast and accurate at solving problems."
A 2019 study published by an international team of researchers shows that U.S. students are high in skills but not in gross numbers compared to China, India and Russia.
The study said that roughly 65,000 computer science graduates from the U.S.  are outnumbered, but are much more skilled, on average, than the graduates from China, around 185,000; India, around 215,000; and Russia, around 17,000. 
However, the United States continues to lack competitiveness with the rest of the world when it comes to the job market, according to the study.
In 2019, CompTIA, an IT trade group, analyzed federal employment data and reported that tech job postings in the U.S. rose 32% from a year earlier.
The trade group also found that U.S. employers had about 918,000 unfilled IT jobs.
Arup Guha, an associate instructor of computer science at UCF, said the teams who perform well in the contest are countries outside of the United States.
"Nowadays, I think the teams that do the best [in the contest] comes from Russia or China," Guha said. "There was actually a streak of about six years in a row where the winning team was not only from Russia but from the city of Saint Petersburg. And that was in the 2010s."
The team will head to the 2020 ICPC World Competition in Moscow, Russia, in June.