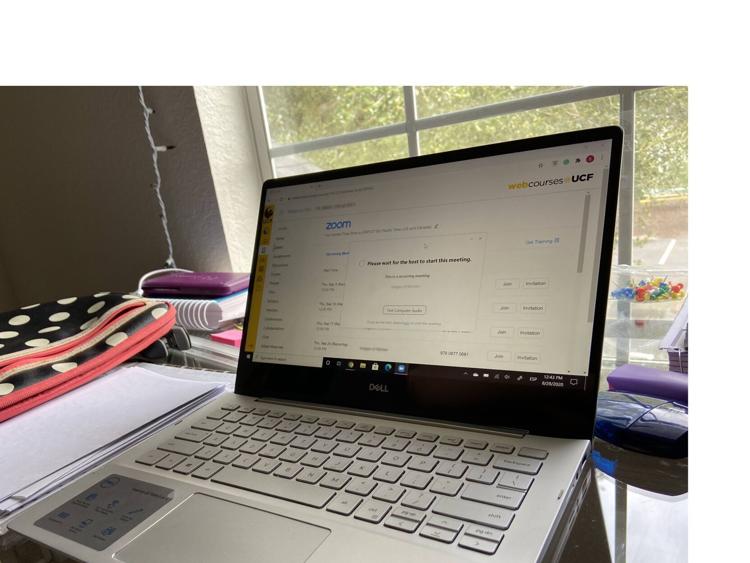 Many UCF classes for the 2020 semester will be taught remotely due to COVID-19 concerns. Less than a quarter of the expected 69,500 students will take their courses in person, according to UCF spokesperson Rachel Williams. 
In the fall of 2019, UCF had 69,500 students enrolled, but the exact enrollment for this school year remains unknown until the add/drop deadline, according to UCF.
UCF offers students a selection of ways to take their courses, including face-to-face, web-based online, video-based online and a blended mode. According to the UCF Webcourses page, the classes charge students a distance learning fee of $18 per credit hour.
Senior biology major Rachel Gutner said she is frustrated having to pay for some of the most challenging classes of her studies. She said taking the required remote classes could compromise her learning.
When Gutner enrolled, she said she did not know she would pay a fee if her classes were being taught remotely.
"The way UCF is handling things I feel very betrayed as a student," Gutner said.
Gutner said she feels like the university has not been working with students in this situation. She said UCF admissions should have notified students about paying a distance learning fee if their classes moved online.
UCF spokesperson Heather Smith said in an email that this funds UCF's Center for Distributed Learning. The Center for Distributed Learning works with faculty to design, develop and deliver engaging, interactive instruction to ensure that students are given the best opportunity to learn online.
Smith said UCF asked academic departments to identify courses that could be transitioned to an online format with trained faculty.
"Over the summer, nearly 300 faculty members attended a five-week course on the essentials of online instruction and hundreds more sharpened their skills in classes that covered topics such as Zoom and teaching with lecture capture," Smith said. "More than 80% of UCF's faculty now has some training in online instruction."
Smith said required classes that were not taught online before were converted to a video-based mode called V1. Smith also said 44% of UCF's total fall credit hours fall under this mode and that students taking these V1 classes will not be required to pay a distance learning fee. 
"The V1 modality for these courses did not exist before July 2020 and was created for this purpose," Smith said.
Some students required to pay said they are upset about the remote instruction fine.
Freshman kinesiology major Tristan Davison said he enrolled in mode classes for the fall semester, knowing there was a possibility of them moving to online. Davison said charging students who enrolled in mode classes that switched to remote instruction is taking economic advantage of a student body that is already struggling financially.
"Forcing a remote learning fee during an inevitable circumstance is financially unethical," Davison said. "I believe that the remote learning fee should be waived."
Gutner said she reached out to UCF administration with suggestions on options to help students who are paying without a choice, like the possibility of lowering other student fees like housing.
She said that she hopes that they will reach out soon and are willing to figure out something that will help students like herself.
"I would be willing to work with UCF administration to make sure we get what we deserve," Gutner said. "I would be happy if they would be willing to try to work with students, as long as they are actually listening to us, and we can have a discussion."
A previous version of the story incorrectly quoted Smith as having said "80" rather than "80%" and "created" rather than "was created".