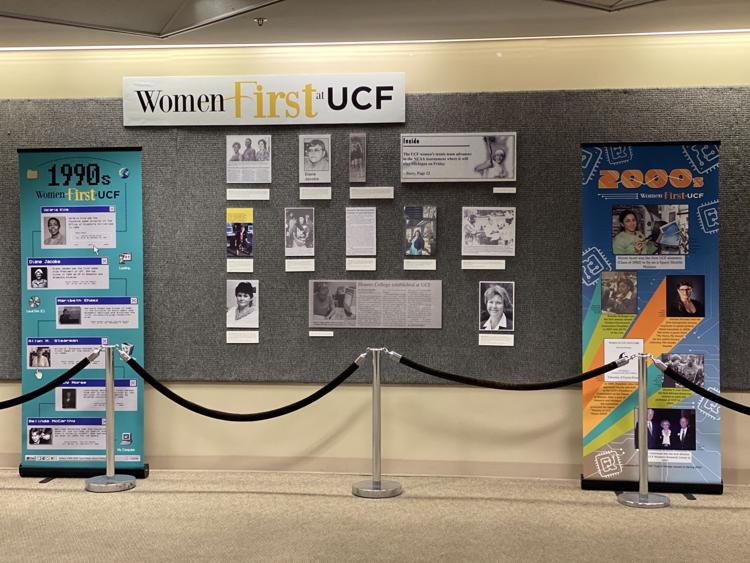 Every year, International Women's Day is observed on March 8 to celebrate and encourage the impact women have made on society.
UCF is showcasing its support for the holiday throughout March and April by hosting themed events, starting with the Women First at UCF exhibit in the John C. Hitt Library from Feb. 28 to April 30.
The exhibit was created to go beyond celebrating the legacy of women at UCF and to enlighten the UCF community about women's history at the university, said Mary Rubin, an archivist in the Special Collections and University Archives at the John C. Hitt Library at UCF.
"The exhibit helps tell part of the story. It took 15 years for a woman to graduate from the engineering program," Rubin said. "The first women faculty were hired in 1968 and the exhibit shows that the first black woman faculty member wasn't hired for another decade."
International Women's Day celebrates the numerous achievements made by women to encourage an equal society despite gender inequality, as mentioned in this year's holiday campaign theme, #EachForEqual, on the International Women's Day website. UCF is no stranger to welcoming these accomplishments. 
"As the exhibit gets closer to the present, it shows immense growth in women as part of the university and part of the university's leadership," Rubin said.
Senior hospitality major Maryam Oginni said International Women's Day is important to her because it is a day to recognize all different types of women all around the world.
"I appreciate International Women's Day being heavily celebrated on the university's campus," Oginni said. "Just how we highlight the diversity on UCF's campus, we should highlight the accomplishments of the women around us."
Oginni said the holiday holds a special place in her heart as a black woman in college because of the support and representation she received from her mother and grandmother growing up.
Oginni and women across campus are encouraged to continue celebrating the accomplishments of women throughout the next two months at several of the events hosted at UCF, Rubin said.
Senior biomedical sciences major Geraldine Charles said she uses her minor in women and gender studies to make an impact at UCF. She said she is working with a Multicultural Student Center committee to bring women of UCF together while focusing on inclusion and intersectionality.
"Seldom do women have the opportunity to celebrate each others triumphs and success openly and freely," Charles said. "The Month of the Woman is an opportunity for women, despite varying backgrounds, to find strength in unity."
Charles said she encourages other students to uplift and reach out to women who have made positive impacts in their lives more often.