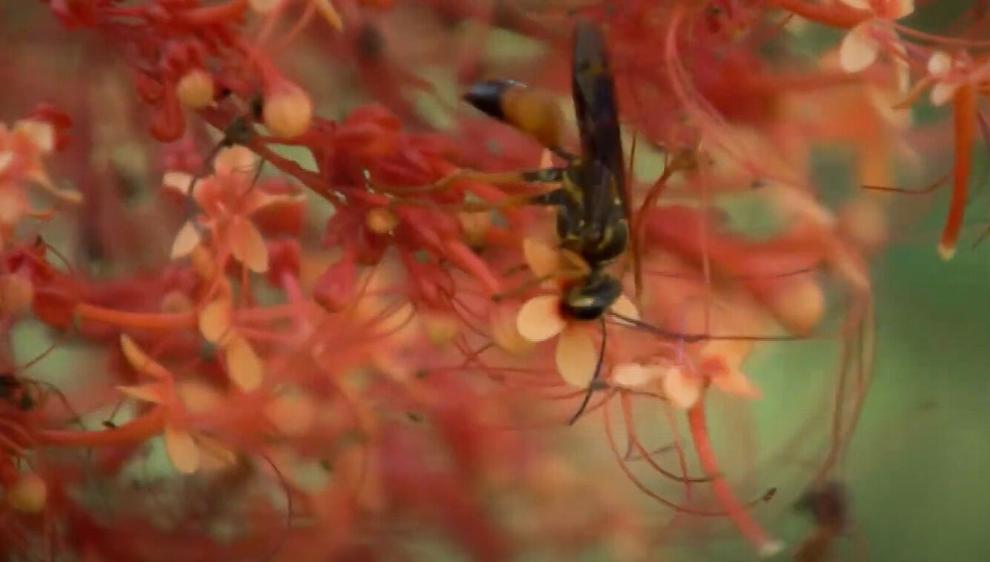 Some of the most important residents on campus happen to be the smallest.
Flying around the UCF Arboretum, local species of insects, known as pollinators, play an important role in our agriculture, food system and ecosystems. Patrick Bohlen, director of Landscape and Natural Resources and the Arboretum, said certain native pollinator species play such a crucial role in the ecosystem that humanity itself could be at risk. 
"Globally, we've seen increasing evidence of declines of certain kinds of insects, especially insects living on land, terrestrial environments and specifically bees in some cases," Bohlen said.
Bohlen also said all pollinators, from wasps to butterflies, play a part in producing successful crops and vegetable gardens to plant for biodiversity at every level. In North America, the increased demand of the intensive industrial operations of the honeybee industry is just one of the reasons why there's a decline in certain native pollinator species, he said.
When it comes to pollinator conservation, Bohlen said most programs don't focus as much on honeybees because of the spillover effects they can have on native bee populations within that area. Honeybees are known to monopolize floral resources, he said, which can lead to exploitative competition and insufficient resources for other pollinators. 
"If you were to search online right now for the American bumblebee, you would find out that the Fish and Wildlife Service is actually considering listing them as (a) threatened or endangered species," Bohlen said. "They used to be one of the most widespread bumblebees in the eastern United States."  
Bohlen has teamed up with Bee City USA to help with conservation efforts and make UCF a campus affiliate of the organization. The goal of Bee City USA is to conserve native pollinators by providing healthy habitats that are rich in a variety of native plants, provide nest sites and are protected from pesticides, according to its official website. UCF is one of only three universities in Florida to be considered a Bee Campus, according to the Bee City USA website. 
Ethan Hudson, co-coordinator of the Bee and Pollinator Team at the Arboretum, said he and the team maintain four different pollinator gardens on campus. The main objective of these gardens is to provide an "oasis" for the pollinators, he said. By having these gardens on campus, Hudson said, it gives a home to native pollinators amid the concrete jungle. 
"When you think of UCF, what comes to my mind a lot of times is concrete buildings," Hudson said. "You want to create a space where pollinators can escape from all the infrastructure and have a place to pollinate and do what they're supposed to do."
Bohlen said the abundance of flowers in the gardens creates both food resources and a shelter on campus for pollinators of all types, including social and solitary insects, because they need to have flowers for pollen and nectar. 
"Most bees by far, including some of the wasps, are very important pollinators," he said. "Research shows that solitary bees do better in more urbanized environments because walls and human-built environments provide better nesting opportunities." 
Additionally, Bohlen said having these gardens on campus could aid in the productivity of multiple ecosystems, and while UCF has done its part on campus, the student community's assistance can play an important role as well. He said students interested in helping with conservation efforts should start small.
"Even small patches of wild flowers can provide an important habitat," Bohlen said. "Though we can't cover the whole campus with pollinator gardens, having a small one can actually produce a significant amount of habitat for a variety of different pollinators."