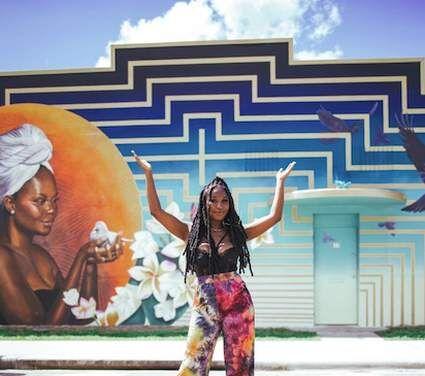 Many Orlando residents joined to protest after a police officer killed George Floyd, allowing local artists to come together on June 1. 
Sabrina Dessalines, a UCF alumna, and two other young artists painted a mural between Parramore and downtown Orlando. The mural created a message of the Black Lives Matter movement during the protest. Dessalines said the mural had a lot of symbolism expressing the messages they wanted to show — hope and happiness for the Black Lives Matter movement. 
"Every little thing in the mural gave a message," Dessalines said. "The circle in the middle was a huge symbol of the new beginning and new end of an era. The dove means peace; the color fade represents freedom along with the birds flying." 
Dessalines said she always had a passion for art growing up. 
"There was an art gallery right next to my middle school back home, and I went there after school and worked on my craft," Dessalines said. 
Dessalines said local scenic artist, Maureen Hudas, reached out to her through social media to ask if she could help create a mural in downtown Orlando. 
"It was during the protests and the police brutality that was going on at its peak," Dessalines said. "She didn't just want to do the basic picture of George Floyd or Breonna Taylor."  
Hudas said they started to paint the mural on July 12 and finished it on Aug. 16. She said it was her first mural that had the purpose of being a community mural.
Hudas said Ryan Young, the owner of architecture firm Interstruct, was familiar with her previous artwork and contacted her. She said he wanted her to paint a community mural in a new building he bought for its future headquarters. 
"I just thought, wow, here is a chance to give back to the community," Hudas said. "I told Ryan I would love to make this not just a mural for the community, but make it a community project."
Hudas said Young's guidelines for the mural were something that can express hope and happiness in the community. 
While trying to organize the mural, Hudas spoke to her friend, Christian McCutchen, who told her about a young woman she has been following and has helped the community and could be the face of the mural. 
"I felt like I should honor and celebrate a young Black woman in the community, and I found out that Jennifer was a very big candidate because she was at the forefront of a lot of the protests and organized them," Hudas said. 
Hudas said she chose Jennifer Desire as her main subject because she works feeding the homeless with her blessing bags program in Orlando. 
Hudas said she found the idea of Jennifer's pose for the mural from another mural in Australia of a man looking down at a bird with empathy. 
"I wanted to show the same look in Jennifer's expression as she has empathy for the homeless community," Hudas said. 
Hudas said she started reading about the effects of community art in neighborhoods like Parramore district that have residents struggling economically and she found that art uplifts those communities. 
Dessalines said Hudas wanted artists that did not really have much experience with murals, as she had never done a mural. Hudas said she wanted to be part of it because she wanted to inspire people with happiness around the community. 
Dessalines said the location was perfect because it was not in the middle of downtown, but near Parramore, so it was welcoming to the Parramore community. 
Dessalines said they had to get approval by the city on what they wanted to do in the building, and the city only disapproved wording on the mural.
"We had to give up on putting the words, but we later thought about it and realized that the piece speaks for itself," Dessalines said. 
When Dessalines attended UCF, she said she created her own business by selling art to students. She said students asked her to make graduation caps, gowns and other custom designs like artworks of people close to them. 
"As my business has grown, I've moved towards black women and empowered by their power and beauty," Dessalines said. "I wanted to express that in my art."