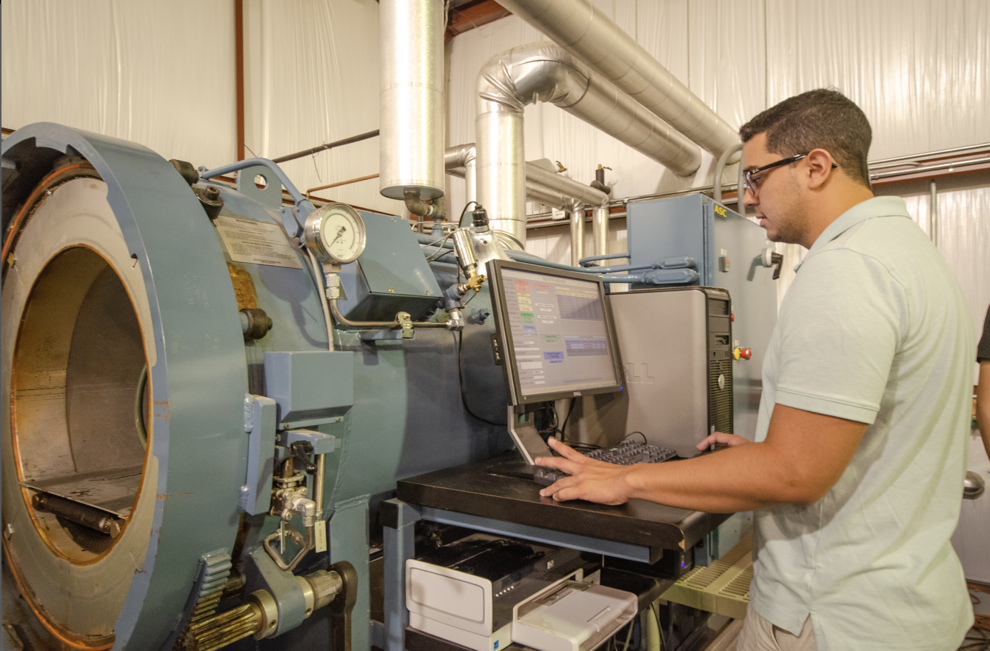 Two UCF students are developing eco-friendly fibers, and hope to eventually make eco-friendly first responder uniforms. 
UCF materials engineering students Derek Saltzman and Mason Mincey founded the company, Soarce. It is a materials innovation brand developing a thermo-regulating textile.
Saltzman said they are developing a plant-based fiber to replace the synthetic fibers that typically make up our clothes. These synthetic fibers are more heavy weight, so by replacing them with plant-based ones, the clothing will be much more breathable, heat resistant, and sustainable, he said.
"Your regular athletic clothes are made with polyesters, nylons, different types of fibers that are not necessarily best for the environment," Saltzman said.
He said these microfibers get released from the fabric when people wash the clothing, eventually getting into the water stream and the ocean.
"It all comes full cycle," Saltzman said. "Once it's in the ocean, animals eat the fibers, and since we eat animals, we end up consuming plastic particles and fibers."
Saltzman said they originally wanted to create athleisure clothing, but they changed this goal after realizing that the materials they are using have useful clothing proprieties for firefighters, EMTs, and other technical workers.
Mason Mincey, the other co-founder of Soarce and a senior materials engineering major, said that this company is vital, because textile waste is one of the most significant contributors to climate change.
Mincey said that while other clothing lines out there use plant-based fibers, there were always disadvantages with these products.
"They were either really expensive or not very functional," Mincey said. "If you try to wear cotton it just absorbs all your sweat and can smell funky."
Mincey added that while other companies do make clothing out of recycled materials such as plastic bottles, the recyclables come from different industries. He said that this doesn't necessarily eliminate the problem since manufacturers will still produce the plastic bottles.
Jihua Gou, Mechanical and Aerospace Engineering professor at UCF, helped Mincey and Saltzman throughout the process of working in the lab.
Gou said that Saltzman and Mincey joined his researched lab, which focuses on composite materials, to learn how to work in the lab. He said the fabrics Soarce is developing are being made and tested in his lab.
Soarce's technology was accepted into the National Science Foundation National ICORP program. Because of this, Soarce received a $50,000 grant from NSF, Gou said.
Saltzman said the name of the company, Soarce, comes from the company's goal of stopping the source of where the plastics in fibers are coming from.
Saltzman said all of Soarce's materials come from plant waste, which they process down into nano-materials and then spin that into a fiber.
"The fabric we are making is extremely breathable, and the uniqueness about it is that it is thermally conductive," Saltzman said.
He said this means that when the heat hits the fabric, instead of it going through the textile, it will spread around it, allowing more time for the heat to dissipate.
Saltzman said that once in production, they have plans to make first responders' uniforms that help to control temperatures.
"Some firefighters suffer because of the high temperatures and smoke, which eventually causes diseases," Gou said. "But since our fabrics have thermal cooling, it can help with this."
Saltzman said that the company will be using the NSF grant for networking and product development. He added that he hopes the product will become nationally available in the next ten years.