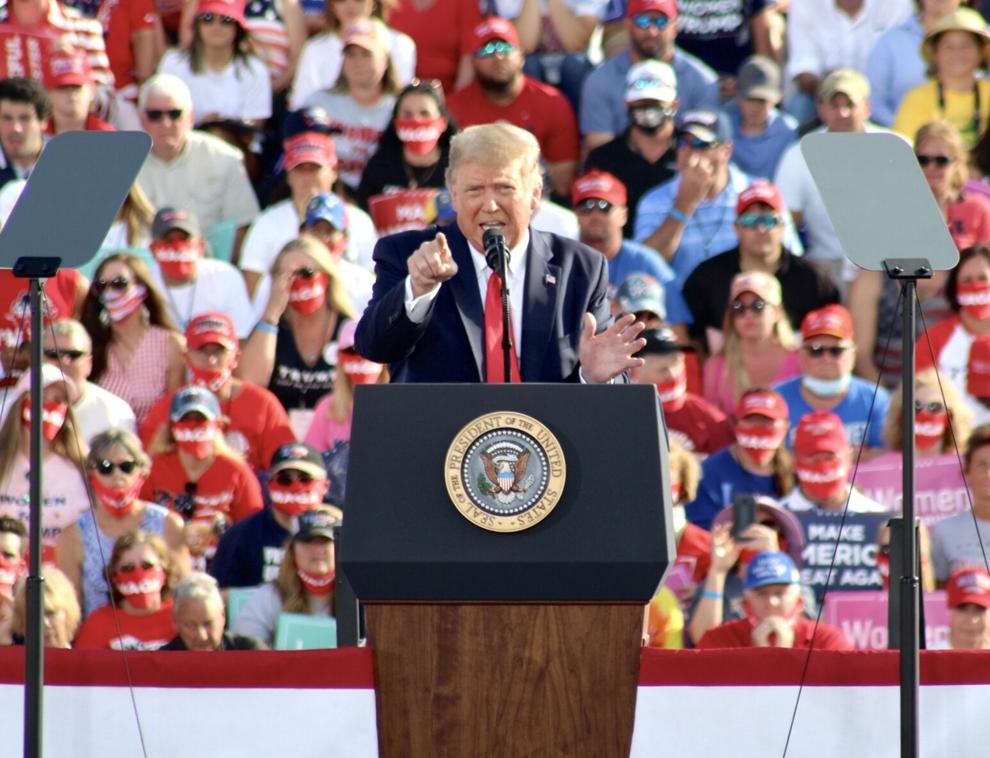 With election day only 18 days away, President Donald Trump spoke on the economy and the importance of voting during his campaign rally at the Ocala International Airport on Friday. 
Thousands of people from all over Florida lined up hours before Trump's arrival while wearing shirts that read "MAGA," "I Love Trump" and "Four More Years." 
Attendees were required to wear masks at the entrance gate only, otherwise, masks were optional.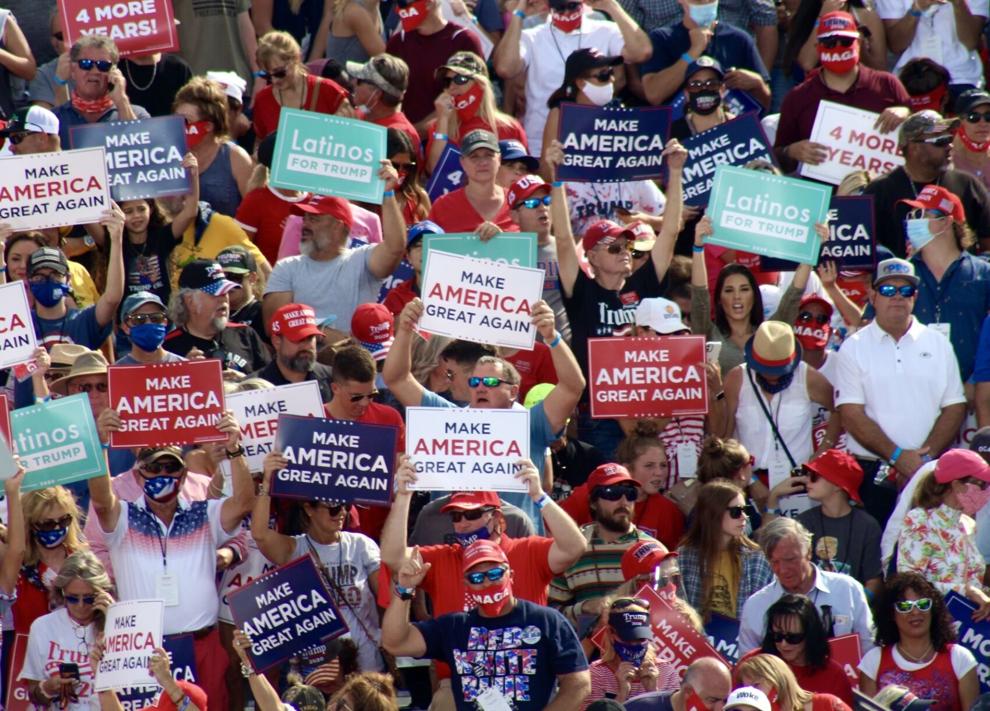 The appearance was Trump's third in Florida this week, after holding an Oct. 12 rally in Sanford and Thursday night's televised town hall interview in Miami. 
Before Trump's arrival, speakers including U.S. Rep. Matt Gaetz and Florida Gov. Ron DeSantis spoke about their support of law enforcement, first responders, the military and veterans.
"I love all of my patriots, and this is the time during the reelection where you all are very needed," Gaetz said. 
The chants for Trump drowned out the sounds of Air Force One once the Boeing 757 landed at the event. The president waved and made his way to the stage. 
Trump promised victory come Election Day, "a red wave the likes of which we've never seen before." Trump also reminded the crowd early voting in Florida begins on Monday.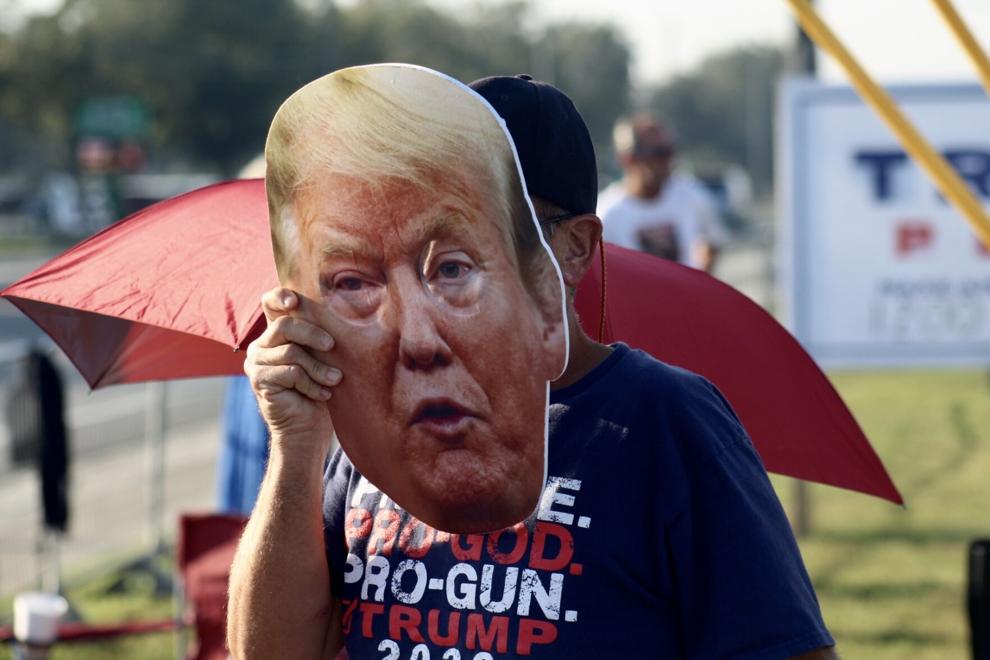 Jonathan Riches from Tampa, Florida said the event adds to his record of attending 29 Trump rallies. Riches said he was a supporter of Trump even before Trump was first elected back in 2016. 
When asked why he supports Trump, Riches said, "promises made and promise kept."  
Trump discussed the health of the economy before the pandemic hit, describing the economy as the "best it has been in years."
Trump said the election was an economic choice between "a Trump recovery and a Biden depression."
"Biden's plan will crush America," Trump said. "My plan will crush the virus."
200,000 Americans have died due to COVID-19 as of late Friday, according to Johns Hopkins University. There were more than 16,000 deaths in Florida as of Friday. 
Many different groups of people were supporting Trump at the rally, including groups holding signs that said "Latinos for Trump," "Women for Trump," "Legal Immigrants for Trump" and "Blacks for Trump."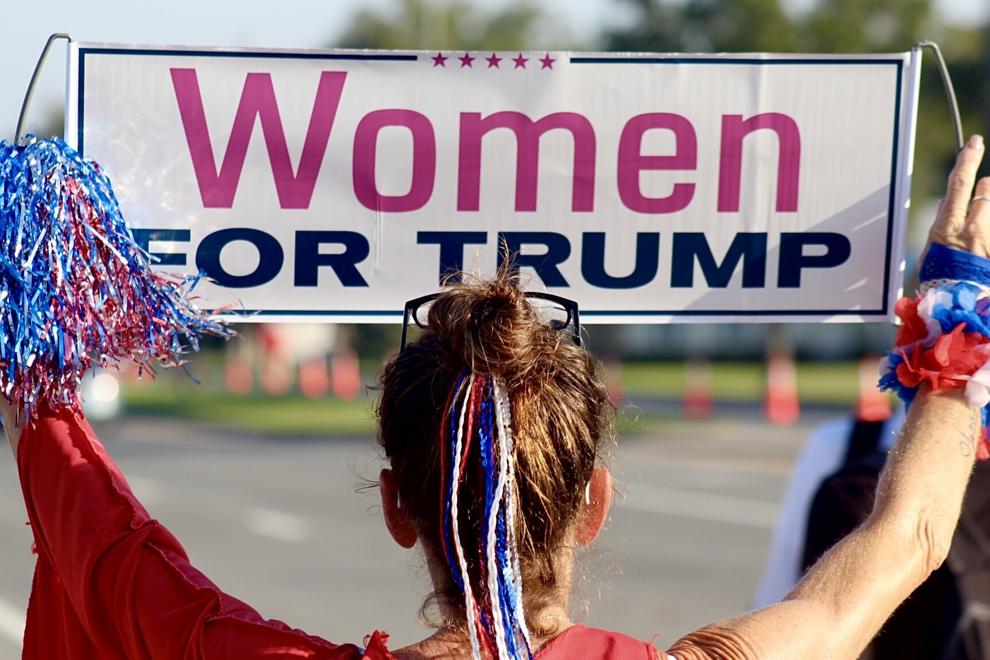 Annie Tonnu, an immigrant from Vietnam and current college student in Ocala, said she was out rallying because of her personal experience as an immigrant.
"My family is from Vietnam and we worked very hard to come here," Tonnu said. "I finally feel like I can show my ideas and I have been quite hidden- until today." 
Trump said he believes that with the support of Floridians, he will be reelected.
"He is rallying his troops, he is rallying his supporters, his base," Riches said. "It is proof right here that Florida is Trump country." 
Link to full gallery here