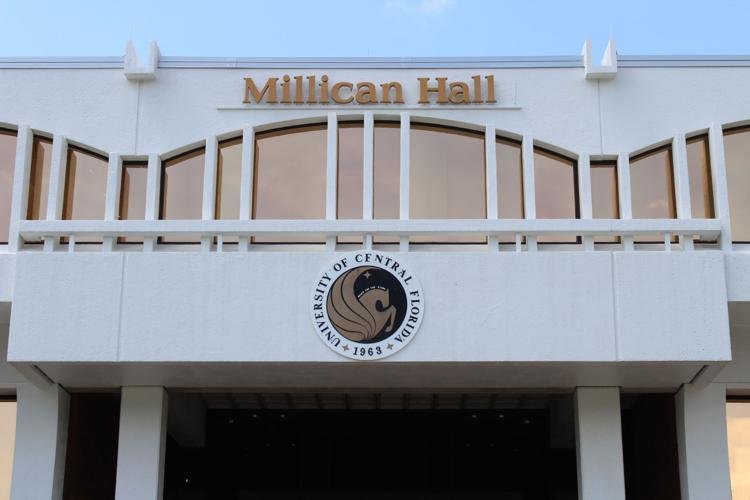 Freshman and civil engineering major Colin Buckley works at Buffalo Wild Wings to help pay for his tuition.
He said time management is an important tool that helps him stay on top of his schoolwork and job. Colin works as a host on the weekends, which is usually one of the busiest times for Buffalo Wild Wings. He takes calls, sits people down and is usually the one taking care of complaints people may have. Buckley said he works, on average, between 25 to 30 hours per week.
"I usually spend half my check on gaps between loans and financial aid," Buckley said. "So if those don't cover it, then I pay it with my own money."
A new Constellation Fund that may be offered as soon as spring 2019 would add $16 million to existing institutional aid at UCF. 
The goal of this fund is to offer the financial security necessary for students to reduce their work hours and student debt by replacing loans with grants and scholarships, according to UCF's official website. 
According to a 2015 study from the Georgetown University Center on Education and the Workforce, Buckley is a part of the more than 70 percent of college students who work while attending school.
According to a UCF report, during the 2017-2018 academic year, 64 percent of undergraduate UCF students received grant or scholarship aid from the federal government, state/local government, the institution, and other sources.
Half of new college students graduate without any educational debt at UCF, while only 32 percent nationwide can say the same, according to UCF's official website.
Financial aid and scholarships are two tools some students use to pay for tuition, while others, like Buckley, take on jobs to help with the cost. 
The U.S. Department of Education awards more than $120 billion a year in grants, work-study funds and low-interest loans to more than 13 million students, according to Federal Student Aid, an office within the Department of Education.
Students can also apply for scholarships all throughout the year. At UCF, many colleges and departments offer scholarships to students that are specific to an area of specialization, according to the Office of Student Financial Assistance. 
UCF senior political science major Karen Caudillo received a full ride to attend UCF through TheDream.US. According to their website, this scholarship is the nation's largest college access and success program for immigrant youth. Caudillo is a Deferred Action Childhood Arrival student from Mexico, which jeopardized whether or not she would attend college and has ultimately limited the ways she can pay for school, she said.
DACA was first introduced by President Barack Obama in 2012. The policy was created to protect undocumented minors in the U.S.
"I can't even apply to loans or anything, so it's like if I don't have a scholarship, I can't go to college, really," Caudillo said.
Federal statistics indicate that nationally, 69 percent of college students in the class of 2018 took out student loans, graduating with an average debt of $29,800 that included both private and federal debt.
Using the resources for financial aid and scholarship funds found at UCF can help students graduate with less debt, according to UCF's official website. 
Caudillo said being able to attend college on a full scholarship is "like a dream," and she never thought anyone in her family — especially the women — would have the opportunity to go to college.
UCF has financial advisers located in Millican Hall provide students with advice needed to graduate, whether they are paying for college with scholarships or self-made funds. 
Karemah Manselle, associate director of the Office of Student Financial Assistance, said the literacy program called Centsible Knights helps students become educated on money management and the responsibility of borrowing funds.
"Take advantage of scholarship opportunities, look frequently, apply often and almost make scholarship searching your second job," Manselle said.
Students can sign up for scholarship opportunities through a new application program at UCF called Access to Opportunities, or A2O, according to the OSFA website. A2O is meant to help students be considered for over 100 scholarships by completing a one-time application from home.