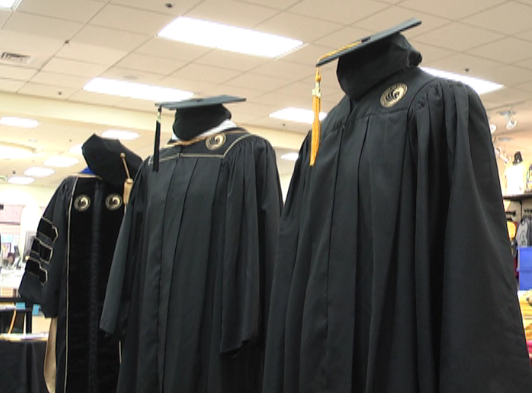 Graduation season is here, and though seniors may be excited to dive into the workforce, many employers feel they are not ready.
According to data from a 2018 National Association of Colleges and Employers study, a large number of students thought they were proficient in different areas, but many employers did not.
NACE is a nonprofit organization that is focused on the development and employment of the college-educated, according to their website.
The study surveyed seniors on eight different competencies, or work skills:
Professionalism/Work Ethic
Communication
Critical Thinking/Problem Solving
Teamwork/Collaboration
Leadership
Digital Technology
Career Management
Global/Intercultural Fluency or Cultural Inclusiveness
The largest divide between senior and employer was in the Professionalism/Work Ethic category. 89.4% of seniors felt that they were proficient in this area, while only 42.5% of employers agreed.
Emily Flositz, career development coordinator at UCF Career Services, said the NACE competencies drive a lot of Career Services' programs and conversations.
"There is a large gap between what students perceive their proficiency levels [are] at, and what employers are seeing as an output," Flositz said.
Knowing this, Career Services designs programs to help close this gap. One of these programs, OMGraduation, is dedicated to preparing seniors for the workforce. The program helps seniors strengthen their resume, learn how to job search, network and interview.
"That is definitely one of the reasons why we put a program like [OMGraduation] together — to help close that gap so that students understand what professionalism is, what work ethic is and how to communicate their skills through their resumes," Flositz said.
Brittney Anderson, senior marketing major, said she believes the major reason as to why there is such a large gap has to deal with communication. 
"I believe graduating seniors have the competencies in work ethic and professionalism," Anderson said. "It can be hard communicating with employers those strengths." 
Anderson has accepted a post-graduate position in marketing strategy, Parks and Resorts with Walt Disney World, she said.
"Over the past semesters, I have been to career fairs, resume workshops, networking events and completed two internships with the help of UCF and Career Services," Anderson said. "All of these activities have prepared me to be competitive in a professional setting."
Flositz said many students aren't aware of the gap, so she encourages her staff at Career Services to highlight the desired skills employers want.
"We may walk them through by asking them questions about their experiences and point out to them where they can describe those skills and abilities on their resume," she said.
By making students aware of the gap, Flositz said this will drive students to develop these skills as they continue their experiences at UCF.