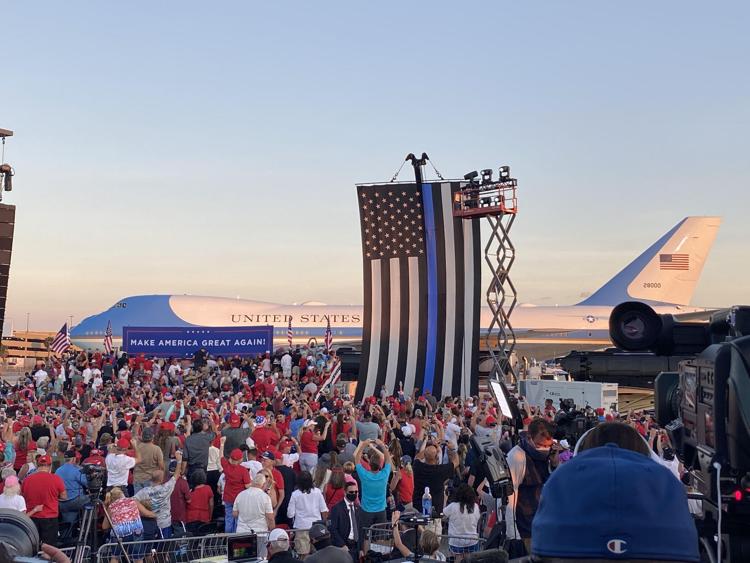 Thousands of people gathered together in Sanford on Monday evening to see President Donald Trump for his first rally back since receiving his COVID-19 diagnosis.
Trump arrived to see a mostly maskless crowd chanting, "I love you" while they stood shoulder to shoulder. 
"It's great to be back in my home state Florida," Trump said during his one hour long speech.
Trump's campaign trail is now back in full swing after canceling his originally scheduled rally in Sanford on Oct. 2, due to COVID. The president took the stage at 7 p.m. to thank his supporters for coming. 
Trump declared this election would be an easy win against Democratic nominee Joe Biden and assured his supporters that he'd be in office for "four more years." 
In 2016, The Florida Department of State reported Trump won Seminole County's vote by 1%, making it a crucial county to win for re-election. 
Seminole County Republican Chair Linda Trocine attended the rally and advised the public to vote early, whether in-person or through absentee ballots.
"We're asking people to vote as early as they are comfortable voting, right, so if they want to vote absentee, we ask them to turn their ballots in as quickly as possible," Trocine said. "If they want to vote early, we ask them to go on the first day of early voting." 
Haines City resident Jill Sleisher said it's important for her to show her support as a woman.
"They're saying that women do not care for Trump, they despise him this, that, and the other and everything," Sleisher said. "You don't pay attention to his personality, it's not a personality contest. It's what he has done for our country."
Some Trump supporters are encouraging young adults to vote and believe they can make an impact in this year's presidential election. 
"We support obviously President Trump immensely," said Rocco Chierichella, Port Orange resident. "We would hope that you college students would do the same."
Florida is a major swing state for this year's election because both candidates have a reasonable amount of support and either candidate can get ahold of the state. Trump is planning on returning to Central Florida on Friday, Oct. 16 to the Ocala International Airport.
Trump ended his 'Make America Great Again' rally by promising to continue building the wall and releasing a vaccine to "make America safe and great again."
"Under my leadership, we're delivering a safe vaccine and a rapid recovery like no one can believe," Trump said.