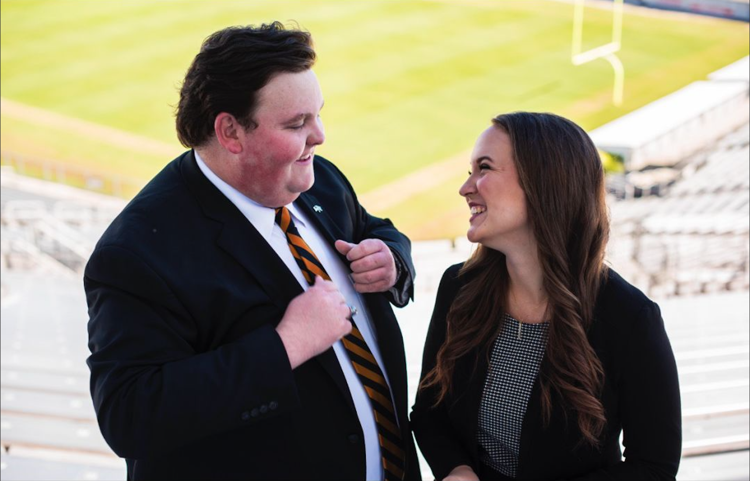 UCF Student Body President and Vice President Kyler Gray and Madeline Mills would have passed the gavel last week to their successors Sabrina La Rosa and Stephanie Blanco. Instead, they will swear in the new all-female ticket over Zoom. 
Although the COVID-19 pandemic prevented the passing of the gavel ceremony from happening, Gray and Mills said they still feel as if they have so much to celebrate. 
The pair said that they were faced with a unique set of challenges throughout their term due to uncertainty within the UCF administration. 
"It's not every day that you start your term in the middle of a metaphorical battle with the legislature, your president has been removed, you have more interim people in senior leadership than any other university in the country, and then you're ending your term in the middle of a global pandemic," Gray said in a Zoom conference with NSM Today. "When we came in we were told from the beginning 'You are coming in to one of the most tumultuous times in the university's history.'"
Despite having a rocky start, the pair said their successes far outweigh the low points.
Both Gray and Mills agreed that when reflecting on their time as leaders at UCF, they felt the largest positive student response was when they, with the help of their administration, brought e-scooters to campus. 
"That just blew up. It created a cult of scooter riders and it's become a recreational activity on campus now," Gray said. "When we were on the campaign trail ... we knew from the get-go that that was something we were going to have to get done, because if we didn't the student body would have our heads."
Gray said that the process of getting the scooters was not an easy one. Gray and Mills had to meet with different vendors and test them out in secret with Interim President Thad Seymour Jr. and his wife, Katie. 
"The first day that we rolled it out in January it was just ... the overflow of messages that we got to our social media, people just came out of the woodwork," Gray said.
The duo said that they're trying to carry that same energy that they saw in the student body earlier in the semester, into the end of the semester now.
With everything going on with the COVID-19 pandemic, Gray and Mills are still finding ways to keep the student body engaged.
"We'll do meetings via Instagram Live now on Wednesdays and that's just a way for Kyler and I to get on the call and ask 'What do you guys need?' That's a way for us to be accessible and still listen to what people want," Mills said in a Zoom conference with NSM Today. 
Last week, Mills said there were 215 viewers in 10 minutes. 
Mills said they will continue to hold these live sessions to keep the student body informed, not only about what's going on within UCF, but in the greater Orlando community as well. She says she feels it's important that students know there is someone advocating for them even in these troubling times.
"From the beginning — Kyler will tell you this all the time — we're a grassroots campaign. We want to be with you in it, and we're not some people in an ivory tower that look down over everybody," Mills said. "We're all students at the end of the day." 
Gray said one of the highest points in their term was rebranding what student government once was, to what it is now.
"I think our highest point was the fact that we achieved what we set out to do and that was completely change the culture and the view of the organization, student government, as a whole," Gray said. "When we came in, Madeline and I were quick to say that we want Student Government not to be a resource but to be the resource for students."
Gray said that while the rebrand of student government was one of the biggest successes in their term, there were many obstacles they had to overcome to get there.
"We had some difficulties getting buy-in from some of our internal stakeholders within Student Government on why we needed a rebrand and why we needed a new logo. Some people objected to it," Gray said.
The name change from SGA to SG was voted on by the student body in the presidential election that took place March 2-4.
Despite the challenges Gray and Mills faced throughout their term, they said they remain optimistic about the future of the university. Gray said that with UCF's newly-selected president Dr. Alexander Cartwright and La Rosa and Blanco's incoming administration, he truly believes the best is yet to come for UCF.
"We've seen in the past four years our institution grow on such national scale and national notoriety, that's going to continue," Gray said. "UCF is going to become a household name like any other institution."
Gray and Mills said that UCF is in good hands with La Rosa and Blanco. 
"We are very lucky to be able to pass the torch to two individuals that we've mentored since their freshman year," Gray said. "When they won their election we went over there like a proud mom and dad and said, "We're so happy for you, congratulations, we're here for you in any way.'"
The incoming duo said they are ready to take on the challenges that lie ahead, thanks to the tenacity of the leaders before them, La Rosa said. 
"Kyler and Madeline's leadership throughout this past year has been unbelievable and the legacy that they are leaving on this university will last a lifetime," La Rosa said. "We are so grateful for their support during this time, along with the strong transition they have provided us."
Due to the cancellation of the passing of the gavel ceremony, La Rosa and Blanco will be sworn in via Zoom on May 7.