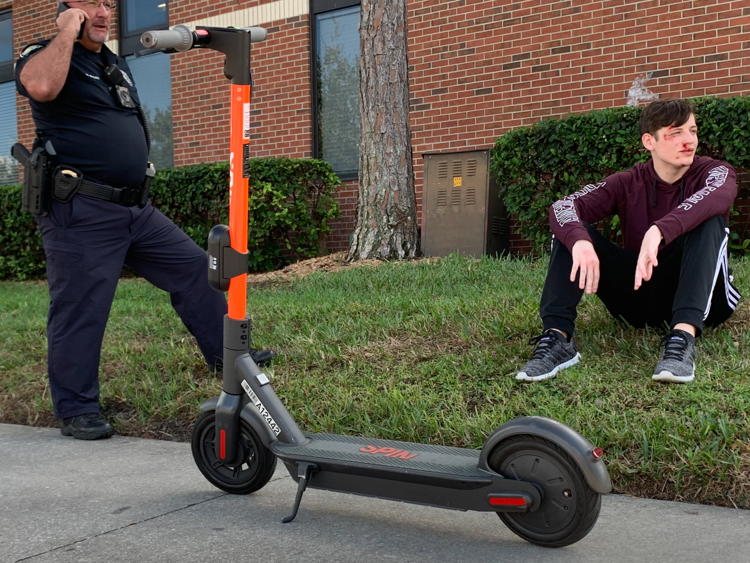 Safety is something to keep in mind when riding the new Spin e-scooters that made their debut at UCF on Monday.
A man suffered injuries, including two chipped teeth and several cuts on his face, after falling off an e-scooter outside the Nicholson School of Communication and Media while on his way from the Visual Arts building to Lake Claire on Thursday afternoon.
Remo Reuser, a 20-year-old student from Kansas who was visiting his girlfriend, who attends UCF, said he lost control, started spinning out and hit what appeared to be a rock while going 10 mph. 
Emergency services arrived within three minutes but Reuser opted not to go to the hospital and waited for his girlfriend.
No collision occurred between him and another rider. He said it was an accident and asserts that it wasn't his first time riding a Spin e-scooter.
When asked if he would use a scooter again, he replied "yes," adding that a helmet wouldn't have mattered much.
He does advise UCF students to go slower in certain areas, though. 
"I don't think it [a helmet] would've mattered much but it could've helped maybe," said Reuser. "In certain areas, go slower, even if you can go fast."
Emmett Davy, Student Government Transportation and Safety coordinator, said the scooters' speed depends on what zone you are in on campus.
"So, it really just depends where you are on campus," said Davy. "They'll automatically speed up or slow down within those areas."
According to a press release, the scooters ride at a maximum speed of 12 mph in "blue zones" near Memory Mall and the Academic Village. 
In the "yellow zones," near the Student Union, they can go up to 10 mph while the scooters riding in "orange zones," near Ferrell Commons, can go up to 8 mph. 
According to a video posted on the university's YouTube page, UCF and Spin encourage students to use a helmet when riding an e-scooter.
The video added that students should obey the rules of the road and yield for pedestrians. Furthermore, Student Government recommends one person ride a scooter at a time.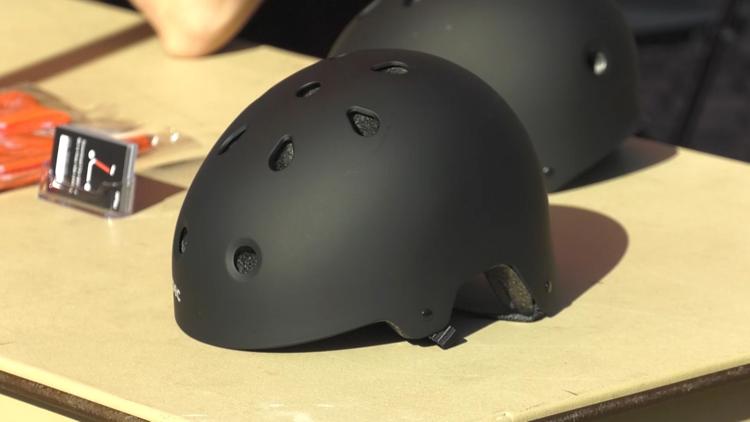 There is no helmet law in place for e-scooter riders in Florida.
UCF PD officer Eric Bryant said students should take any safety precautions they can when riding scooters.
"I would just slow down, be self-aware and use any safety precautions like a helmet," said Bryant. "Just like bicycles or skateboards, you're going to have injuries."