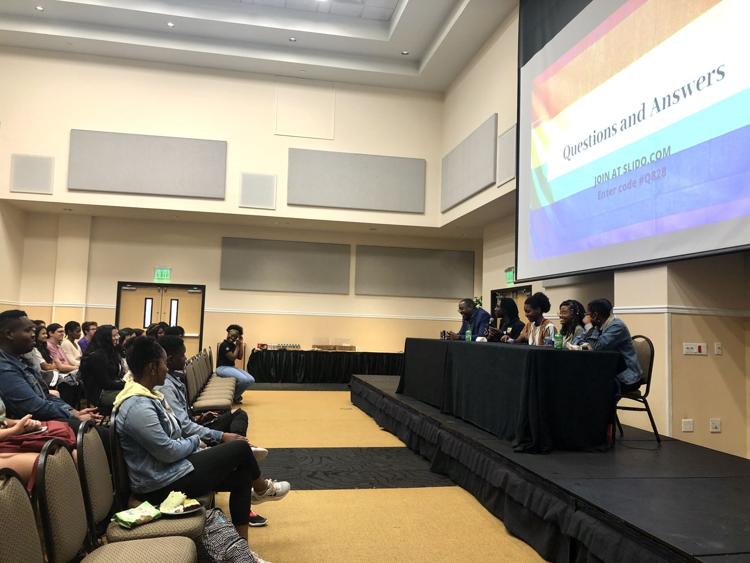 The LGBTQ+ community shared experiences about being black and queer in America at the Living in Color panel hosted by the Multicultural Student Center on Monday.
Panelists shared their struggles and explained how they overcome the challenges they face while being part of the LGBTQ+ community.
"Being black in America really impacts you outside of the household, but being gay in America can also impact you inside the household so it's almost like a constant battle," said Bernard Huggins, a panelist and UCF transfer student engagement coordinator.
Students and event attendees asked questions through an online Q&A platform. One attendee said she had never thought of the struggle one may face while being black and a part of the LGBTQ+ community.
"It was definitely good to see someone else's perspective on something from someone else who is not like me at all and see what they manage to go through and what they manage to live through," said freshman business economics major Chanelle Henry. "It's an inspiration actually."
Junior interdisciplinary studies student and transgender panelist Kam Brooks, who uses they/them pronouns, said that although they pass as a cisgender man, they still face the struggles of being black and a part of the LGBTQ+ community.
According to GLAAD, transgender is "an umbrella term for people whose gender identity and/or gender expression differs from what is typically associated with the sex they were assigned at birth." Cisgender is the term for "someone who exclusively identifies as their sex assigned at birth," according to Trans Student Education Resources. 
"One of the challenges that I personally face, especially since starting hormone therapy is that I have what is referred to as contextual privilege," Brooks said. "In some instances, because I'm seen as a black man and do get the privilege of being a man, but I also get the drawback of being seen as a black man. And that puts me in danger."
According to an analysis by the National LGBTQ Task Force, black transgender people have an unemployment rate of 26%, which is four times the rate of the general population. Black transgender people also live in poverty with 34% reporting a household income of less than $10,000 per year. This is more than twice the rate for transgender people of all races.
"To me, I think it means that we need to pay our respects when they are due," Brooks said. "That's why one of the things I said early on in the discussion was protect black trans women, protect brown trans women because they are disproportionately targeted and really blatantly murdered in these times currently. It's still something that is an ongoing, worsening issue." 
Zebra Coalition and One Orlando Alliance are two organizations within the Orlando community that unify, support and inspire the LGBTQ+ community, according to their websites. They are also facilities where some of the panelists volunteer, according to Brooks and Huggins.
"The fear may still be there and that is okay. It is okay to be vulnerable, it is okay to express those concerns that you have and that there is power not only in visibility but also that vulnerability," Brooks said. "Being brave or courageous doesn't mean you're not afraid, it just means that you continue to go despite that fear that you might hold."